St. Patrick's Day Fun At Pinot's Palette!
We're all about the holidays, here at Pinot's Palette, and we hope you'll join us for some excellent upcoming St. Patrick's Day celebrations!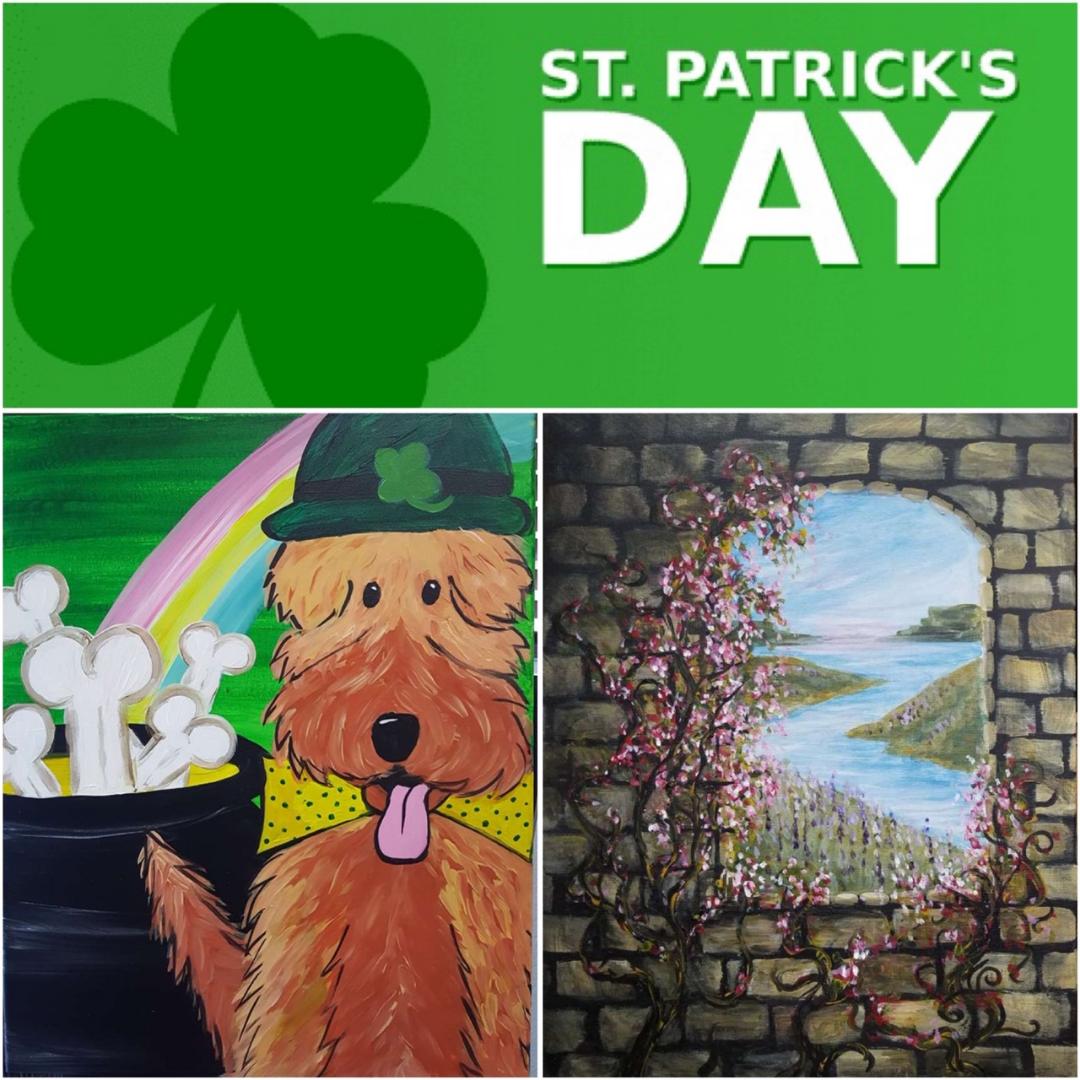 We're offering TWO special St. Patrick's Day paintings to celebrate the luckiest holiday of the year!
With one that's a cute and cuddly Family Day painting, & the other that's a lovely Irish castle window scene, there's something for everyone and we think you'll love them both.
In addition to the 2 Patty's-themed paintings, there's tons of other excellent artwork on the calendar throughout the weekend before St. Patrick's Day, as well as the entire month of March. Ee hope to see you and your friends for some painting and wine classes soon!
*** Pre-St. Patrick's Day Fun ***
Saturday, March 14th
'St Paddy's Puppy'
A lucky Irish Terrier has found his Pot O' Gold at the end of the rainbow! Happy St. Paddy's Day!
https://www..../event/421353
*** St. Patrick's Day ***
On March 17th
'Top O' The Mornin'
Looking out the castle garden's window, you can almost feel the dew on the glen.
*It's TIPSY TUESDAY! We're celebrating with $4 beer!!!
https://www..../event/420366
*** MORE Classes To Celebrate Around St Patty's Day ***
If you're unable to celebrate St. Patrick's Day on a Tuesday, come out and paint over the weekend before! We're offering some great classes… Check them out:
--- Friday, March 13th ---
'Magical Aurora Sky'
A vibrant aurora night sky over a serene and peaceful lake.
*Enjoy making this stunning NEW painting!
https://www..../event/420376
--- Saturday, March 14th ---
'Sand Harbor Sunset'
This unique shaped canvas is the perfect fit for the skinny spaces to bring a bit of beautiful sand harbor of Lake Tahoe into your home.
https://www..../event/420392
"Nevada Shines'
This is a Hot, NEW painting!
This state really shines! Painting these bright colors sure puts me in a good mood and adding the metallic paints makes it sparkle and shine! Makes for a great gift too!
https://www..../event/420389
--- Sunday, March 15th ---
'I'l Be There For You'
'Friends'-Themed Painting and Trivia Night!
Put the ultimate pivot to your wrist and create this memorable painting with your squad!
You're going to want to be there for this special event!
Learn more:
https://www....dstrivianight
Sign up:
https://www..../event/420352
--- Wednesday, March 18th ---
Painted, Illuminated 'Spring' Wine Bottle!
This bright and happy bottle will be sure to put you in the mood for spring as the perfect decor for any table, or shelf or even brighten up your bathroom!
https://www..../event/420371
*** AND MORE
Check out some of the many St. Patrick's Day celebrations around the Reno Region:
https://www....ks-nevada.htm
___________________________________________________________________________________________
*** The History Of St. Patrick's Day ***
St. Patrick's Day observes of the death of St. Patrick, the patron saint of Ireland. The holiday has evolved into a celebration of Irish culture with parades, special foods, music, dancing, drinking and a whole lot of green.
- Who Was St. Patrick?
Saint Patrick, who lived during the fifth century, is the patron saint and national apostle of Ireland. Born in Roman Britain, he was kidnapped and brought to Ireland as a slave at the age of 16. He later escaped, but returned to Ireland and was credited with bringing Christianity to its people.
In the centuries following Patrick's death (believed to have been on March 17, 461), the mythology surrounding his life became ever more ingrained in the Irish culture: Perhaps the most well-known legend is that he explained the Holy Trinity (Father, Son and Holy Spirit) using the three leaves of a native Irish clover, the shamrock.
- Growth of St. Patrick's Day Celebrations:
Over the next 35 years, Irish patriotism among American immigrants flourished, prompting the rise of so-called "Irish Aid" societies like the Friendly Sons of Saint Patrick and the Hibernian Society. Each group would hold annual parades featuring bagpipes (which actually first became popular in the Scottish and British armies) and drums.
In 1848, several New York Irish Aid societies decided to unite their parades to form one official New York City St. Patrick's Day Parade. Today, that parade is the world 's oldest civilian parade and the largest in the United States, with over 150,000 participants. Each year, nearly 3 million people line the 1.5-mile parade route to watch the procession, which takes more than five hours. Boston, Chicago, Philadelphia and Savannah also celebrate the day with parades involving between 10,000 and 20,000 participants each.
*** St. Patrick's Day Traditions ***
* Parades – This event is most often associated with the holiday. Cities that hold large parades include Boston, New York, Philadelphia, New Orleans, Savannah, and other cities worldwide.
* Drinking – Since many Catholics are Irish-American, some may be required to fast from drinking during Lent. However, they are allowed to break this fast during the St. Patrick's Day celebrations. This is one cause for the day's association with drinking heavily.
* Wearing Green (also dying beer green)
* Religious services – Those who celebrate the holiday in a religious context may also hold a feast. Outside of this context, overindulgence tends to revolve around drinking.
* Shamrocks - Legend has it that St. Patrick used the three-leaved shamrock to explain the Christian Holy Trinity.
-Rainbows and Pots of Gold
(Luck of The Irish):
In the 1800s, large east coast American cities rejected Irish immigrants. Draper said many moved west where they discovered gold and silver. He explained many Americans refused to believe that the Irish were smart enough to find precious metals on their own. "People believed they must have received this wealth because they were lucky, because they followed the [proverbial] rainbow," he said.
* Leprechauns
The History of leprechauns:
https://www....-leprechauns/
* Corned beef and cabbage - Although a classic St. Patrick's Day meal, corned beef and cabbage is more American than Irish.
AND MORE:
https://www....day/81868808/