Seeing Double!! What the *!#$8!?
Want to hear an awesome story!?? Here's a sweet blog that we wrote three years ago in April of 2014: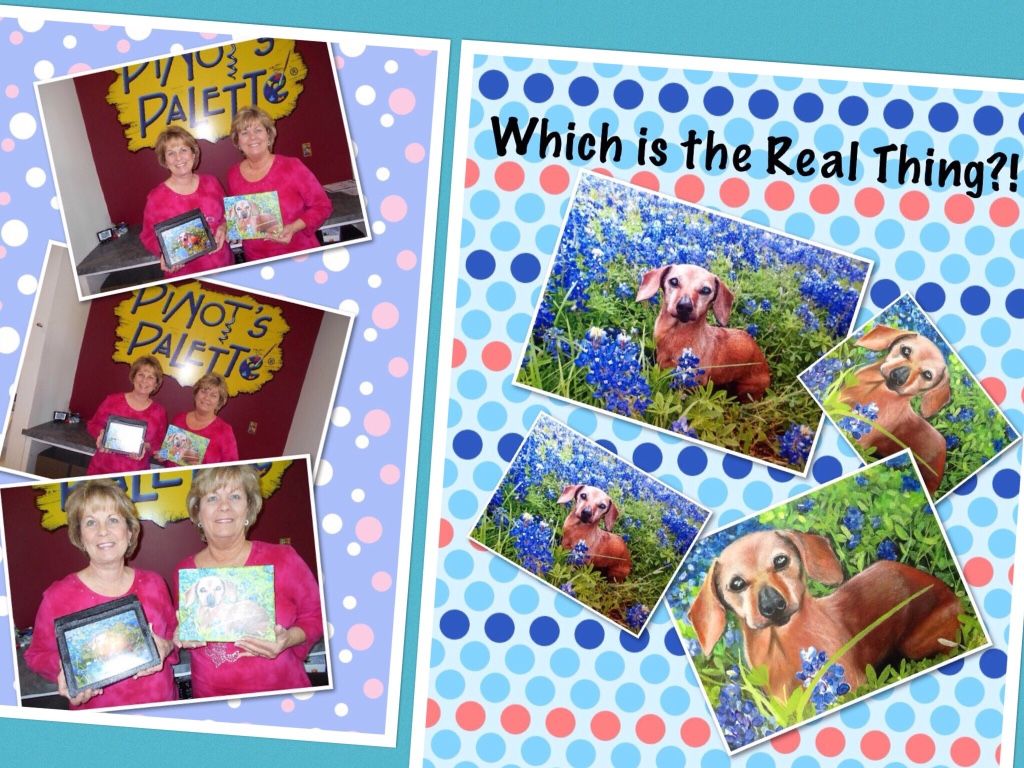 Two of a Kind and Uniquely Special! (written April 25, 2014)
About two weeks ago, this nice lady was walking past our studio, noticed our Project Pet advertisement and came inside. Her name is Reatia (pronounced "Rita"). In a very meek and sad but hopeful tone Reatia asked about our Paint Your Pet art session and wondered if we could paint a picture of a pet for someone. We told her that our pet art session is designed to teach the customer how to paint their pet. She said she wouldn't want to mess up this painting, because it would be for her sister.
Reatia explained in a teary voice that her sister's dog of 16 years was sickly and not expected to live much longer...gulp...and that her sister had just taken a beautiful photo of the dog, "Penny". Reatia asked if we would be able to create a painting from the photo. Who could say "no" to someone with such a hopeful look in their eyes, so of course we said "yes!". Reatia emailed us a photo of the dog before she actually left the studio. We agreed to check with one of our most talented artists, Julie, to see if she would have the time to do this. Julie responded immediately that she could have the painting ready in about two weeks.We sent Reatia an email letting her know but she didn't respond back, so we wondered if two weeks would be soon enough and if she still wanted us to do the painting for her.
Fast forward to a few days ago, when Reatia called to see when the painting would be ready. We checked with Julie who said she could have it ready the first week in May, which as it turns out would work perfectly for Reatia because her sister would be coming into town to visit from Austin around that same time.Well, Julie brought in the finished painting earlier than expected and it was so amazing, we couldn't believe our eyes! It turns out she spent 15 hours working on it! Julie is such a sweetheart, we often joke with her that she's so sweet, that if we could bottle up her sweetness and sell it in the supermarket, it would replace sugar altogether....and there would be a "syrupy sweet" version and a "semi-sweet" version...because under that soft voice and red hair lies a fiery temper if push ever came to shove!
But we digress...so back to the story! So, we called Reatia immediately and left a voice message that the painting was ready and that she could stop by anytime to pick it up that same day or whenever was convenient for her.
Well, unbeknownst to us, Reatia hops in her car and heads to our studio, with her sister.... who seems to have arrived in town early from what we recalled Reatia telling us! We didn't know she was coming to the studio right away so we took our normal lunchtime break and walked over to Panera Bread, locking our studio door but leaving our "Open" sign lit and our display easel outside so that any arriving customer would know that we would not be gone long.
Here's where the story gets really interesting! As we are walking back to the studio from Panera, we notice this lady in a pink blouse staring into our studio and trying to open the door. Frankly, it didn't occur to us that it was Reatia, and we also had forgotten what she looked like. As we neared the door, the lady turned around, saw us and began to smile and gesture with her hands and mouthe some words. Still not recognizing her, we were puzzled and thought maybe that this customer was deaf and was attempting to use sign language to us!
As we got to our studio door, the lady said she was glad to see us and was hoping we hadn't gone far. We finally remembered who she was and as we turned to unlock the door, we heard her say, "Can you create a painting of a pet if we send you a photo?". We were so confused that we stopped in our tracks and thought quickly, but didn't say out loud, "What!? Excuse us? What the %$!@. Lady, are you crazy! You're here to pick up the pet painting that we did for you!"
But then as we turned around to look at Reatia, we did a double take...and wondered what Panera had spiked our hot chocolate with...because lo and behold, there was another lady following Reatia into the store and she is the one who had just asked us that question....and she was wearing the same pink blouse as Reatia...and looked just like her!
As it turns out, when Reatia was gesturing to us outside, she was trying to tell us something...that her sister was with her! We just stood there for what seemed like an eternity before we managed to say, "Are you all twins!? OMG!!...You're twins.." and all three of us giggled and laughed...Yes!
Reatia has a twin sister...whose name is, get this, Freatia (pronounced "Freida")!But then....Reatia's sister's eyes glanced over to our reception counter and saw the painting of her dog. Apparently, this was a surprise for her and she had no idea where Reatia was taking her and what they were going to be doing or seeing!!
After we left the voice message for Reatia, she conspired with her husband to get her sister over to our studio without giving away the surprise. They stopped first to have lunch and then headed to our studio and along the way, Reatia's sister kept saying that she wondered where she could get a painting of her dog...so Reatia thought her sister had discovered the surprise...but the tears in Freatia's eyes when she saw the painting told us that this was a total surprise to her.Oh how we wish we had caught that moment on video.
Reatia and her sister Freatia not only are identical twins but they also sound just alike and so to see them both crying and sounding alike and hugging each other made us tear up too...all the while still reeling from the fact that Reatia has a twin...which she never ever mentioned when she was in our studio two weeks before! LOL!
And what's even more funnily bizarre is that we had just posted a photo of the pet painting and the original photo on Facebook and asked our fans which was the painting and which was the photo because the artist did such a masterful job that at first glance you really couldn't tell the difference!!
So here we had two sisters that were identical and a painting that looked identical to the photo!....What?....No, we have not been drinking, again! You're only holding up two fingers!....This is a true story, and here are the pics to prove it!
Reatia and Freatia were so dear and sweet and you could definitely feel the "twin sister" spirit connection between the two of them. It was such a pleasure to make them both happy by doing this painting for them.
Did we mention that we love what we do, which oftentimes is about a whole lot more than painting, as this story proves! We hope to see you soon to paint and sip in our studio!
Cheers!