Park Slope Bar Menu
Enjoy a glass of wine, beer cocktail or non-alcoholic beverage from our in-studio bar. After all, it is called Paint and Sip!
*Please note, we are not a BYOB. Outside beverages are not allowed in our studio*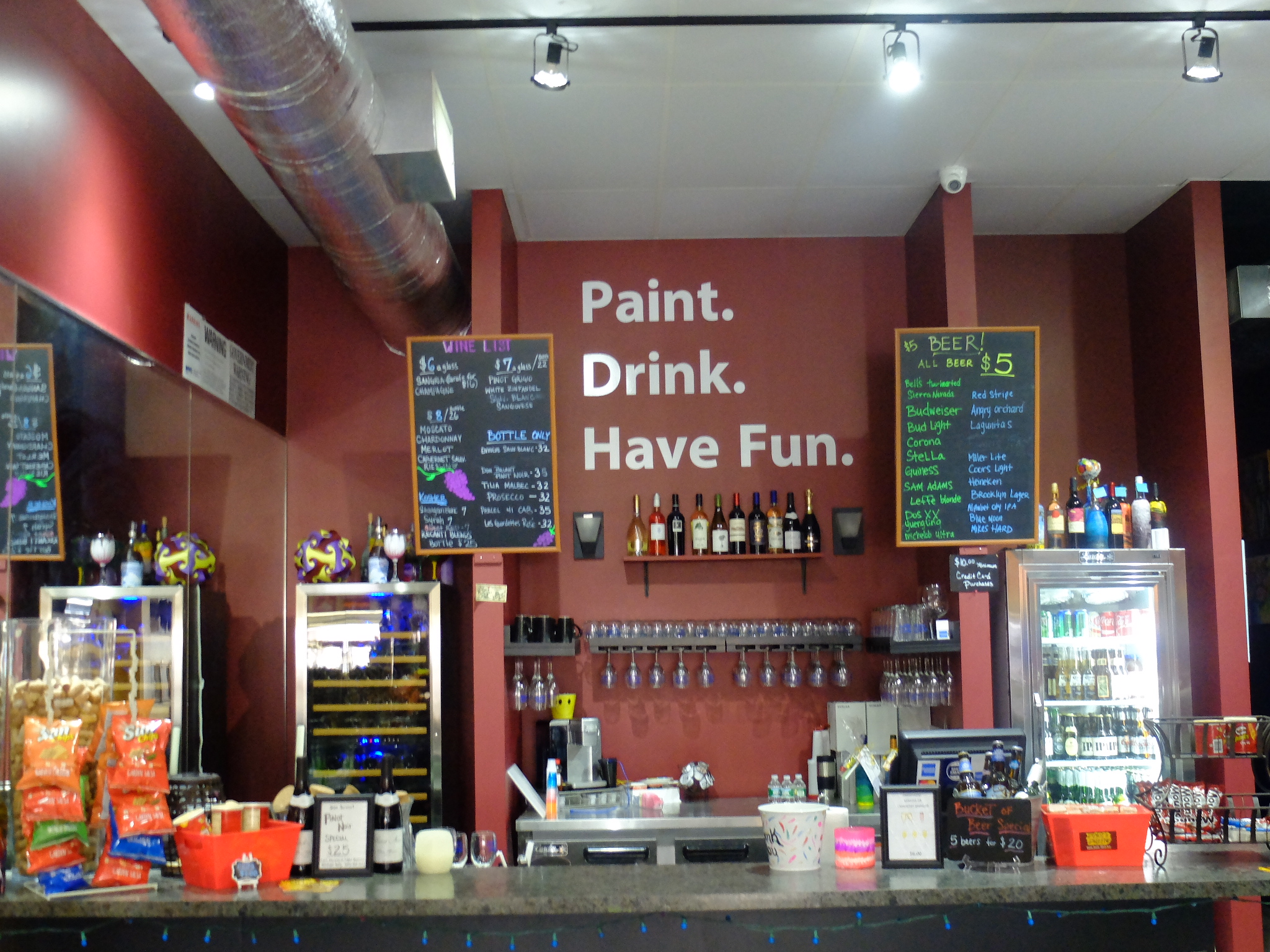 WHITE WINE
Glass/Bottle
Pinot Grigio $8/$24
White Zinfandel $8/24
Moscato (white or Peach) $9/$28
Sauvignon Blanc $9/$28
Reisling $9/$28
Chardonnay $10/$32
RED WINE
Pinot Noir $9/$28
Merlot $9/$28
Cabernet Sauvignon $9/$28
Malbec $10/$32
Rose $10/$32
SANGRIA Red or White Glass $8 / Pitcher $25
KOSHER
Sauvignon Blanc $8/$24
Syrah $8/$24
Sweet red or white $9/28
SPARKLING
House Champagne $7 Glass
Mimosa/Cranberry Sparkler $8/$24 Carafe
Prosecco $10/$32
BEER
All Beer $5 per bottle or $20 per bucket of 5 (mix- em up)
We have a selection of over 20 different types of beers and Cider's
PINOT'S SPECIALTY COCKTAILS $12
DIRTY PAINT WATER – The paint water you CAN drink!
Malibu Rum, Pineapple Juice, Blue Curacao, Grenadine
STARRY RITA – A margarita Van Gogh would be proud of.
Tequila. Triple Sec, Blue Curacao, Lime Juice
MONET'S SUNRISE – Like a tequila sunrise but we have to
Stick to the theme, don't-cha think?
Tequila, Orange Juice, Grenadine
PiCosmo - Vodka, Triple Sec, Lime Juice, Cranberry Juice
HOUSE DRINKS $10 Top Shelf + $2
Choose one -Vodka, Gin, Rum, Tequila, Whiskey
Choose Your Mixer – Orange, Cranberry, Pineapple Juice, Coke, Sprite, Ginger Ale, Seltzer, Tonic Water, Red Bull
SHOT OR ON THE ROCKS $8 Top Shelf + $2
TOP SHELF OPTIONS
Hennessey Cognac, Ciroc Vodka, Grey Goose Vodka,
Jack Daniels, Patron Tequila, 1800 Tequila,
Bombay Sapphire Gin, Bailey's Irish Cream,
Disaronno Amaretto, Bacardi Gold,
Captain Morgan Spiced Rum
NON-ALCOHOLIC
Soda $2 Water $1 Snapple or Juice $2 Red Bull $5
PAINT. DRINK. HAVE FUN
Pricing Includes Tax
Prices and selection subject to change without notice