Tips For Planning The Perfect Date Night
Whether it's your first date, or the first date you've been able to make time for in quite some time, planning the perfect night out with your significant other can be a lot of pressure. The perfect date should be enjoyable, memorable, and most importantly, allow for you and your date to genuinely connect with each other. Here are 4 tips for making the perfect date night you're envisioning come to life!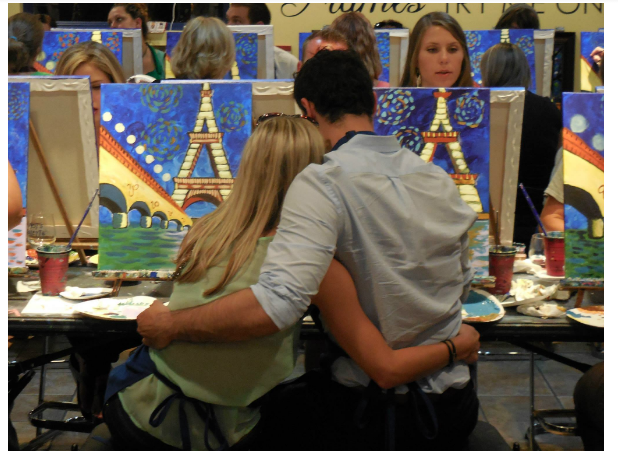 1. Think outside of the box.
Dinner and a movie can always be fun, but try to plan something more unique. Consider
activities you and your date have never actually done before. Try a new
restaurant, or come up with an activity to do that your date would never expect.
2. Try a 'make and take' activity.
Activities that allow you to create something together, and take it home after are great because you leave with something amazing that you can keep forever to remember the special day! Our paint and sip classes provide the perfect make and take experience. Our artists will make certain you have the time of your life, and leave with a beautiful piece of art you will be proud to display when you get home.
3. Focus on experiences.
The most unforgettable dates are those that involve a new experiences! You
and your special person should have the chance to connect and have fun together on a date! Plan an activity that will be both exciting, and memorable for the two of you.
4. It's the details that count.
Put real thought into planning the perfect date. The night will feel all the more special if your date sees that you really made an effort to iron out all of the details. Remember, it's the little things that count. Be on time, make reservations, and buy tickets in advance to make sure everything goes smoothly.
Have you mastered the art of planning unforgettable date nights? Share your story with us on Facebook; we'd love to hear about your perfect date.
Enter your contact info and request details below, and we will contact you with details about your private party!