Disconnect to Reconnect
Disconnect to Reconnect
Today we live in a world driven by technology. Our daily lives consist of more screen time, watching television or texting on our phones, than having face-to-face conversations with real people. A recent study discovered that the average person checks their devices 85 times a day, spending five hours using apps or scrolling on the internet. This amount of time using technology equals about a third of the time a person is awake each day.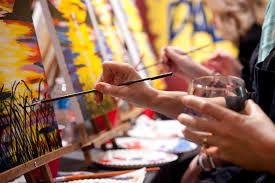 WE ARE TOGETHER, ALONE
Technology gives us the ability to be constantly connected by way of our phones or computers, but are we really connected? We sit in front of our devices communicating with people near and far, but we're using these devices alone. We're alone together. We're connected by way of technology, but alone in terms of fostering real human interaction.
WE CHALLENGE YOU TO DISCONNECT
At Pinot's Palette, we challenge you to disconnect from technology to reconnect with what really matters in life. What really matters are real connections with real people that build real relationships. Spend one day free from technology! Go out on a date and leave your phone in the car. Spend an entire day not checking emails. Take a walk on the beach and collect seashells, then jog across the Ravenel to explore our beautiful downtown scenery. Taking a class at Pinot's Palette is a great way to disconnect to reconnect with your friends or loved ones. We provide a relaxed atmosphere with music, art, and most importantly, the opportunity make lasting memories.
Check back later this week, we'll be sharing ways you can balance disconnecting from your devices to make more time for interaction with real people. If you're up for the Disconnect to Reconnect challenge, share what's motivated you to decrease your screen time on our Facebook page, we'd love to hear from you!
Enter your contact info and request details below, and we will contact you with details about your private party!