Team Building Holiday Party Ideas!
At Pinot's Palette, our group paint parties spark creativity and collaboration for teams of all sizes! Be the office hero and book a fun and creative Holiday party for your crew this year! Here's the BEST part, planning a party at Pinot's Palette – Memorial City in Houston is easy breezy!! Once we confirm your date and deposit all you have to do is bring the liquid creativity and leave the rest of the party planning up to us!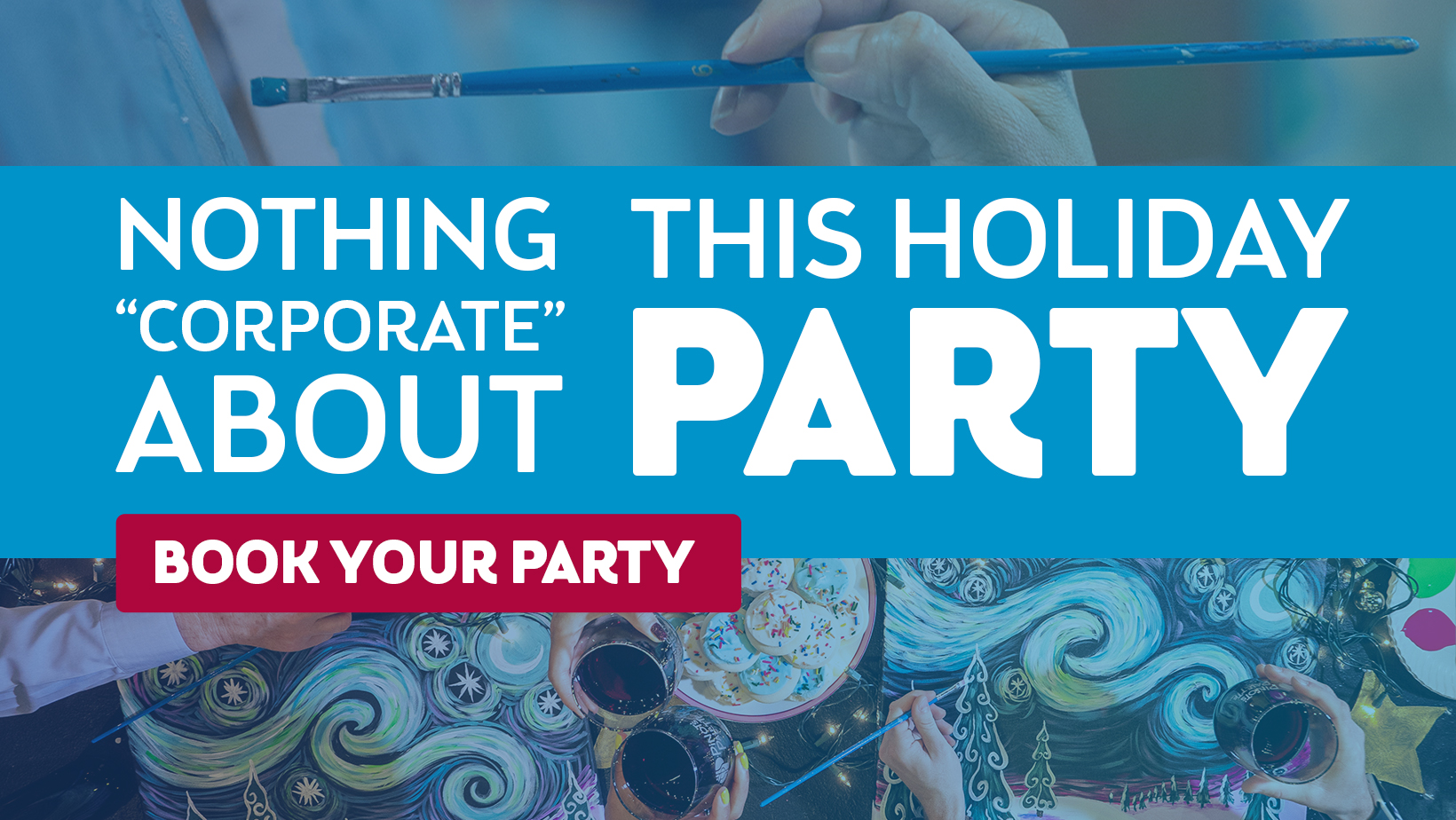 We offer a variety of Team Building options, and we're always happy to customize an event or a painting perfect for your group! Your team can Paint, Drink & Have Fun with our traditional paint party option, where each member gets to create their own masterpiece while following a professional art instructor step-by-step. We always encourage creativity, so feel free to change up your painting as little or as much as you'd like!
Our jigsaw painting option is the epitome of the saying 'Teamwork makes the Dream work!' All you have to do is pick a painting you like, and each painter will complete a piece of the puzzle! Now your office will have an impressive mural to brighten up the space!
If you REALLY want to PaRtY, crank up the jams and give musical chairs a shot! Every team member starts their own painting following the instructing professional artist. When the music stops, so do you! Switch seats/paintings and continue on. By the end of class, everyone will have a hand in everyone's masterpiece! Now that's what we call Creative Collaboration!
Who doesn't love surprises? Try our 'Mystery Painting' Team Building option! We guarantee it's wayyy more fun than trust falls! All team members will start a painting by following our professional art instructor without knowing what that end painting looks like. At the end of class be amazed or have some laughs at what everyone has created and how everyone interpreted the painting instructions.
How about a large masterpiece for the office or piece to auction off for charity? Sure! We've got you covered on that too! Try out our Collaborative team building activity! All guests that want to participate will contribute to a painting on a 3' X 4' canvas throughout the event, and one of our artists is on standby if anyone needs assistance. We have a little something for all guests whether they prefer to do more painting or a little more 'wine-ing'!
All our corporate events are a breeze to put together, and your team will actually have a lot of fun! Men and women, young and mature - Paint parties at Pinot's Palette in Memorial City is indeed a good time for all! Bring what your crew enjoys drinking and eating and let us take care of the rest! We still have some prime dates available this holiday season, and we'd truly love the opportunity to work with you and your team! Email us or give us a call: 713.973.2086 or memorialcity@pinotspalette.com
Share Request Information | View Full Calendar of Public Events