What does a Date Night do for you?
We ride this crazy train from month to month with little valuable time for "us." As couples, we see the importance of that intimate one on one time, but what to do? Doing something with the little time you have and make it count? Some of us have kids, jobs, projects, practices, sports, homework, PTA, studying, networking, community involvement, etc. The list goes on. How do you spend time together? Same old movie and dinner? A movie where you don't talk much? Streaming T.V. shows? A night out at the bar? On occasion, bars can be fun, but not always intimate and very loud. Concerts? Fabulous idea, but is it as often as you need for a relationship? Affordable date night ideas are hard to come by.We put together a few reasons Pinot's Palette should be a Date Night to consider!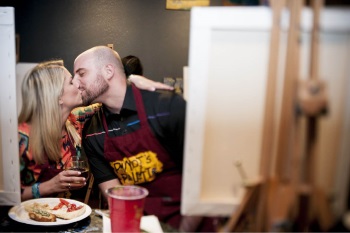 1) We are a BYOB. Bring what YOU want and don't pay for overpriced drinks that aren't your favorites!
2) Bring your food with you for a one stop date night! We have awesome dining options within walking distance! We provide plates, napkins, utensils, glasses, ice, and more!
3) You can hear each other talk! We have music playing all night, but low enough for you to carry an intimate conversation about the things you need to catch up on or laugh about!
4) Come out of your box together and create something without limits. Follow our artists as they walk you through your masterpiece and you let your creative juices flow to create something together.
5) Art is a source of soul therapy and has been the link between stress and relaxation for hundreds of people. (The wine helps kick start the stress relief!)
6) A fun atmosphere invokes positive energy, laughter, and a heighten of hormones. (Just saying.)
7) You don't have to break the bank! Our 2 hour parties are $35 and our 3 hour parties are $45 which includes ALL the materials you need to create your piece, instructions, and a warm and welcoming atmosphere.
8) Meet others with similar interests! Its always fun to meet other couples during a fun night out!
9) Bring home something that you created together that holds sentimental value! Showcase your masterpiece at your home!
10) Our staff genuinely knows that this is your moment. Your small time frame away from stress, family, and work is important to you and we want to make the most of your time! We will be taking all photos for you, so you can turn off those phones and #DisconnectToReconnect!
We provide a fun atmosphere with exceptional service!Remember that the time with your partner is one of the most important things on your list! Start this year off with a goal to make your time count! #YourYearYourRules