Pinot's Palette Denver-Highlands Bar Menu
Enjoy a glass of wine or beer while you paint. You're sure to find something to tickle your palate from our extensive menu featuring wine from around the world and (most) beers from Colorado!
We feature four beers on tap and two wines on tap at all times, in addition to a wide-selection of both in bottles & cans. Our taps rotate seasonally and we are alway interested in learning about your favorites.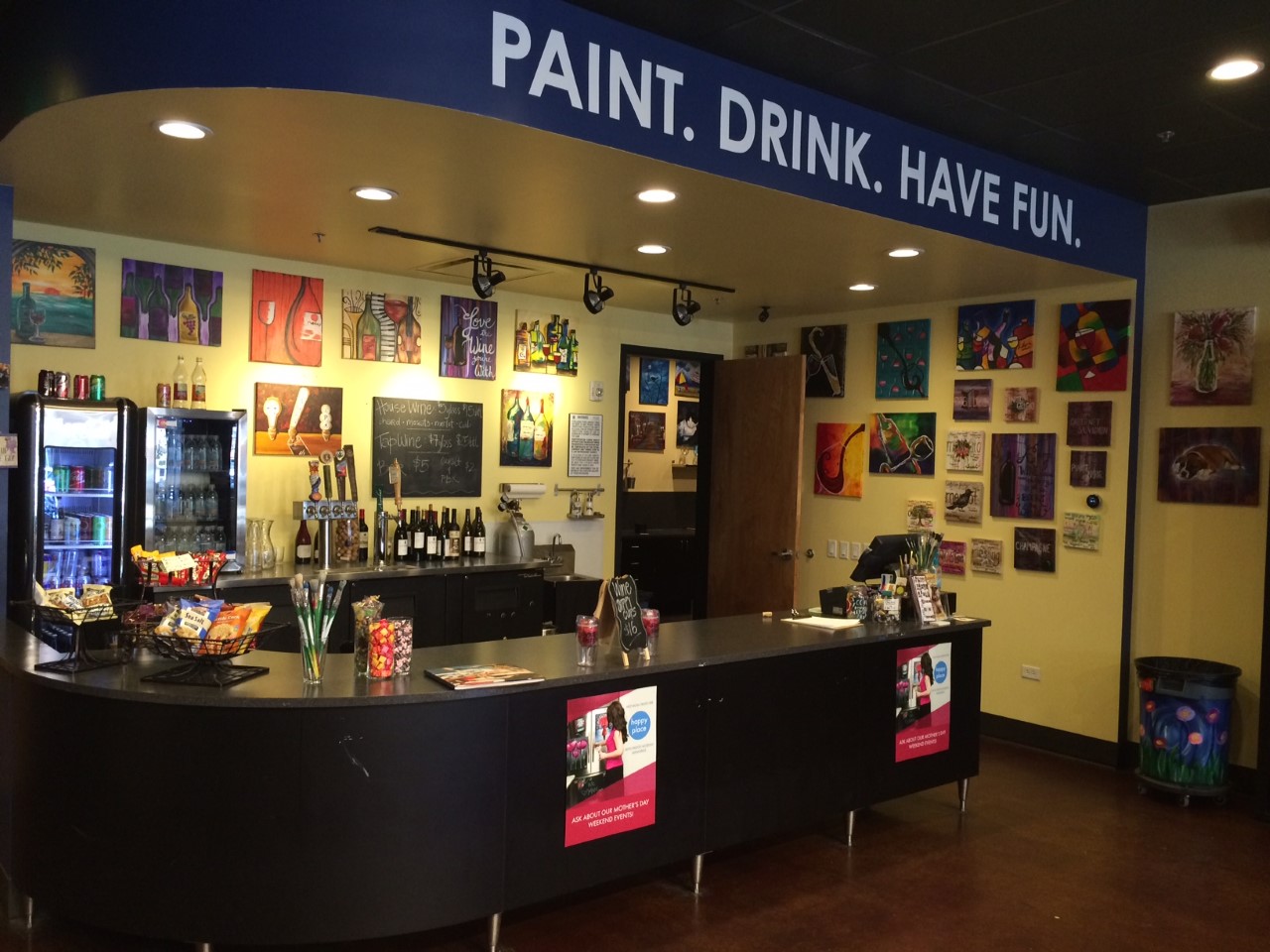 Bubbles
(juice selection available for mimosas)
Brut: Freixenet, Spain $5 glass/$15 bottle
Blanc de Bleu Cuvée Mousseux, NV, California $40 (bottle only)
Prosecco: Lunetta Cavit, Italy $8 glass/$28 bottle
Cuvee: Spritz & Giggles, California $35/bottle
White Wines
Available by the glass or bottle
Chardonnay: Fox Brook, California $5 glass/$15 bottle
Moscato: Crane Lake, California $5 glass/$15 bottle
Pinot Gris: King Estate Acrobat, Oregon $7 glass/$25 bottle (on tap)
Pinot Grigio: Piccini, Italy $7 glass/$25 bottle
Moscato d'Asti: Stella Rosa, Italy $8 glass/$25 bottle
Sauvignon Blanc: Giesen, Marlborough $8 glass/$28 bottle
Riesling: The Jack, Washington $8 glass/$28 bottle
Rosé: Moshin Vineyards, Sonoma County $12 glass/$45 bottle
Rosé: Pink Petals, Chronic Cellars, Paso Robles $10 glass/$38 bottle
White Wines
Available by the bottle only
Chardonnay: La Crema, Sonoma Coast $45
Red Wines
Available by the glass or bottle
Cabernet: Fox Brook, California $5 glass/$15 bottle
Cabernet Sauvignon: 19 Crimes, Australia $8 glass/$28 bottle
Petite Sirah: La Famiglia, California $5 glass/$15 bottle
Petite Sirah: Line 39, California $8 glass/$28 bottle
Merlot: La Famiglia, California, Imported $5 glass/$15 bottle
Malbec: Alta Vista, Argentina $8 glass/$28 bottle
Pinot Noir: Hahn, California $10 glass/$38 bottle (on tap)
Red: Stella Rosa, $10 glass/$38 bottle
Red Wines
Available by the bottle only
Cabernet Sauvignon: Roth, California $55
Cabernet Sauvignon: Robert Mondavi, Napa Valley $65
Malbec: Salentein, Argentina $48
Bordeaux: Château Cazaumartin, France $55
Pinot Noir: Four Graces, Oregon $48
Red Blend: Sofa King Bueno, Chronic Cellars, Paso Robles, $38
Beers
$5, unless noted
Mike's Black Cherry
Dry Dock Apricot Blonde (tap)
Palm Breeze $3
PBR $2
Coors Light $2
New Belgium Cirtadellic IPA (tap)
Telluride Whacked Out Wheat (tap)
Ballast Point Pineapple Sculpin
Dry Dock Vanilla Bean Porter
Prost Dunkel
Prost Pils
Colorado Cider Company Rad'lah Cider (tap)
Not Your Father's Rootbeer $6
Henry's Hard Cherry Cola $6
Fort Collins Brewery Red Banshee
New Belgium Sunshine Wheat
Nosh
Nuts $1.50
Chocolates 2 for $1.²5 or $.75 each
Candy Bars $1.50
Chips $1.00
On Tap Kitchen Pretzels: $3
Non-Alcoholic
Izzy's $2.00 clementine, berry, apple
Soda $1.00 coke, diet coke, coke zero, sprite
Energy Drink $3.²5
La Croix $2.00
Fort Collins Brewery Sodas $2.00
Republic of Tea $4
Starbucks Frappéchino: $3.25