Letter from the Founders
After seven years, our Galleria studio is closing its doors.
To our Galleria guests: Thank You. A lot of memories were made here: countless reconnections with old friends and connections with new ones, first dates that led to multiple anniversaries, first-time painters who turned into confident artists. We have loved watching these memories being made. Thank you for making them with us.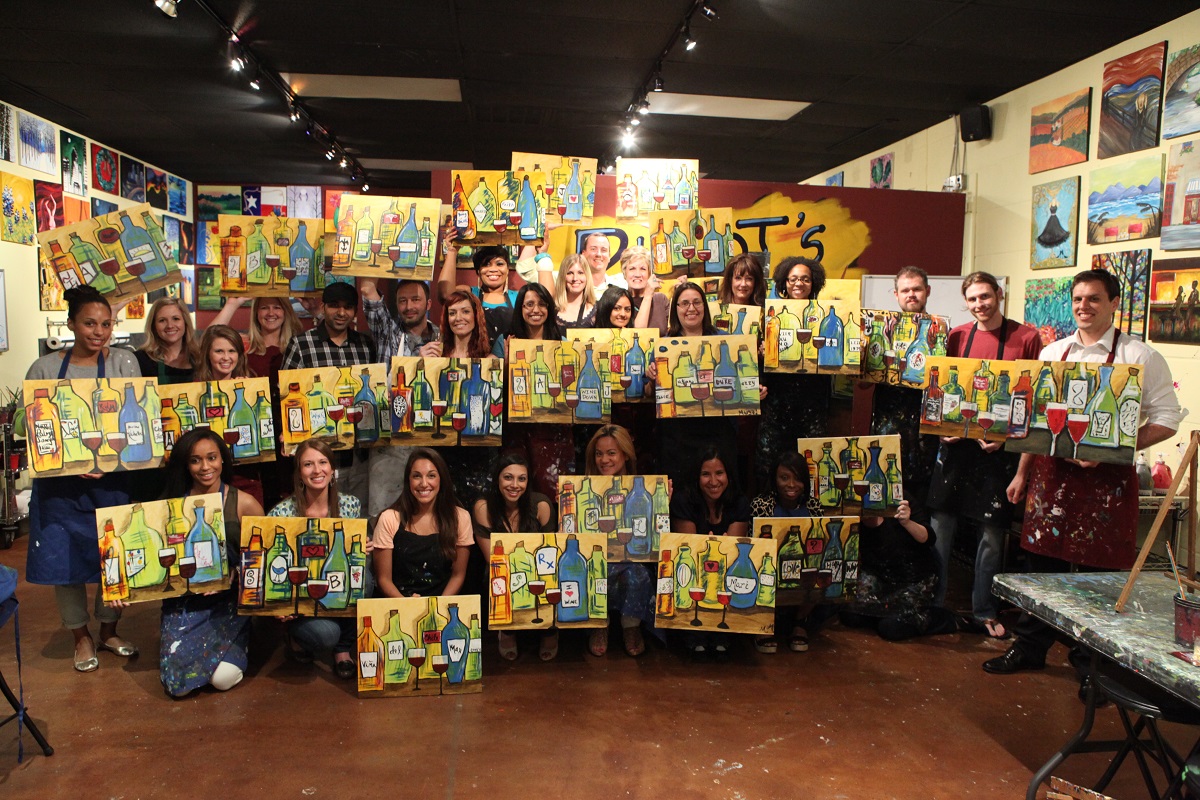 Pinot's Palette Galleria was our second location. The three of us quit our corporate careers to open it, following the success of the original studio in Montrose. It was a big leap for us, but you were wonderful from the start. You showed up and filled the studio with happiness, over and over again.
A lot of firsts happened here: Our first Painting It Forward event was a runaway success – and we loved it so much, we built it into our business model. Our first private party happened here, and our first 100-person party! (That private party room in the back? It was originally supposed to be our office.)
This location was foundational in our early growth as a company, and in our ongoing success today. We became a franchise in 2011, and now have about 140 studios from coast to coast. In all this, our priorities had to evolve.
Our franchise owners are building their dreams and experiencing small business ownership the same way we did back in 2009-2010. By supporting them, we're supporting a national system of guests like you, as well as hundreds of incredible artists who make each Pinot's Palette such a fun place to be.
With this shift in priorities, it became clear to us that we couldn't continue operating all of our founding studios with the quality that our guests deserve.
So, we had to make a hard call. As of September 1, 2017, the Galleria Pinot's Palette – our second location and the start of so many good things for our company – is closed.
Even though we know it's the right thing to do, it hasn't been easy for us, and we know it won't be easy for many of you. We are truly sorry to close the doors on a place that created so many wonderful memories for you.
If the Galleria studio was your go-to, we hope you'll continue your paint and sip tradition at one of our other founding locations. Pinot's Palette Montrose was our very first studio, and the first paint and sip in Houston. A couple years later, we opened the Memorial City location because the others kept selling out.
The Montrose and Memorial City studios aren't going anywhere. Their doors are wide open, and our Galleria artists are still teaching at these locations. Your continued support means the world to us, to our artists, and to your fellow painters.
Thank you for everything, Galleria friends. We look forward to seeing you again, to sharing old memories, and to making new ones.
Sincerely,
Craig, Charles and Beth
Enter your contact info and request details below, and we will contact you with details about your private party!