Creating Art At A Wine Party Can Relieve Stress
CREATING ART AT A WINE PARTY CAN RELIEVE STRESS
Art washes from the soul the dust of everyday life. — Pablo Picasso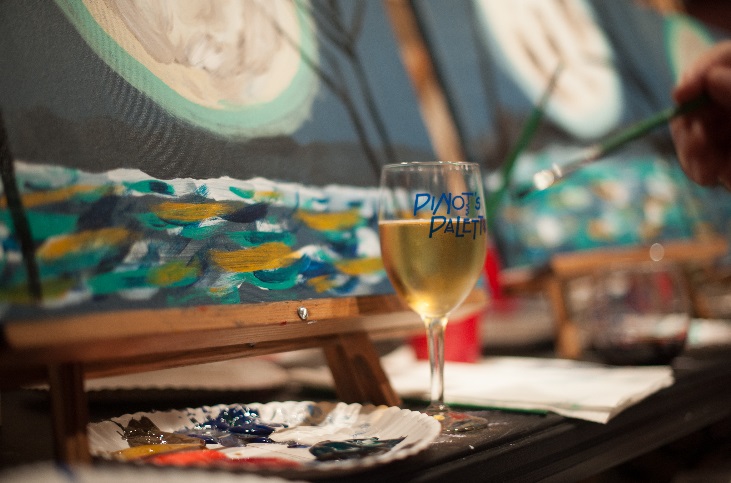 It's no secret many people unwind at the end of the day with a glass of wine. Alcohol in moderation reduces the body's physiological stress response. "Drinking wine is one of the most time-honored ways for disconnecting our brains at the end of the day," says Dr. Jacob Teitelbaum.
There have also been studies revealing mental health benefits to creating art. That's why paint and sip parties at Pinot's Palette - Fort Lauderdale are not only a fun night out, they provide a new twist for stress relief.
Activities like painting and drawing are relaxing and rewarding hobbies that can lower your stress levels and leave you feeling mentally clear and calm. Creating art provides a distraction, giving your brain a break from your usual thoughts.
When you get totally immersed in a creative endeavor, you may find yourself in what's known as "the zone" or in a state of "flow." Psychologist Mihaly Csikszentmihalyi says flow is the secret to happiness. "When we are involved in painting, we feel that we are living more fully than during the rest of life. Sense of time disappears. You forget yourself."
"Our bodies are in a constant state of stress because our brain can't tell the difference between an upcoming meeting with the boss and an upcoming bear attack," says occupational therapist Victoria Schindler. Painting can quiet that "fight or flight" response. "Flow could potentially help patients to dampen internal chaos," writes Schindler.
Studies have also shown couples who create art together experience a greater sense of connectedness. By focusing on painting, and each other, the days stressors begin to melt away. Which is why paint and sip parties are great date night ideas.
And consider this twist. A painting's reward goes far beyond creation during paint n sip parties. Seeing the finished product adorning your wall can lift your mood weeks, months, or even years later.
Wine and painting parties are also very liberating. There are no right or wrong ways to express yourself during paint n sip parties. No art experience is required and local artists guide you through the entire process.
At Pinot's Palette - Fort Lauderdale, stressful thoughts begin to fade away with every sip of wine and brush stroke on canvas during your wine and painting party.
Sign up for a paint and sip party to begin your stress relieving fun night out. Remember to drink responsibly.
Enter your contact info and request details below, and we will contact you with details about your private party!