It's Time To Book Your Holiday Party! Let Pinot's Palette Help Make It An Event To Remember!
If you've ever been to one of our classes, you know how much fun they are! Painting some masterpieces, drinking wine, listening to music, and spending time with loved ones is always a great combinations; Add some Christmas music, holiday-themed artwork, delicious food, and you've got a really spectacular event!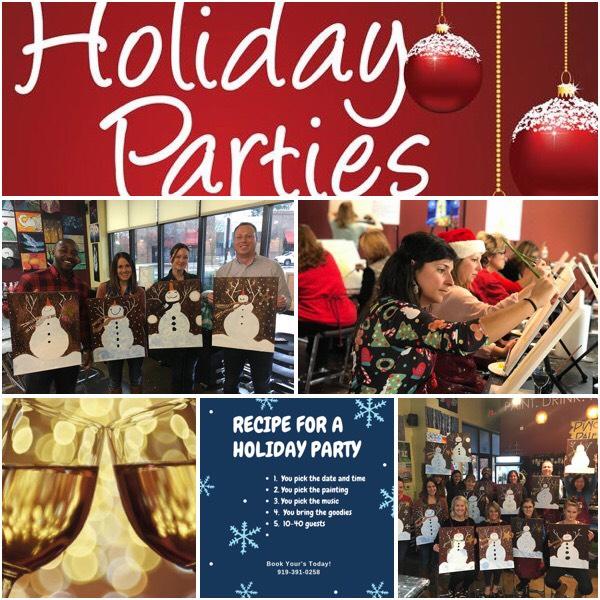 This time of year tends to be filled with some great recipes, shared everywhere from magazines to sites like 'Pinterest'. Everyone likes the 'how-to' process of doing something, laid out before them in an orderly fashion which is why recipes are such a great way to make something happen!
***Here is our recipe for a great holiday party:
Takes about 2-3 hours
(Serves 10-54 people)
INGREDIENTS
(provided by Pinot's Palette)
Paint, brushes, and canvases
Artist apron
Step-by-step instructions
Wine and beer
DIRECTIONS
1.Pick The Date And Time.
The best part about booking an event with us is that YOU get to select the date and time of the party! Unlike our typical public classes, where the time and date are selected for you, your private party will be set up for the most convenient time and date for you and your guests.
NOTE: Be sure to book, ASAP, to be sure to get your preferred time and date, as our parties book up fast this time of year!
*Get started on booking your family and friends party:
https://www....ivate-parties
*Start booking your office party (With the idea of team-building, in mind):
https://www....ivate-parties
2.Pick The Painting.
We have a fabulous library, full of thousands of paintings for you to choose from for your party. We have something for everyone, from landscapes and holiday themed artwork, to sports team, popular landmarks, animals, people, and more! Our most sought-after paintings this time of year, are (no surprise) the Christmas and winter-inspired works of art so be sure to search for those specifically, as you look through the library, if you're interested in them for your party!
*View our library:
https://www....nting-library
3.Pick The Music
Doing something creative and relaxing is always made better by another creative and relaxing outlet: music. No one wants to sit in awkward silence as they make their masterpieces; They want to be totally immersed in a fun, colorful, melodic atmosphere where they can unwind, get in touch with their inner-artist, and let their creativity, run wild. Music soothes the soul, expands the mind, and makes everything better! Think about the perfect playlist to make for your guests; Whether you want Christmas music to play as you paint your holiday artwork (a very popular choice); some classical music for inspiration, fun 80s music, dance/party music; or a wide collaboration of songs for the various preferences of your guests, you can design the music, come in and let us play it for you! If making a music on your personal device, isn't your thing, don't worry: We have some of our own we can play while you paint! Let us know the type of music you want and we can create a Pandora station, just for you!
4.Bring The Goodies.
With private parties, our guests enjoy bringing in some yummy snacks for everyone to enjoy as they paint and drink. Some, prefer to bring in their special recipes from home, enjoying food in the style of a potluck meal; Others, enjoy letting someone else handle the food aspect of the event and call on their favorite restaurant to cater the party. However you wish to provide food, heavy or light bites, we can help make recommendations of local places that cater that other customers have used, along with providing a place for you to display all of your goodies.
In addition to food, we do see people who like to bring in some games like holiday-themed trivia, gifts to do a gift exchange, or tokens of appreciation to hand out to their employees or loved ones; Keep in mind that you can plan your party, any way you want and just let us know what you're thinking and we'll help you to make it happen.
*Holiday trivia:
https://iceb...stmas-trivia/
5.Invite 10-54 Guests.
Invite all of your best friends and family members to celebrate this time of year when family and traditions are celebrated. Make some beautiful artwork and great memories as you paint and have fun in a creative environment. If you're planning the annual office party, send out invites to all of the people in the office, and keep our 'team building' painting styles in mind! Bring joy and cheer into the lives of those that you work with everyday, and learn even more about them as you bond over a unique experience.
NOTE **You must have a minimum of 10 guests to book our studio for a party
((Private Party room holds 24 and main room can hold up to 54))
We hope to see you soon, whether it's for a private party, corporate event, or a regular pubic class! If you're looking for something fun to do in or around the Edwardsville area, we're the spot for you! We make the perfect event for everything from a fun and unique date night, to an awesome girls' night out experience, and we even offer private events! When you view our classes on our website, you'll be viewing our schedule for our public classes, but you can also book a painting party with the guest list of your choice! Come in to celebrate a birthday, bridal shower, reunion, retirement, and more with friends and family, sharing their artistic sides, together. Make memories that will last a lifetime with a souvenir to treasure forever with one our classes.
Cheers!
Share View our full (public) calendar | Purchase a gift certificate!