October Is Here and We've Got Some Wonderful (and Spooktacular) Paintings Coming Up!
It's already October!!
How can that be??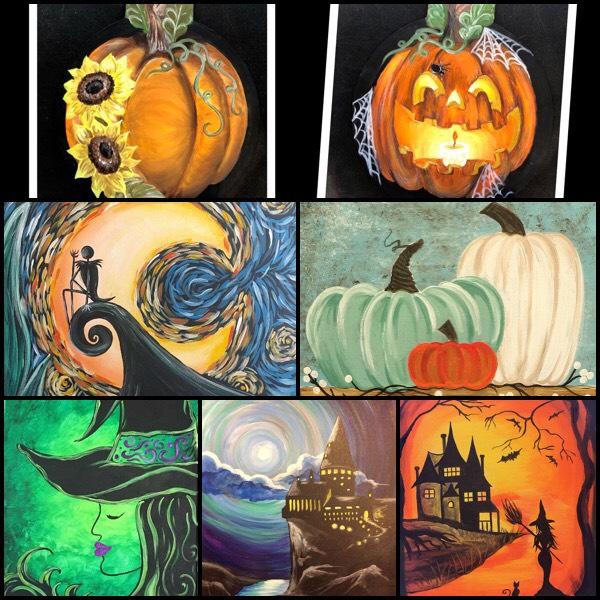 This time of year, time always seems to fly by, and the best part is that there are some many amazing things to do, anywhere you live. The holiday season comes with traditions, memories, new experiences, and a whole lot of fun. As Halloween is quickly approaching, we're offering some spooktacular paintings for you and your loved ones to come in and make; Hang them up at home, along with your other festive decor for a personal touch of Halloween fun that everyone will love!
Stop in and paint one of our many Fall-Inspired masterpieces that will bring happiness and warmth to any space you display it; Make one for yourself and one for a friend who would LOVE to have a handmade work of art by you!
If you have trouble, working your schedule around some of the classes on our calendar, one of our open Studio Classes might be just the solution for you; Come in and paint the picture of your choice at your own pace, while you sip wine and spend time in a relaxing and creative environment!
Here, at Pinot's Palette, Edwardsville, we offer all types of paintings, meant for anyone at any skill-level! We're always amazed to see a first-time painter (as most of our customers are), come in with no experience, and then leave with a handmade work of art that they're so proud of! Our studio provides a fun and creative atmosphere, all of the supplies you'll need to paint, some great music, and wine and beer! Come in with your bffs for a fun night out, your spouse for a unique date night, or the whole family for some of our family friendly classes (where all ages are welcome!). We're here to help you have a good time and with over 1 million customers, having visited the 160+ Pinot's Palette studios, throughout all of the US, we feel confident in saying that you'll have a wonderful experience! Hundreds of thousands of amazing reviews, countless returning customers, thousands of private parties, and SO MANY amazing paintings in our library, all make for one excellent franchise that you should definitely come in and try out for yourself! Join us for a class and see how much fun it can be to paint, drink, and have fun, as you discover your inner-artist. Come in and make some artwork that you'll be proud of and some memories that you'll always treasure!
***Here's what's on the calendar for the month:
-- REVERSIBLE DOOR HANGER!
October 14th
This beautiful door hanger cutout reverses from a fall pumpkin to a jack-o-lantern, and is perfect to add to your decor now through Thanksgiving. Join us for this fun fall event.
https://www....ts%2Fnovember
-- PAINT A TOTE BAG! *Fun for all ages!
October 20th
'Boo Buddies' is the title of this work of art! Ready for Halloween? This adorable ghost and pumpkin are!
We are offering this painting on your choice of canvas or a cute canvas bag. This would be perfect for the kids to come in and paint on a bag to use as a candy bag for Halloween night!
https://www....nts%2Foctober
— SPOOKTACULAR PAINTINGS —
Come in and make some decorations for your home and make Halloween an EXTRA SPECIAL time in your house, when it's decorated with some hand-made artwork! Some of these paintings will be created with florescent paints! Place your finished masterpiece under a black light in your home to show off at a party or to "wow" your Trick-or-Treaters!
10/10 'Haunted Moon'
***Buy 1 Seat, Get 1 FREE!** - Be sure to take advantage of this incredible offer!
Nothing beats a haunted moonlit night on All Hallows Eve! In this scary painting, a dark forest is illuminated by the suddenly emerging face of the full moon.
https://www....nts%2Foctober
10/12 'Starry Nightmare'
A fun painting that combines a scary Halloween picture with the famous artist, "Van Gogh".
https://www....nts%2Foctober
10/13 'Van Gogh's Starry Night Halloween'
Join us for this fun twist on Van Gogh's Starry Night - Halloween Edition at Pinot's Palette studio near you! "There is magic in the night when the pumpkins glow by moonlight."
https://www....nts%2Foctober
10/19 'The Pumpkin Carving King'
Kick off Fall with this Halloween theme painting, show it off to your friends and family during the upcoming holiday season! It even glows like a jack-o-lantern under a Black Light! ;)
https://www....nts%2Foctober
10/20 'A Wicked Night'
People will be green with envy when you show off this special Black Light Witch painting for Halloween!
https://www....nts%2Foctober
10/26 'Witch Way To Pinots'
This Witchy Woman makes you wander what she has been up to. I believe she is searching for a Pinot's Palette to Paint, Drink, and have Fun!
https://www....nts%2Foctober
— FALL BEAUTIES —
Decorating for Fall is a favorite pastime for so many people! It you love bringing the warm and happy colors of Autumn into your home with some excellent decor, look no further that these fabulous paintings! Come in and make some lovely decorations of your own with a hand-painted masterpiece to display, all season long!
10/11 'Autumn's Heirlooms'
"Autumn paints in colors that summer has never seen". This little trio of Cinderella pumpkins sets a charming scene that only fall can set!
https://www....nts%2Foctober
HALF-PRICED WINE NIGHT
10/18 'Pinot In Paradise'
Imagine yourself and your favorite wine relaxing on a beach watching the sunset. Now you can forever remember this thought while creating this beautiful beach scene, Pinot in Paradise!
https://www....nts%2Foctober
10/24 'Pile Of Pumpkins'
*Painted on a long canvas!
This shiny pile of metallic pumpkins is sure to brighten up your fall!
https://www....nts%2Foctober
November 1, Pumpkin Spice and All Things Nice
Bring Pumpkin Spice & all Things Nice into your home this fall! This autumn themed artwork will take your decorating to new heights, and is sure to get your dinner guests talking!
https://www....nts%2Foctober
November 2, 'Autumn In The Bluegrass'
Join us for this brand new painting, inspired by all of the colors and beauty of Fall!
https://www....nts%2Foctober
— MAGIC and WONDER —
In the light of the moon, anything can be a wondrous sight. Check out these trendy, recognizable paintings and make them, ASAP! From the sugar-skull craze to everyone's favorite boy wizard, we've got some fun ones, coming up!
10/27 'Sugar Skull Crescent Moon'
"Perhaps the crescent moon smiles in doubt at being told that it is a fragment awaiting perfection" – The smile on this moon's face says it all.
https://www....nts%2Foctober
10/28 'The Painting That Must Not Be Named'
"But you know, happiness can be found even in the darkest of times, if one only remembers to turn on the light." J. K. Rowling
https://www....nts%2Foctober
—OPEN STUDIO CLASSES —
Unlike our traditional classes, 'Open Studio' is more loose and creative, since YOU are in charge of selecting the painting you want to make. While we won't have an artist to walk you through the painting, step-by-step, like our typical public classes, we will have someone who will be there to assist you with mixing colors, forming shapes, or anything else you need! These classes are great if you've been eyeing a special painting we've offered in the past, but weren't able to come in for the scheduled class; You can come in to one of our Open Studio classes and make it your way, on your time! Fun! :)
10/13 *Fun for all ages!!!
https://www....nts%2Foctober
10/16
https://www....nts%2Foctober
10/17
https://www....nts%2Foctober
10/19
https://www....nts%2Foctober
10/23
https://www....nts%2Foctober
10/24
https://www....nts%2Foctober
10/30
https://www....nts%2Foctober
10/31
https://www....nts%2Foctober
We hope to see you soon for a class at our studio if you're looking for something fun to do in or around the Edwardsville area! We make the perfect event for everything from a fun and unique date night, an awesome girls' night out experience, and we even offer private events! When you view our classes on our website, you'll be viewing our schedule for our public classes, but you can also book a painting party with the guest list of your choice! Come in to celebrate a birthday, bridal shower, reunion, retirement, and more with friends and family, sharing their artistic sides, together. Make memories that will last a lifetime with a souvenir to treasure forever with one our classes.
*Learn more about our private parties, here:
https://www....ivate-parties
We also play host to tons of corporate events, too! Why not book your next work party or team building event with us? We offer several styles of paintings that incorporate team building strategies, encouraging the whole office to work together, creating a stunning world of art!
*Read more about corporate events, here:
https://www....porate-events
Share View our full calendar here! | Purchase a gift certificate!