Book The Perfect Holiday Party With Us!!!!
It's not too early to begin thinking about your holiday party plans! In fact, the sooner you decide on the venue and guest list, the sooner you'll be able to book the perfect spot for the date and time you want!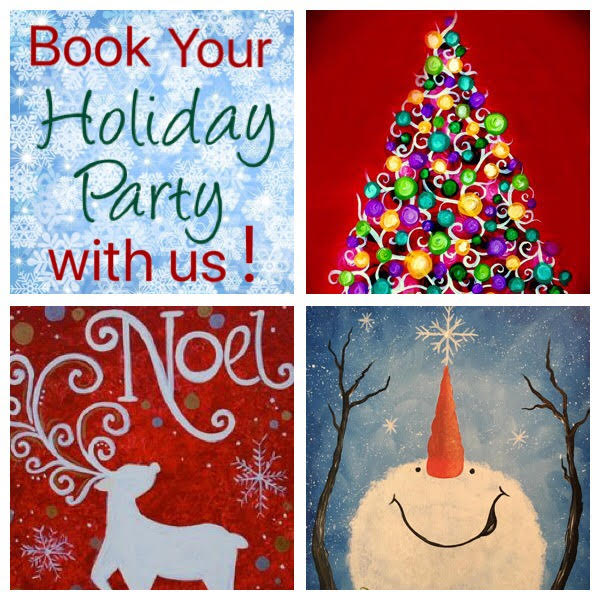 We'd like to introduce you to, what we consider to be one of the most perfect spots for your holiday festivities to be held: Pinot's Palette!
...Ok, so maybe we're a little biased, but since we've had years of positive feedback from thousands of customers, we feel pretty confident in our recommendation.
When you book a private event with Pinot's Palette, you're in total charge of the party! You select the date and time, the painting you'd like to create, the music, the food and drink choices, and more! You get the whole studio to yourselves, where you and your friends, family, or coworkers can get together and spend time, getting creative!
Our private parties can be for anything from birthdays and bridal showers to family reunions and corporate events! During the holidays, we typically have a lot of offices wanting to host their annual office party with us! People get tired of the same old work party... A buffet of fruitcake and coffee, listening to the same stories about what 'Jack' in accounting did that one time, and getting a scented candle in the gift exchange... again...
Break out of that typical party rut and come try something new! A painting and wine class is unique and super fun for everyone! It's nice to get out of the office, have a glass of wine and some delicious food, and get to know your office mates in a more relaxed setting. You may be surprised to find out that your boss is actually an amazing artist! Perhaps 'Susan', the quiet receptionist gets super talkative after a glass of wine! Who knows what interesting things you could learn about the whole gang, spending some time in a creative and relaxed setting.
If you're in charge of planning the annual party (whether it's for the office or your friends and family), leave everyone talking about the excellent time they had, creating a masterpiece, sipping on some drinks, and listening to music in a painting class! Be sure to mention the idea to the boss, if they're the ones who plan the event, and see what the office thinks! The BEST thing about a party at Pinot's Palette is the masterpiece you get to take home, as a souvenir when the class is over! You'll have a hand-made piece of art to hang in your home and always remember the fun time you had at the party!
If you're thinking about Pinot's as an option for your holiday party, but aren't sure about fully committing, quite yet, come to a public class, and try it out! We're sure you'll leave the class, eager to come back and try another painting! Bring some friends or family along to experience a painting event with you, come in for a date night, or the perfect girls' night out! We have tons of painting options and our classes are between 2 and 3 hours, and meant for any skill level!
Now, just a few more things about your private party....
(1) Food and Drinks:
*You can bring in food (potluck style or any other way you wish) OR have it catered! Give us a call or send an email, and we'll give you some suggestions for places that cater near us, or ones that our past customers have used and loved!
*We have a wide variety of wine and beer, as well as some non-alcoholic drinks, for sale at the bar. You can bring in any non-alcoholic drinks you'd like, and also let us know if there's a way you'd prefer to handle the drinks for purchase through us. Sometimes the boss may say 1-2 drinks per person, on him... sometimes there is a selected price point on the wine you may want to stick to (if you don't want to go higher than a certain dollar amount, per drink...), etc.
(2) Time:
*Think about how you want to organize your event! You can select a 2 or 3 hour painting and build in extra time for a gift exchange, Christmas karaoke, holiday trivia game, or just time to eat and mingle! A lot of the time, a group will book a 3 hour party (2 hours for the painting and an extra hour for the above, mentioned- type stuff).
(3) Party Style:
*Our basic painting class is where everyone receives a 16" x 20" canvas and paints this own, along with the artist's instructions. But there are a few other options as well:
- Puzzle: everyone paints a piece of the total, huge painting. There can be one canvas per person, or teamwork style where multiple people work together on one canvas to create their section of the total piece.
-Musical Chairs: much like the childhood game, everyone starts off at one spot, working on their painting, and then they play the moving game! Music can be played and have everyone stop at he seat next to hem when it stops or just have everyone stand up and love to another seat without all of the dramatics :)
**Any additional requests you may have, feel free to let us know! If you wish to decorate for the event, want a specific station on Pandora, or need ya to sing the Happy Birthday song to someone, etc... we are here to serve!
Check out the link, below for more information, and feel free to call or email, or even stop in the studio for more assistance. We hope to see you soon at a class and we'd love for your whole crew to come in for the holidays! The perfect way to celebrate, anytime of year is to Paint. Drink. Have Fun.
Cheers!!!
Share Learn more about our private parties! | Sign up for a painting class with our studio!