What About Bob?
"I got a letter from somebody here a while back, and they said, "Bob, everything in your world seems to be happy." That's for sure. That's why I paint. It's because I can create the kind of world that I want, and I can make this world as happy as I want it. Shoot, if you want bad stuff, watch the news" - Bob Ross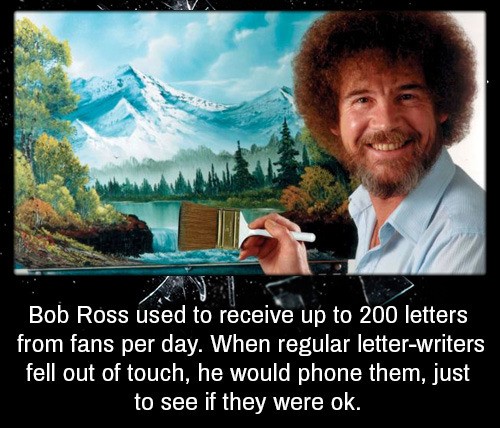 Bob Ross, the painter and television personality, was a prolific artist who purportedly completed 30,000 paintings during his lifetime. Bob Ross wanted everyone to believe that they could be artists. While some may not like Bob Ross' paintings, there are very few people who dislike the artist.
Here at Pinot's Palette, we love Bob Ross for opening the door for everyone to be able to enjoy making art. It's calming, interesting, and just plain fun, just like The Joy of Painting! Read the link below about Bob and some interesting not well-known facts about his life.