Thank Your Employees For All They've Done!
Show Your Employees Just How Thankful You Are For Them With A Painting Event!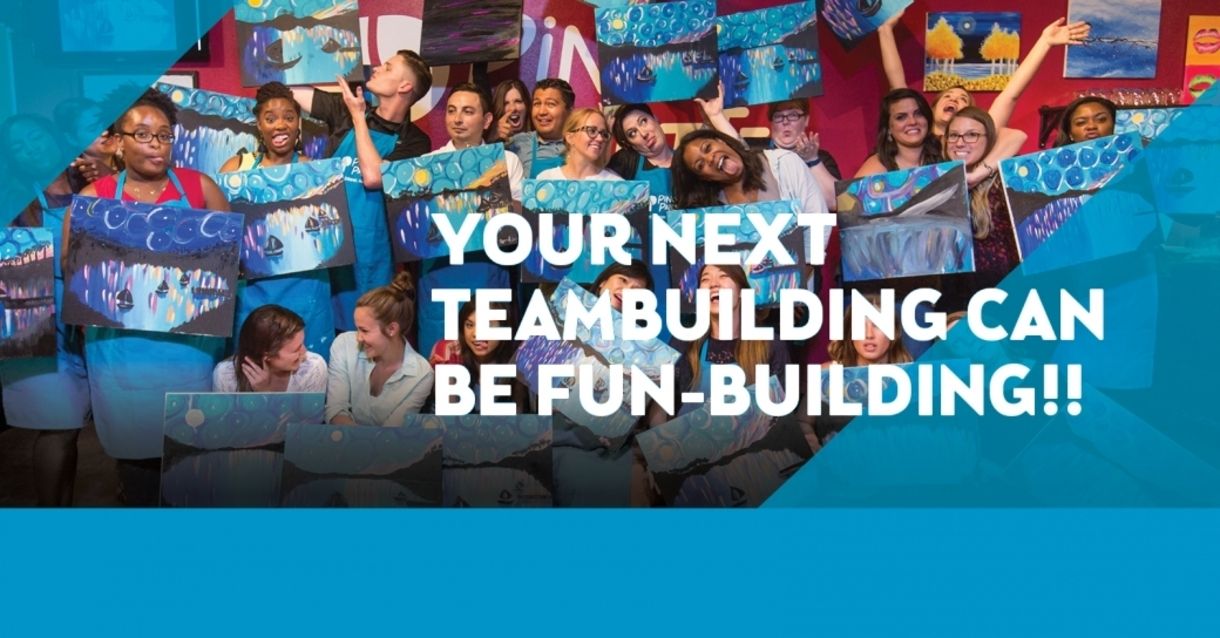 2020 was quite the year, and with some of the events of 2021 already giving the past year a run for it's money, we're all about thanking our employees here at Pinot's Palette for everything they've done for us. You're likely feeling the same, especially in the new year with the giving season, just having passed.
Your employees' constant commitment to your company from your employees is something to greatly value and always be thankful for. If you're looking for a way to show your appreciation to the ones who work hardest for you, look no further than our private events for corporate parties and team building experiences!
If you've ever been to one of our classes or other like it, you know just how much fun they are! Letting your problems go for a few hours as you paint, enjoy some wine, and hang with friends, family, or co-workers. You get to express yourself visually and get in touch with your inner-artist when you take a painting class and that's great for many reasons.
Painting and other creative activites are excellent ways t relax and unwind from a stressful day (and who doesn't need that after the year we'veall had?!). Painting allows your mind to relax and let go of all the problems that contribute to a high stress level. When people create something beautiful through painting, they stimulate the creative mind while relieving mental strain.
Bonus: You also get a feeling of accomplishment and being proud of what you created.
Giving someone the gift of creativity, relaxation, and best of all: a work of art, is such a meaningful thing and should be reserved for the ones who mean the most to you!
We're suggesting a great way to show your employees how much they mean to you and how much you appreciate all they do everyday (and especially during this last year).
Many have worn a mask every single day for 8-9 hours at a time to protect themselves and others as they work; Some have struggled to manage their kids' virtual classes while simultaneously spending their day in Zoom meetings; And some have had to adapt to coming into the office, and then the rules change and they work from home… only to be told to come back to the office and work again a month later when the rules change, yet again (*Not to mention the same things happening with the schools).
Yes, they've done it all and though we've all had our ups and downs, it's important to remember the ones who are there through thick and thin. Painting parties are such a wonderful way to bring everyone together (physically or virtually), and reconnect employees and bosses, alike, in a fun and unique way.
From puzzle paintings and collaborative artwork, to musical chairs, mystery painting, and more, you can ask us about the various options to do with your team!
-- In-Studio Classes --
We know that some people are physically seeing one another, so our in-studio classes are great for them! We've limited the seating in the studio and are taking all of the necessary precautions for following safety guidelines; We're also making sure to give the studio a good disinfecting, often.
We've been hosting customers in the studio for months and everyone has such a great time; It's nice to see people doing normal things at a time like this, so if you and your co-workers would like to join us for a class, sign up and get started planning your event!
-- Virtual Classes --
For those of you who are looking for a virtual experience, we ave tons of amazing classes to offer you, as well! We've adapted to the virtual side of things very nicely and have been running these classes since March. People love the option of making some art while they're stuck at home; It's nice to have a way to unwind and get creative, and who couldn't use more relaxing activities these days?
These are popular ways to hold painting events right now and there are tow options:
Pan the event and pass out the link to everyone for the class - or - stay at the office (or any general common space) and paint together in person, from anywhere!
Prepare drinks and snacks to enjoy as you paint with your co-workers, whether you're together or apart, nothing pairs better than wine and painting!
-- Take Home Kits --
Lastly, you may have seen our 'Take-Home Paint Kits' on the calendar, and those are another excellent way to paint with co-workers! These are best for doing alone or to give to your kids to enjoy and keep busy with, BUT there are certainly some great ways to use these painting classes, too! You'll get all of the supplies you need, as well as the virtual step-by-step directions to do anytime and anywhere, making them a perfect solution for a small gathering at the office or other common space!
Share View Our Public Calendar | More Ways To Say '"Thank You"