What Are Our 'Freestyle Classes'?!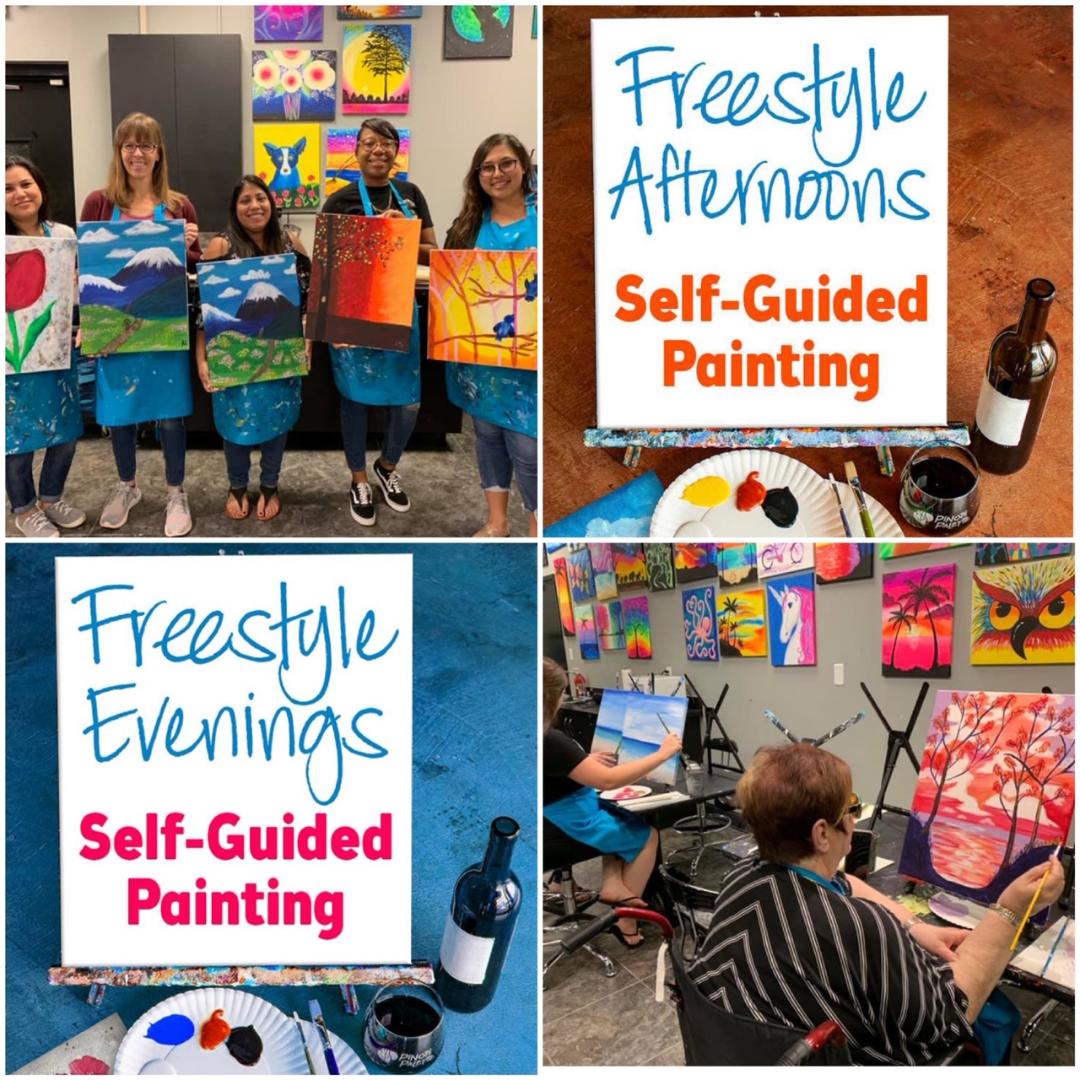 You may have noticed the 'Freestyle Evenings' (or Afternoons) classes on the schedule, but aren't quite sure what they're all about.
We're here to explain what they are, and why they could be a great fit for you!
Much as the name implies, these special events are a more relaxed and 'Free' style of painting and wine class.
In our Freestyle classes, the way you make your art and the time you take to make it, is up to you!
The great thing about these classes is that you're working on the painting of your choice in a time frame that you need, and you can talk as much as you want with your friends (no instructor will be interrupting your conversation with directions)!
We typically offer these classes during the week days and evenings so it's a great thing to come and do after work, or when you're looking for a way to fill the middle of your day!
Come in with friends and family to spend time together as you paint, drink, and have fun in a great environment with some excellent music; Come in for a date night or girls' night out, or just alone to relax and unwind after a long day!
There's nothing like a creative experience and a glass of "liquid creativity" to help you de-stress and enjoy your time!
So, what exactly are our Freestyle classes all about??!
** You Get To Choose The Painting!
Choose from our 35+ self guided paintings (step-by-step in written form) or create your masterpiece from your imagination.
This is great because you don't have to do the same painting as others in the class, like our regular public classes!
** They're A Great Deal!
If you're looking to save some money, our Freestyle Classes are a great way to do so! For just $15, you'll get all of the painting supplies you need, just like in our other classes!
(These classes are less than half of the price of our usual classes! What a great deal!)
** It's A Very 'Free' Way To Paint!
If you've been to our regular classes, you know that the painting is either a 2 or 3 hour painting and you have to come in when the class starts, and finish your painting by the time it ends. While it's nice to have an artist who walks you through the painting, step-by-step, keeping you on track to finish it in the 2-3 hour time frame it requires, sometimes you might need more time. For those of you who like to paint and drink at a leisurely pace, talking with friends, and taking your time on all the details, these Freestyle classes are perfect for you!
** We'll Have Everything You Need.
Just like our standard, guided classes, we'll provide you with the paint, canvas, brushes, and an apron to keep you clean (and of course wine and beer for sale, too!).
** You'll Get A Few Different Options To Choose From
The price you see on the link will get you one of our standard 16" x 20" canvases, BUT wooden pallet upgrades are available for $10 extra, and a 10" X 30" canvas upgrade is available for just $5 extra!
** There Is Not An Artist On Duty.
If you've been to one of our regular classes, you know that there's an instructor who walks you through the step-by-step directions of the painting selection for the evening. It's a part of our promise that "anyone can paint, as we know our talented and encouraging artists are there to guide you slowly, help you each step of the way, and talk you through each technique.
** You Can Register OR Just Walk-In
When you see 'Freestyle' classes on our calendar that means you can either register in advance or just walk-in during the time specified.
-(Note: We DO suggest online registration for these events, as we do tend to sell out.)
NOTE ** You'll notice that our calendar lists options for both, 'Freestyle Afternoons', AND 'Freestyle Evenings' (*These are the same classes, except that some are held earlier in the day than the others, just like the titles imply).
Typically, our 'Freestyle Afternoons' are from 11am-3pm; Arrive no later than 1:30pm and finish painting by 3pm.
Our 'Freestyle Evenings' are usually from 5pm-9pm; Arrive no later than 5:30pm and Finish painting by 9pm.
** Join Us For Out Next 'Freestyle' Classes:
Mon, Nov. 11th Freestyle Afternoon
Anytime between 11am-3pm
https://www..../event/374363
Tues, Nov. 12th Freestyle Evening
Anytime between 5-9pm
https://www..../event/363571
Wed, Nov. 13th Freestyle Afternoon
Anytime between 11am-3pm
https://www..../event/374354
Wed, Nov. 20th Freestyle Afternoon
Anytime between 11am-3pm
https://www..../event/374355
More Freestyle Afternoons this month:
11/25 -
https://www..../event/374364
11/26 -
https://www..../event/374365
11/27 -
https://www..../event/374357
__________________________________________________________________________________________
***Remember that you can book your annual holiday party with Pinot's Palette! Get started now to reserve the date and time you want for your event, and you'll be ahead of the game with your party planning!
-Learn more about these creative and unique, festive events:
https://www....holidayparty-
Share View our full calendar here | Buy some gift certificates!