'Black Friday Weekend' Deals & Classes You Won't Want To Miss!
We've got some seriously wonderful classes AND DEALS, running throughout all of November and December, including Thanksgiving week and Black Friday weekend! Enjoy!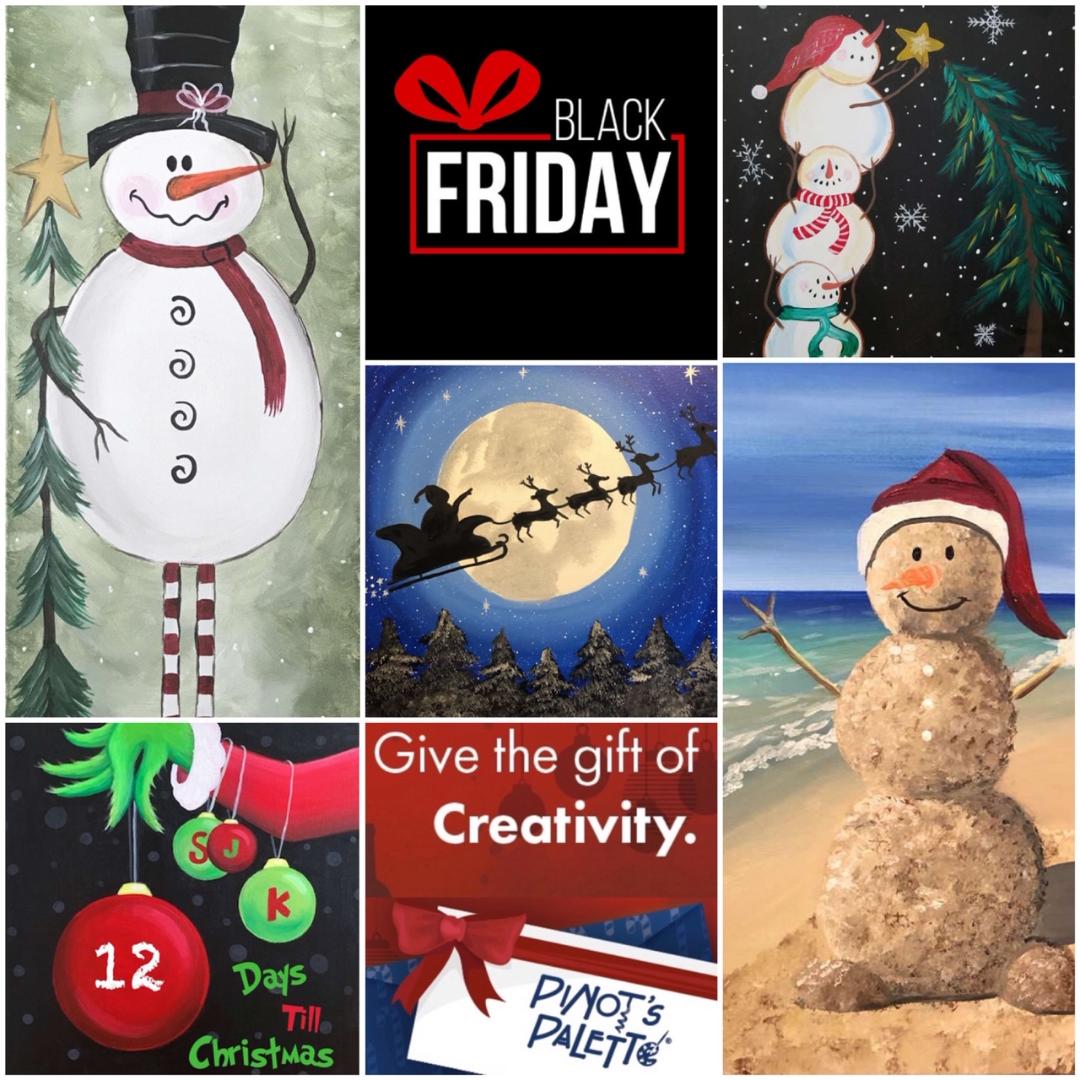 Black Friday!!! It's already that time of year again, and with it, comes the crowds in the stores, traffic on the highways and in the lots, stress, waiting, (sometimes, a little pushing and shoving), and all just to save a little money…
BUT— What if we told you that you can have a fabulous Black Friday Weekend, spending time in a creative environment, doing relaxing things, and ALL while still saving money?!
That's right, we've got some FABULOUS DEALS (and CLASSES) at Pinot's Palette, Brandon, and we're here to tell you all about them!
From saving money all month long (Nov. AND Dec.), to deals the week of Thanksgiving AND throughout Black Friday Weekend, to LOADS of fabulously festive classes, we've got it all!!!!
***** NOVEMBER DEAL:
From now, throughout the remainder of November:
Gather your Friends and Family in November
Reserve 5 Seats, Get 1 Free!
*Use code: FRIENDS at Check out
(Valid for new public class reservations only. Some restrictions apply)
***** DECEMBER DEAL:
Running throughout all of December:
Invite your friends . The More, The Merrier! Special offer: Book 5 seats, get the 6th free! Good for any regularly priced , public event in December 2019.
*Use promo code: BEMERRY at checkout.
***** Thanksgiving Week DEAL:
November 25th-28th for all of our PERKS MEMBERS:
**When you purchase $50 in gift certificates, you'll get a $15 credit for your 'Perks Membership!
-Not a 'Perks' Member? Learn all about this easy (and beneficial) program:
https://www....m/pinot-perks
***** THANKSGIVING WEEK CLASSES!
If you're looking for a fun way to spend time with in-town guests, or your local loved ones, come in for one of these pre-Thanksgiving classes!
*Nov 25, 26, 27- Free Style Classes!
Learn what these events are all about:
https://www....styleclasses-
*11/25 'Aurora On Wood' - Wood Slice
https://www..../event/362944
*11/26 'Christmas Wreath Monogram' - Customizable
https://www..../event/364212
_____________________________________________________________________________
***** BLACK FRIDAY WEEKEND *****
— DON'T MISS THIS DEAL:
November 29th - Dec 2nd
ANYONE is eligible to take advantage of this deal:
Buy $50 in gift certificates, receive $10 credit towards one of our classes!
((We've got a calendar stocked with some amazing paintings this holiday weekend!))
— FRIDAY, November 29th —
'Old World St. Nick'
*Painted on a WOOD PALLET
https://www..../event/362517
'Stacking Snowmen'
https://www..../event/363666
'Snowman's Wish'
*Painted on a LONG CANVAS
https://www..../event/363672
Magical Sleigh Ride'
https://www..../event/363671
— SATURDAY, November 30th —
'Starry Northern Lights'
This NEW PAINTING, created in the style of Van Gogh is sure to be a hit!
https://www..../event/362520
'My Angel'
*Painted on a LONG CANVAS
https://www..../event/363678
'Frosty's Smile'
*FAMILY Paint Day! - All Ages Welcome!
https://www..../event/363673
'Snowman's Bliss'
*ILLUMINATED Painting!
https://www..../event/362521
'Perfect Tree'
*CUSTOMIZE IT!
https://www..../event/362518
'Vintage Snowman'
*Painted on a LONG CANVAS!
https://www..../event/363138
— SUNDAY, December 1st —
'Days Till Christmas'
*This is a NEW painting that serves as a CHALKBOARD COUNTDOWN, too!
https://www..../event/375197
'Christmas Sandman'
*For the ones who love the beach, AND the holiday season!
https://www..../event/363592
'Magical Santa Claus'
*This is painted on a LONG CANVAS!
https://www..../event/363596
'Winter Wishes'
Let this happy snowman fill your heart with warmth during the snowy winter months!
https://www..../event/363670
Share Gift certificates make great gifts! | Book Your Holiday Party!