Wine Etiquette FAQs
We don't care for Emily Post the way our grandparents did, and while that's very liberating, it sometimes leaves us stumped in social situations. A lot of people, including the author of this blog, want to be socially graceful but don't know all the "rules."
"Rules" in quotes because social graces all depend on who you are, who you're with, how comfortable you are with one another and what expectations you have for yourselves personally. A gathering among close friends or a large house party are two notable exceptions to drinking etiquette.
As always, you do you. But if you need some go-to advice for attending fancy dinner parties, we've got your basic wine etiquette questions answered!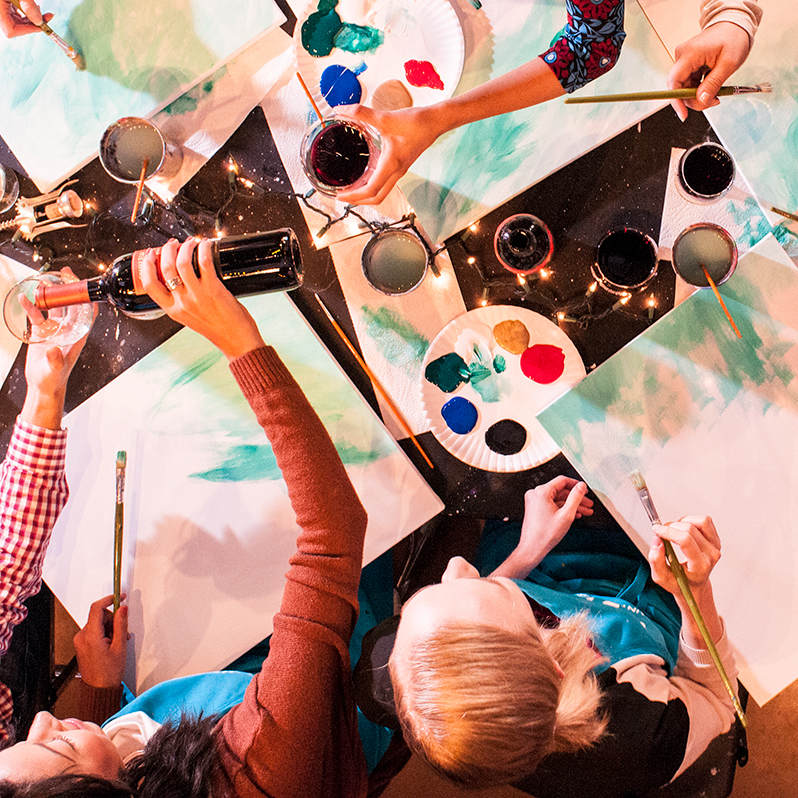 IF I BRING A BOTTLE OF WINE TO SOMEONE ELSE'S PARTY, IS IT A GIFT FOR THEM OR SOMETHING TO FILL MY OWN GLASS WITH?
The official rule is to never expect your own wine to be served to you. You're allowed to drink it if your host opens it or tells you to help yourself. Keep this in mind when choosing a bottle: Get something you like and want to share, but not something that will leave you disappointed if you don't get a taste. An obvious exception to this rule is when the invitation specifically states that it's BYOB.
SHOULD I ALWAYS BRING WINE TO A DINNER PARTY?
As long as drinking is the norm in your social circle and the host hasn't specifically said not to bring anything, then it's a good rule of thumb (but see next question).
IF I BRING A GIFT FOR THE HOST, DO I STILL HAVE TO BRING WINE?
Are you bringing a housewarming or birthday gift, flowers or a side dish? Then you shouldn't have to bring wine too.
WHAT IF I'M THE HOST? SHOULD I SERVE THE WINE MY GUESTS BRING?
Again assuming this isn't a backyard barbecue or a college party, the answer here is no. If you're providing drinks for all your guests, it's your choice whether to serve or to save the drinks they bring you.
CAN I HELP MYSELF TO SECOND, THIRD AND FOURTH GLASSES?
In more formal situations and situations where you're not well-acquainted with the group, it's advisable not to outpace the people around you. One reason for this is because the host may be trying to make sure certain wines get paired with certain foods. But the more likely reason is that the host may not have enough wine to accommodate all his guests drinking rapidly.
A great way to get another glass while gauging whether or not this is kosher is to throw out an offer of, "Can I get anyone else some more wine?" If there are no takers, you should wait too. If there aren't many takers, you should consider slowing your pace.
IF I BROUGHT ALCOHOL BUT IT DIDN'T GET USED, CAN I TAKE IT HOME?
No. Food and drinks brought to someone else's house are considered a gift, whether or not they get consumed. No take-backs.
HOW DO I CHOOSE A GOOD BOTTLE OF WINE?
Check out our previous blog on this:
https://www....sics-part-two
BE NICE AND HAVE A GOOD TIME
It's worth repeating that party and wine etiquette are useful to know in situations where you're not sure what to do, but these are not necessarily rules for life. Every family and friend group has their own social code, and social expectations change with time.
Being good to the people around you matters more than uncorking your own bottle of wine at someone else's house, and feeling comfortable and happy with the people you're close to matters more than worrying about what makes a passable hostess gift. Live, laugh, love!