Triple Corks for Summer of Perks
How's this for a perk? Pinot Perks members get TRIPLE CORKS for classes attended and purchases made in June and July. There's never been such a fun or fast way to level up toward a free paint and sip class!
No idea what we're talking about? Pinot Perks is our paint and sip rewards program. It lets you earn virtual corks for things like going to painting events or buying seats for your friends. Collect enough corks, and you'll earn free studio events.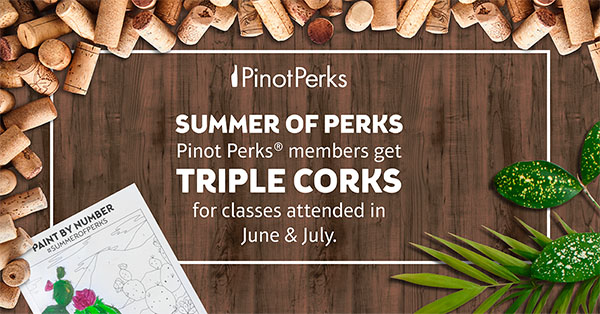 TRIPLE CORKS, WHAT?
Summer of Perks might be the biggest, splashiest thing we've ever done for Pinot Perks members. Here's how it works:
Let's say you buy a seat for yourself and three friends in June. Ordinarily, you'd get two corks for the seat purchases and another cork for attending the event yourself. That would be three corks under normal circumstances. But because it's the Summer of Perks, you get SIX corks for your seat purchases and another THREE corks for attending the event, which comes out to NINE corks for one great night out!
In case you don't know, once you get to 12 corks in your Perks account, you "level up." This has a few benefits, but the biggest one is that you get a free paint and sip class (any regular, public class). Whoohoo!!
You'll also get 3X corks for purchases made in-studio – like frames and other merchandise, and even your bar tab if it totals $30 or more. (Just make sure you have the artist or bartender apply the purchase to your Perks account!)
More about Pinot Perks for the uninitiated:
https://www....m/pinot-perks
ARE TRIPLE CORKS THE ONLY PERK?
Nope, we have a summer chock-full of freebies and fun for Pinot Perks members. For starters, most studios have a super-cute, super-chill game that's part paint-by-number and part scavenger hunt. And a lot of them are hosting giveaways, happy hours and contests throughout the summer… but events and dates vary by location, so check with your local studio for specifics!
Not into games? That's fine; you don't have to play. You'll still get triple corks!
WHAT DO I NEED TO KNOW?
Mostly just that you get triple corks in June and July. The bonus corks happen for all classes attended and all purchases made, whether that purchase is a seat at an event, or something like a bottle of wine or a frame. (Purchases have to be $30 or more – you don't get three corks for every single beer, sorry!).
Triple corks don't apply to events before June 1, 2018, or after July 31, 2018. Triple corks also don't apply to email verification or friend referrals – you still get one cork for those.
For Perks members, this is truly the BEST. SUMMER. EVER. Join us in June and July to make the most of Pinot Perks!