Everything You Want to Know for Your First Paint and Sip Class
The paint and sip experience is very easy-breezy, but even so, it's nice to know what to expect. This is especially true if you're coordinating a large group. Or if you're trying to convince your boss to sign your department up for a paint and sip team-building day.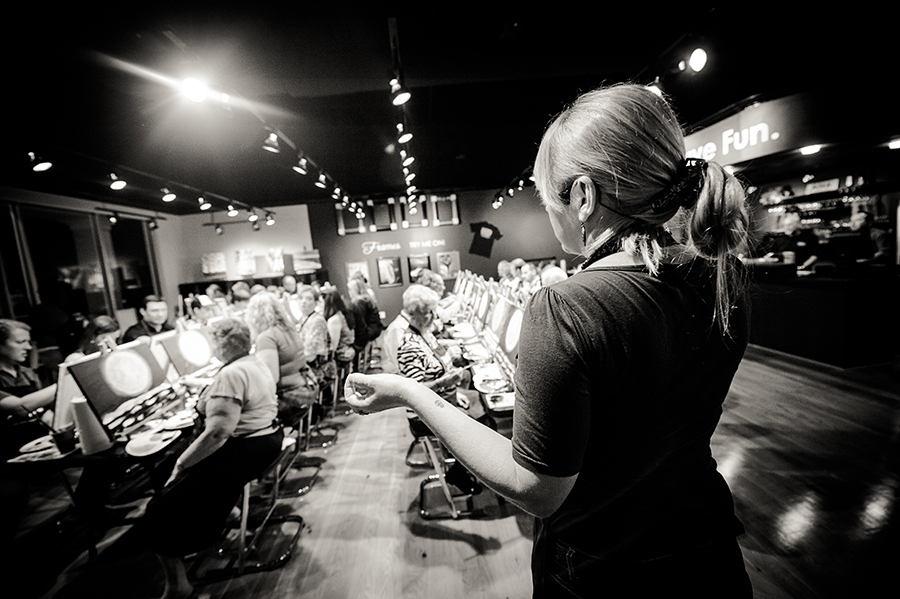 Here's what to expect:
YOU DON'T NEED TO BRING ANYTHING.
Classes are paid in advance, and we provide 100% of your painting supplies, protective smocks, wine glasses and even ice buckets, so you don't have to show up with anything!
Of course, part of the joy of paint and sip is that you get to snack while painting, so most groups show up with some munchies. There are usually no limits to what you can and can't bring to eat… although we do recommend leaving the tuna fish at home. Check your local studio's beverage policy to find out if there's a bar to purchase adult beverages from or if you can bring your own.
THERE'S A PAINT-FREE SPACE FOR YOUR FOOD AND DRINKS.
Don't worry about dripping paint on your hummus platter! Your studio will have a counter or table to accommodate food, bottles, plates, etc. Your painting table will have enough space for wine glasses and snack plates, and people get up throughout the class to go back for seconds. Your instructor will also provide you with intermittent breaks so you can top off without missing a brushstroke.
THESE ARE ADULT CLASSES.
The overwhelming majority of our attendees are over 25 years old. Painters have to be at least 13 to come to a class at most locations, and we don't allow unaccompanied minors. Our studios are designed to be fresh, creative spaces where adults can have a drink and unwind. Check with your local studio's website to get information regarding age policies.
CLASSES ARE 2-3 HOURS LONG.
Class length depends on the painting your studio chooses. Plan for a full evening!
IT'S NICE TO SHOW UP 30 MINUTES EARLY.
Most painters show up early to get their food and beverages set up, and enjoy a bit of downtime with their friends before the painting officially begins.
IT'S SUPER EASY TO HEAR OUR ARTISTS' INSTRUCTIONS.
You don't need to know a single thing about painting prior to showing up. Our instructors will talk you through everything you need to know, from how to mix paint colors to what sort of brush strokes to use.
Our studios are designed with a few details in mind, like keeping the painting space small and intimate, and allowing our instructors' voices to be heard over music and chatter. We promise to make it easy to hear and follow our artists' instructions.