Painting for Beginners: Where to Start
"An artist's career always begins tomorrow." – James McNeill Whistler
We meet a lot of people in our studios who really want to be painters, but either don't know where to start or just can't seem to find the time to make it happen. Figuring out what supplies you need, coming up with ideas of what to paint, refining your skills and making time for a new hobby are easier said than done.
If you feel stuck or overwhelmed, here are a few tips that should help you make the transition from wannabe to regular painter.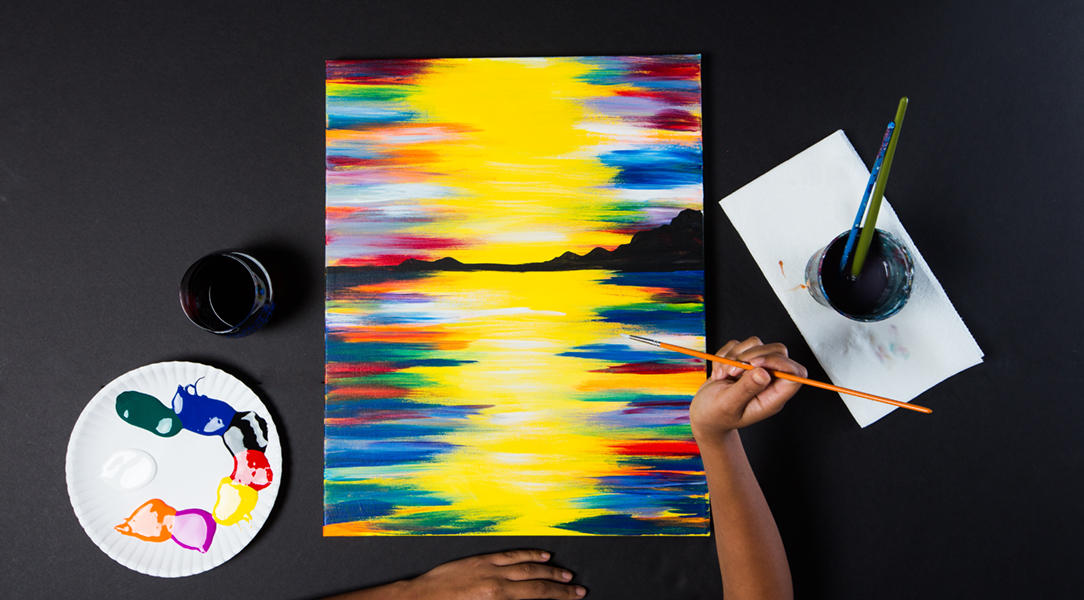 Start with Limited Supplies
If you're brand new to painting, it's best to limit your supplies and do smaller paintings. This not only keeps you from throwing money at supplies you don't need and may never use, it also makes painting more approachable. Start with two to four paint brushes of different sizes and styles, and four to six paint colors. Try a canvas pad before painting on actual canvases. While standing in front of a blank canvas can feel daunting, the canvas pad is often less intimidating because it feels more casual.
Don't Try to Make Masterpieces
Don't rush the process of getting used to the way paint acts, learning which brush styles you like best and learning how to mix colors. Your only goal at this point is to learn the basics. Paint small spaces, and paint anything and everything – a shoe, an abstract, a solid-colored block, a cat, a cardboard box. The subject doesn't matter. You'll make some really ugly stuff and mess up a lot along the way. Embrace the ugly things! These lessons will serve you well when you take on bigger projects. This isn't to say you shouldn't attempt elaborate landscapes and starry nights and portraits, because you should. But the focus needs to be on the process, not the result.
Paint All the Time
If you relegate painting to "whenever I have time," you'll never become a painter. Look at your schedule and figure out the minimum amount of time you can paint each day. Thirty minutes after dinner each night? Forty-five minutes after you get home from work? Even if it's just fifteen minutes before breakfast, dedicate to painting every day. NO EXCUSES.
Try Other Mediums
This is especially great for staying in practice on those days when you're away from home or can't break out the paints for some other reason. Carry a sketchbook and practice shading and composition with a pencil, colored pencils or charcoal. The lessons you learn in one medium will serve you well in any other medium. Switching your medium from time to time is also a great way to overcome painter's block!
Visit Pinot's Palette
Visiting a Pinot's studio with no painting experience and visiting one with some know-how under your belt are two totally different experiences. Once you're confident with a brush and know a few things about how to paint, you'll start picking up on a lot more of the subtleties in your instructor's technique, which you can apply to your own methods. You'll leave the studio with a long mental list of things to go home and try out!
Share Find a studio near you. | Watch the painting tutorial series.