Businesses Guide Adults to Fun and Enrichment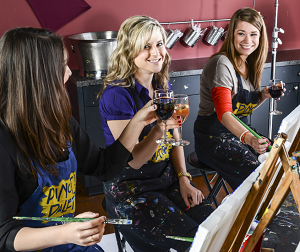 Painting, socializing and exploring help patrons get out of their comfort zones
Getting adults out of their comfort zones for fun and enrichment is an aim of several new area businesses.
Xplorer Girls, based in Aurora, stages monthly events that surprise women participants — they don't know what they'll be doing when they sign up. Vino van Gogh hosts events at Naperville restaurants for socializing and painting. Pinot's Palette, which plans to open in the summer in downtown Naperville, is similar to Vino van Gogh but in a studio setting.
For about $50, Darcie Purcell takes women through Xplorer Girls to such activities as analyzing handwriting, learning to make ravioli and fight with Japanese swords. Events are not about upkeep, like getting nails or hair done, or about checking out, like catching up on a show or having drinks, she said.
"Those things are not about enriching your life," said Purcell, whose business started last year and serves clients from all over the Chicago area.
Pamela Bartlett and Christa Juergens, both of Naperville, are behind Pinot's Palette.