15 Date Night Ideas (That Aren't Dinner and a Movie)
Valentine's Day is just around the corner, and love is in the air! What we're not loving, however, is the same old dinner-roses-candlelight Valentine's Day celebration. Surprise your sweetie with a one-of-a-kind date and make this year's Valentine's Day one to remember. Here are 15 "outside of the box" date ideas to kickstart your planning.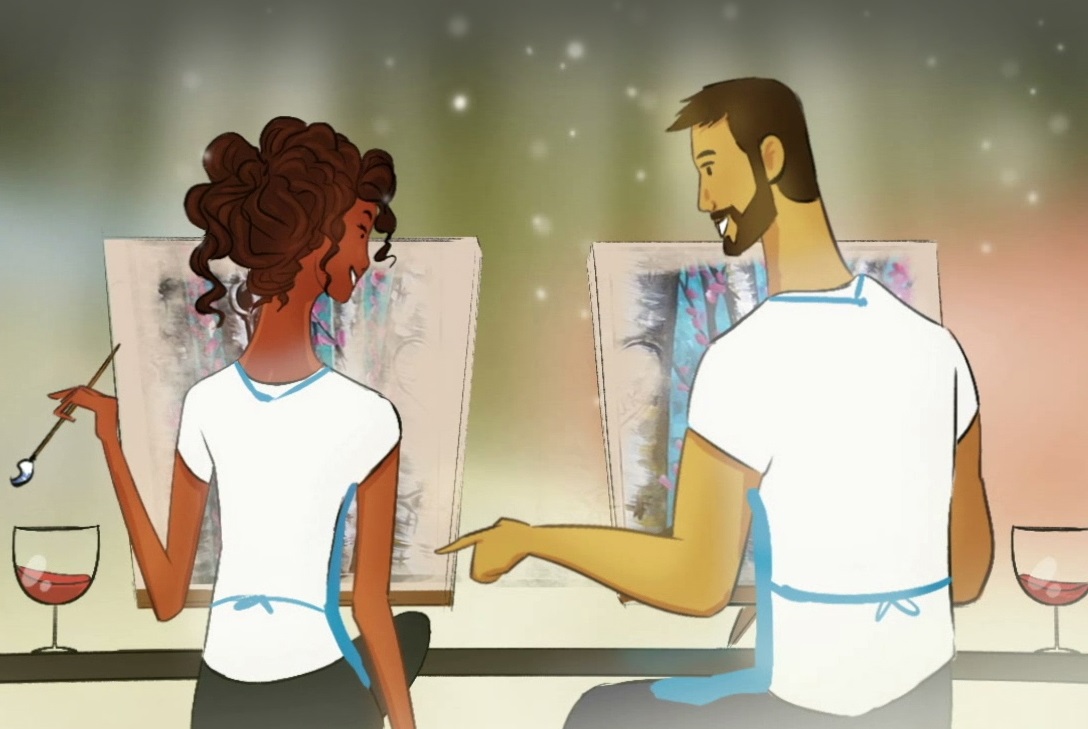 1. RELIVE YOUR FIRST DATE
Reliving your first date is a fun and romantic way to spend Valentine's Day. Go back to where it all began and remind yourself how you fell in love. If your first date was in another city or at an establishment that's no longer around, get creative and set up a same-but-different scenario.
2. MILLIONAIRE FOR A DAY
In your normal life, maybe you're a Camry-driving accountant/soccer mom, but who says you have to be yourself all the time? Rent your dream car from a boutique rental agency, spend the night at the fanciest hotel in town, and treat yourself to a gourmet meal. It's fun to see how the other half lives! Nobody needs to know that Ferrari is a loaner. Order a designer outfit from Rent the Runway so you can look the part.
3. TRY SOMETHING NEW
It doesn't have to be anything crazy, but try to think of something that neither one of you has ever done before and do it together. That could be anything from attending a professional soccer game to ice skating to laser tag. Experiencing new things together is a fantastic way to bond and make special memories.
4. PACK A PICNIC
Choose a scenic spot at a local park and pack a picnic to enjoy al fresco! Since it's a special occasion, forgo the standard sandwiches and chips in favor of something a little more upscale, like a baguette, brie, and charcuterie. Don't forget the wine!
5. VISIT A MUSEUM
Most people don't go to museums often unless they are on vacation. Time to change that! Explore a local museum together this Valentine's Day. Even if you're a museum regular, there's probably a temporary exhibit you haven't checked out yet.
6. EXPLORE NEW CUISINES
Take a break from your favorite spots and try a completely new foreign cuisine you've never had before. If you live in a bigger city, you'll have a lot more options. Ethiopian, Bosnian, Persian, Peruvian- the choices are endless, and delicious! Even if you end up not loving it, you'll have a fun memory and expand your culinary horizons.
7. PLAY TOURIST
Why is that we go do touristy things on vacation, but ignore the attractions in our own backyard? Valentine's Day is a good time to change all that by hitting up a few of your city's top tourist destinations. Take in a scenic view from the observation deck of a skyscraper, visit the zoo, or take a segway or walking tour together!
8. SING KARAOKE
Let your inner American Idol shine at a karaoke bar! Have a glass or two of liquid courage and pick a cheesy duet to sing together. Personally, we're fond of "Don't Go Breaking My Heart" or "Afternoon Delight" for couples karaoke, but there are tons of choices. Bonus points if you couldn't carry a tune in a bucket!
9. PLAY TRUTH OR DARE
Maybe you haven't played since seventh grade, but you're never too old for truth or dare. Plus, it's a great way to learn new things about each other, get a little silly, or take a risk. It's always exciting to see a new side of your partner, even after years together.
10. PAINT AND SIP
Pick up a bottle of your favorite wine and head to Pinot's Palette for a Paint and Sip class à deux. Exploring your artistic side, spend quality time together, and bring home a painting to remind you of the experience.
11. GET AN ADRENALINE RUSH
It's said that adrenaline is an aphrodisiac, so get out of your comfort zone and take a risk! Tandem skydiving, bungee jumping, or a ride on a roller coaster are all great ways to get your heart pumping. If you're not feeling super brave, stick with something tamer like rock climbing or a hot air balloon ride.
12. LEARN NEW MOVES
Two left feet? No time like the present to change that! Valentine's Day is the perfect time for a couples' dance lesson! Whether you prefer ballroom, salsa, swing, or country western, an adult class for beginners is a great way to have fun and learn a new skill together. Get ready to wow your fellow guests at the next wedding you attend!
13. SCAVENGER HUNT
Sure, you could just give your Valentine their gift, but where's the fun in that? Organize a scavenger hunt with a surprise at the end. Use your history together to make the clues so you can relive some of the best times of your relationship along the way.
14. GO WINE TASTING
A romantic visit to a winery with a selection of samples? Yes, please! Learn about the wines you love and find new favorites together. As an added bonus, many wineries have on-site restaurants perfect for a romantic dinner for two.
15. TAKE A COOKING CLASS
There's something about cooking together that puts you in the mood for love! Indulge all of your senses with a couples cooking class. Even if you're an accomplished cook already, you'll pick up a few new techniques and have a great time together.
Whatever kind of Valentine's Day plan speaks to you, you're sure to have a good time if you're spending it with the one you love. On a day that's all about romance, the company is far more important than the specifics. Happy Valentine's Day!