Murals Build Teamwork
Weekly, we are honored to create fun, engaging and memorable team building events in our studio with local Bay Area companies. Our paint parties spark collaboration and leave your team inspired and ready to create.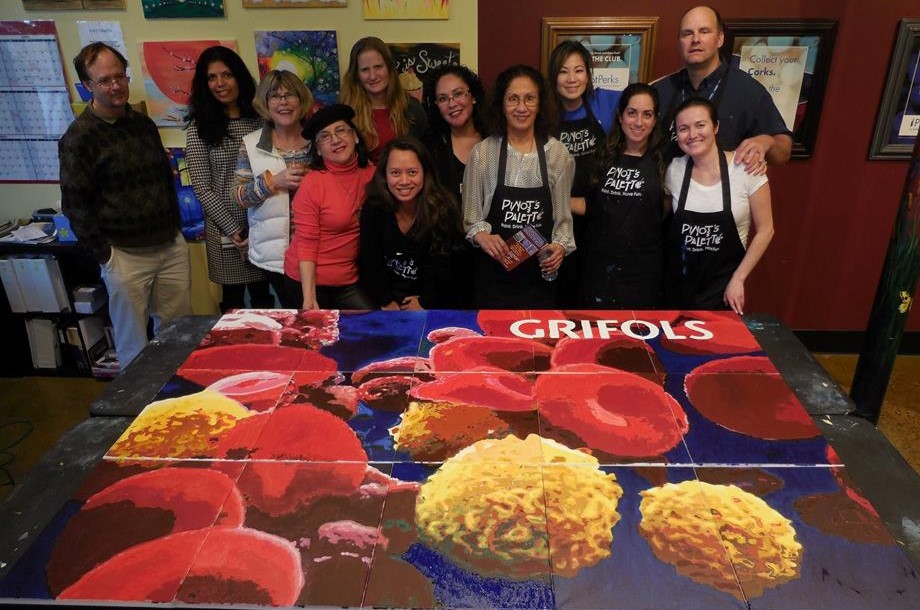 There are a number of painting ideas we offer in addition to selecting a painting from our painting library of over 2000 paintings. Today we are sharing just a few of these ideas.
Individual painting: This is Pinot's Palette original format. You select which painting your team will paint, all the guests are lead step-by-step with the help of our professional local artist and add their own personal touch to their painting.
We offer a mystery painting exercise where our local artist leads you step-by-step to a completed painting. The catch? The participants don't know what the finished painting looks like until the end! This exercise fosters listening skills and build anticipation for the final reveal.
Jigsaw puzzle: We can collaborate with you to create a painting of your logo or symbol representing your company. Each painter completes a portion of the puzzle on their canvas and at the end when the canvasses are combined, the full image is revealed in a large mural format. Companies have told us how this painting experience has really fostered cooperation and team work.
Recently, we had the privilege of hosting Grifols, a global healthcare company whose mission is to improve the health and wellbeing of people around the world. They collaborated with us to create a piece that was symbolic to their iconic brand and it made for the perfect addition to their office. With the masterpiece front and center (and quite large) on the office wall, every team member has an opportunity to show off their creative side (and maybe even brag just a little).
Most importantly, the mural is a constant reminder of the way they worked together to create a single piece of beauty. Not to mention the fun they had crafting it at Pinot's Palette where painting and wine come together so our guests can Paint. Drink. Have Fun.
If you are an #eventprof #eventplanner #HR please contact us for more information about the most affordable and creative team building events offered in the Bay Area.
Please call our studio 510-263-8770 or email us at: alameda@pinotspalette.com
Don't forget to follow us on Facebook, Instagram, Pinterest and Twitter for updates and great photos from our events.
For more information on Grifols we invite you to visit their website:
http://www.g...national/home