Meet the Artist Trent
We will be introducing you to all of our artists. Trent started with us on opening day so we decided to kick this off with Trent Nahas.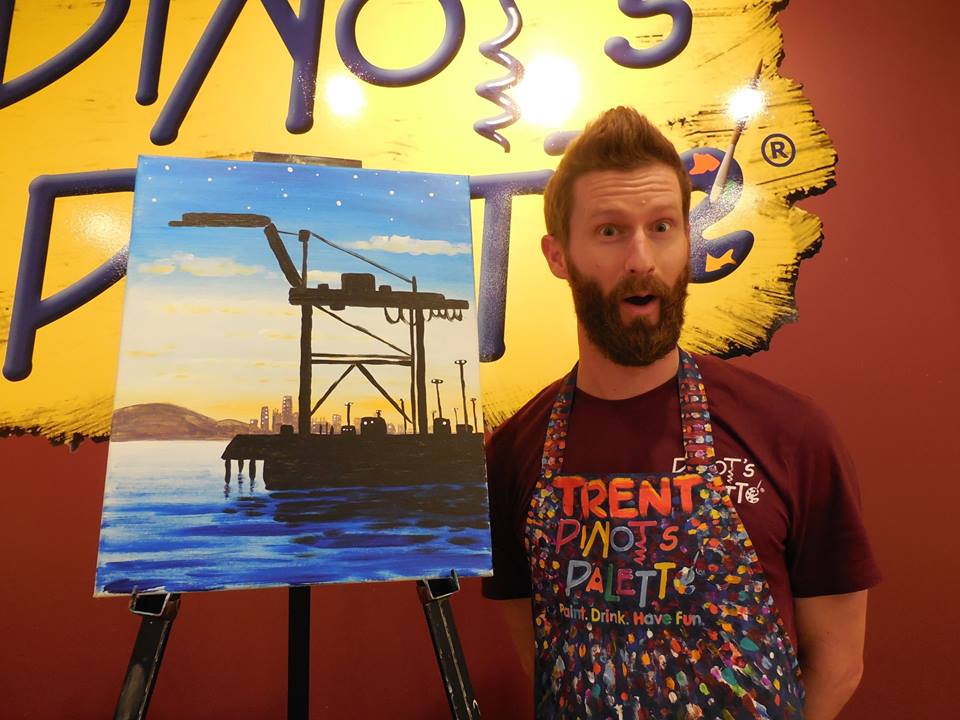 Sometimes it can be easy to forget that the artists leading your favorite Pinot's Palette classes do more than help you paint, drink, and have fun. Our artists are a diverse crowd of talented folks who have a passion for art of all kinds – from sculpture, to drawing, to performance art, to (of course!) painting. We're excited to be featuring each of our artists here on our blog so that you can not only get to know them better, but also have the chance to see and experience some of their unique, beautiful art.
Trent Nahas has been with Pinot's Palette Alameda since the very beginning, and it's easy to see why with his enthusiasm, charisma, and talent. Originally from Alamo, California, when he's not painting with you in our studio, Trent works mainly in sculpture, crafting striking pieces of art out of the found and repurposed materials around him. A bit of a scavenger, Trent loves looking for old pieces of history, the little things that people discard, interesting parts of nature, and, really, anything that catches his attention from the world immediately around him. When he assembles what he finds into art, the end result is not a hodgepodge of random materials, but a piece that runs so seamlessly together that, to the untrained eye, it is hard to tell that anything is different in the first place. The faux finishes that he applies to his assemblages help create this effect, breathing new life into his found materials in shades of oxidized metals and other striking finishes. In spot #1 on his bucket list, Trent is working towards selling one of his sculptures from $50,000. Even half that, he says, would make him ecstatic!
Trent is an artist by nature. He enjoyed art immensely as an elementary schooler and because of the positive feedback he received from those around him, he kept at it, finding a passion and love for all of the things that he could create. His work at Pinot's Palette allows him not only an outlet as a paid artist, but also a connection with other people that refreshes his artistic perspective by allowing him to glimpse what the average non-artist finds beautiful and enjoys about art.
We asked Trent what advice he would offer people who want to become an artist. Trent believes that art is intrinsically different from anything else in this world in that there is no right or wrong way to do it. He encourages everyone to find the one thing that matters most and look at everything else as extraneous. Art, he told us, is a way to tap into who you really are, and to do so, you must get rid of all of the other distractions.
See Trent's work here:
http://www.trentnahas.com
https://www....om/trentnahas
Instagram: trentnahas
Pinterest
https://www....23768151@N08/