Love Story
Love Story: most romantic private party for two, ever!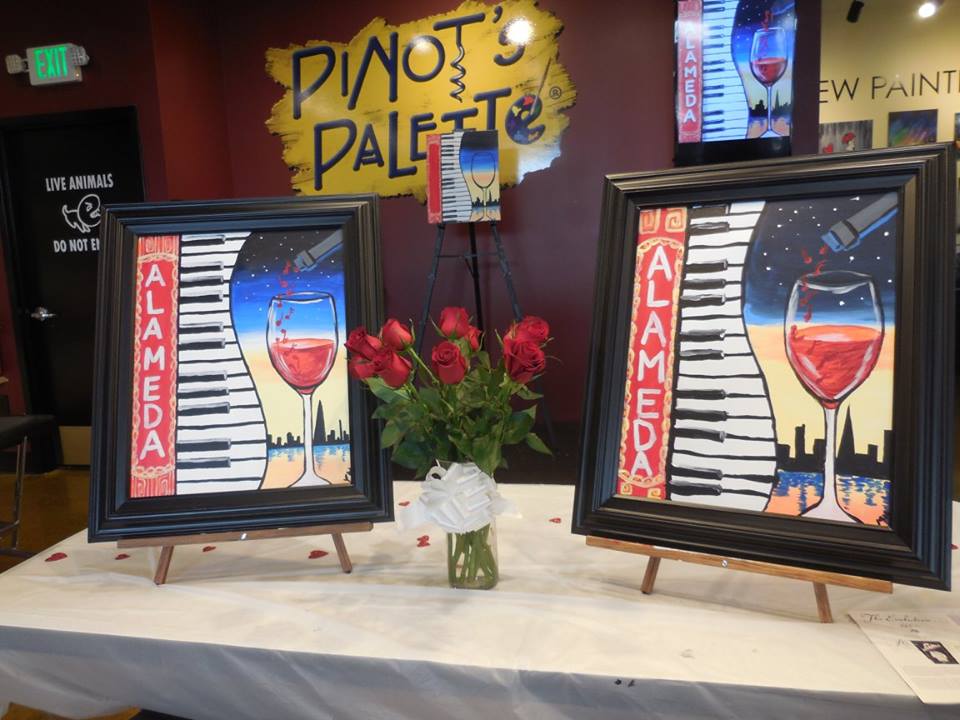 One Wednesday our studio phone rang. Max inquired if we were going to paint Rhythm and Red again since he and his wife could not make Saturday night's painting class. We will again in a couple of months we responded. Max, oh gosh our anniversary is Saturday night and I wanted to do something special. He then asked what is your minimum for a private party? 15 we responded. Great! Max said, I would like to book Friday afternoon. For 15 people we asked? Max said, no just myself and my awesome wife, I will pay for 15. So we booked the smallest private party ever at our studio for Friday.
Well, since Max thought their 5th anniversary was special enough to book a private event with us, we knew we would have to bring our "A" game to live up to the Pinot's Palette Promise of most memorable parties ever!
Late Thursday evening we were putting the final touches on our studio presentation for Mr. and Mrs. Max Higgins 5th Anniversary private party for two. Moving a table horizontal in front of the stage artist stage, we placed a crisp white tablecloth over the table. Sprinkled glitter hearts over the tablecloth, placed the easels and canvases, small votive candles, hung large glitter hearts from the gallery lighting, and placed a beautiful personalized announcement signage of their private party near the front door. In the morning, a dozen red roses were placed on the table, along with an ice-bucket for the complimentary Gloria Ferrer Champagne with 2 sparkling champagne glasses, and lit the candles were the final touches.
After enjoying their fabulous lunch at Trabocco's Restaurant, our romantic couple arrived. When they stepped into the studio, saw the personalized sign and decorations they were a bit speechless. Small tears slid down our guest cheeks as she exclaimed: "Max, this is unbelievable!" We smiled, welcome to Pinot's Palette Alameda. Max had selected his wife's favorite music which was playing as class began.
There was continuous laughter and bantering for the next few hours as our stage artist led them both on a painting journey to memorialize their 5th anniversary forever. Their Rhythm and Red paintings turned out fantastic. We learned how they first met in law school, and now had a beautiful baby girl just one month old. At the conclusion of the class, they thanked us and said we never expected someone would go to such lengths to make their anniversary so special. We let them know that it was them that should be thanked for sharing their anniversary with us and allowing us to try and create the most romantic private party for two ever! After they left the studio, my husband and I hugged one another and agreed this is exactly why we love what we do every day...make someone smile.
Happy 5th Anniversary Mr. and Mrs. Higgins
#privateparties, #event #birthday #bachelorette #anniversary
Enter your contact info and request details below, and we will contact you with details about your private party!