The Top 5 Reasons To Travel in 2019
Travel Tueday presents: Not that you should need an extra incentive to travel, but this year is shaping up to be a great one for travelers around the globe. Here are five reasons why this should be your year to travel.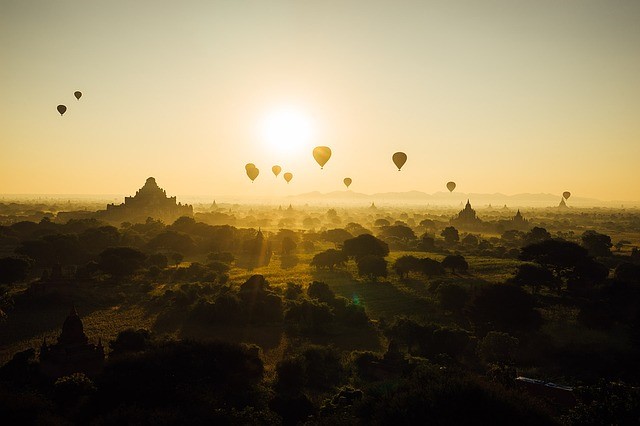 There has never been a better time to travel
You might be thinking "Yeah yeah I read the same line every year", but the combination of technology and the ease of navigating the globe make this year the greatest time to travel in history.
There are countless resources out there for finding inexpensive (and even free) travel options, almost all of which can be accessed anywhere in the world from the palm of your hand. Everything we need in order to travel and see the world can now be ours faster and cheaper then it has ever been before.
In fact, more and more people are realizing that the excuse "traveling is too expensive" is no longer true. For many, the cost of traveling is actually significantly less than the cost of living back home (when done modestly and wisely) making now the ideal time to stop dreaming about the places you want to go and start living life one adventure at a time.
You need an excuse to ask for more time off
Unless you are already taking four weeks of vacation a year, then you definitely need an excuse to ask for more time off. And what better reason than an enriching experience exploring new culture and pursuing your dreams?
The numbers don't lie, employers in the US are starting to realize the value of offering more time off. After all, a happy employee is a better employee any day of the week.
It only takes a little courage to ask for more time off and you may be pleasantly surprised by the outcome. The key is to present the benefits not just to you, but to your employer as well. You need to make them understand that traveling will not only make you happy, but will actually make you more productive and help their business in the process.
What's sad is that 52% of American employees end the year with unused vacation… If you're one of them please do yourself a favor and travel somewhere for gosh sakes. Your mind will thank you.
Volunteer in new and enriching ways
One of the greatest joys of traveling comes from experiencing what life is like in other countries. We have found that the best way to do this is by enrolling yourself in a volunteer opportunity where you get to live, learn and give back while experiencing local life firsthand.
Fortunately, there are some incredible resources out there that can connect you with volunteer opportunities around the world. You can volunteer in rolls like farming and teaching english all the way to providing professional services to small businesses or organizations.
We wrote another blog post on this subject where we share exactly how you can use one of our favorite online resources (Workaway) to find volunteer opportunities that let you exchange your time and skills for free accommodation and amazing experiences in every corner of the globe.
Save BIG on your next dental or medical bill
To some this may sound like a far fetched or risky idea, but the truth is that medical tourism is an incredible opportunity to save money while taking a vacation. According to the Medical Tourism Association, "Medical Tourism is where people who live in one country travel to another country to receive medical, dental and surgical care while at the same time receiving equal to or greater care than they would have in their own country, and are traveling for medical care because of affordability, better access to care or a higher level of quality of care".
We have a friend that plans a vacation to Thailand every year where she receives all of her dental treatments for a fraction of what she would pay in the US (flights and all expenses included). The best part is, she gets to spend time in her favorite country enjoying some of the best foods in the world.
We have never needed any serious medical attention, but we did take advantage of medical tourism when we first set off on a 14 month backpacking adventure around Asia. We needed vaccines that would have cost us hundreds of dollars in the US. So, we opted to wait until we arrived in Indonesia to get the same vaccines for less than $100. Everything was arranged up front via email so that we showed up at a clinic the day after arriving to get the shots. Quick, painless (minus the needle), and ridiculously cheap.
Because why the heck not
The reality is that you can always find another excuse why not to travel. Life will always be busy. There will always be something new and important on the horizon. And traveling will never be free. And yet, if you only had one year to live what would you want to do?
The number one answer people give is "travel". Why wait to do the number one thing in your life when you could do it right now and actually prosper because of it…
Think about it.
Stay tuned next week for more #TravelTuesday adventures from our friends, Alli & TJ of Life Is Meant For Exploring, a dynamic duo, who have been together for over a decade, out to explore the world one adventure at a time.
For more #TravelTips follow them here:
https://life...exploring.com