10 Subscription Boxes to Try Immediately
You know that old saying, "There's an app for that"? Well, I've got a new one for you… "There's a box for that." From the newest releases to delicious snackies, turns out that there (basically) is a box subscription for every little thing nowadays. And who am I to complain? We all live busy lives, so why not make things a little easier, especially if it comes at a fair cost?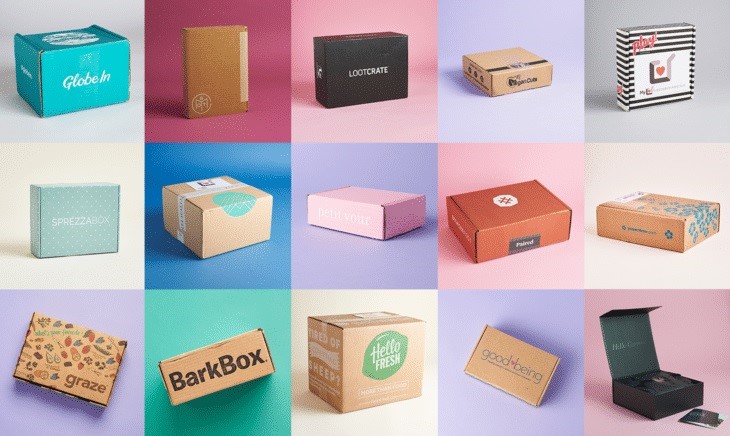 So, save yourself a couple trips to Starbucks next week and put the cash towards something a little more rewarding…something that UPS brings straight to your door:
1. Dinnerly: As someone who gets home from work after 8 pm and rarely feels like putting together a homemade meal, I have to admit I'm a sucker for meal delivery kits. And I'd like to think I've tried them all. When I heard about Dinnerly, the newest and cheapest subscription kit on the market, I knew I had to give it a go! I was not disappointed.
The cost: $30/week
The link:
https://dinnerly.com/
2. Dollar Shave Club: If buying razors is always a forgotten task, give your legs a little attention with these monthly shipments. Packages start at just $9 per month and come packed with fresh razor blades plus lots of optional add-ons like post-shave moisturizing dew, shaving scrub, and even shampoo. Perhaps the best part is that you also have the option to order sample packs!
The cost: $9/month
The link:
https://www....haveclub.com/
3. Stitch Fix: This (practically free) service ships you items for sale each month—just choose and pay for what you want and send the rest back. For $20 per Fix, a personal stylist will hand-pick pieces for you – 5 pieces of clothing, shoes, and accessories, chosen just for you, based off of your preferences. Try them on, return the pieces you don't like, and keep the ones you do! They'll apply the styling fee toward anything you buy.
The cost: $20/month
The link:
https://www....titchfix.com/
4. Hello Fresh: Calling all amateur chefs! Whether you are a vegetarian, on a low-calorie diet, or looking for something quick and easy, HelloFresh has recipes that everyone will love. I've also found that they're fairly simple to reproduce, thanks to the simplified directions. With 15 new recipes each week, Hello Fresh is definitely worth a go – if for no other reason than the first discounted month.
The cost: $59.99/month ($40 off your first month)
The link:
https://www....llofresh.com/
5. Graze: Looking for yummy, nutritious, and pre-portioned snacks for busy days? Look no further than Graze. Take it from me, the snacks are original and delicious. Not only can you not get these snack packs anywhere else, you'll have trouble finding many of the snacks themselves. Yes, you can buy nuts and popcorn at your local store, but the many "deconstructed" snacks that offer the tastes of full meals and desserts in bite sized pieces? Good luck.
The cost: $11.99/box (1/2 off your first box)
The link:
https://www.graze.com/us/
6. BarkBox: Shout out to the pooches and pooch pals. Each monthly BarkBox contains a combo of 4-5 treats and toys that have been "tested" and approved by BarkBox pups. Each month is inspired by a whimsical theme, and each item is unique from anything you'll ever receive in a later box. You can always expect fresh surprises and fresh experiences in every box!
The cost: $21/month
The link:
https://barkbox.com/
7. Try the World food box: If you love traveling for the exotic food tastings, this box sends you packages themed around a different country each month, from Korea to Greece. This one's definitely on my list!
The cost: Starting at $29/month
The link:
https://www....ges/selection
8. Book of the Month Club: All plans include one hardcover book each month, with free shipping. They always have a small, nicely curated selection of additional hardcovers that you can add to any shipment for $9.99 each. And the clincher for me: if none of the current selections appeal to you, you just skip that month, effectively extending your membership.
The cost: $44.99/3 months
The link:
https://www....themonth.com/
9. ipsy: I'm a long time ipsy subscriber for one reason only – it's cheap. Oh, and it's cute, so, I guess that's two reasons. Here's how simple it is: you visit the website and take a quick little test. Your makeup bag is customized to fit your skin tone, your style, and what type of items you would like in the bag. No hidden fees, no cancellation fees, and you get a different themed Cosmetic bag each month – all for just $10.
The cost: $9.99/monthly "glam bag"
The link:
https://www.ipsy.com
10. Barbella Box: This is for all my workout ladies – you do it, so I don't need to. This monthly package comes packed with premium CrossFit and Weightlifting apparel, gear, accessories, snacks, supplements, workout tips, and more exclusively for women! Each month, discover a healthy mix of 4-6 well-known and new-to-the-market brands in the CrossFit market.
The cost: $49.99/month
The link:
https://www....barbella-box/
Those are just a few of my favorites, but let's face it, I'm always in the market for something new and fabulous that preferably can be delivered to my front door.
Follow us on Facebook for the most recent photo's, contests, events and specials:
https://www....alettealameda