June Reading for your Beach Bag
June is (almost) here and the beach is (almost) near. But whether or not you like to spend your summer days at the beach or curled up cozy in bed, there are plenty of new books to add to your Kindle queue (or in true book form if you prefer the smell of pages). Better stock up now for your next day trip or bubble bath – you deserve it!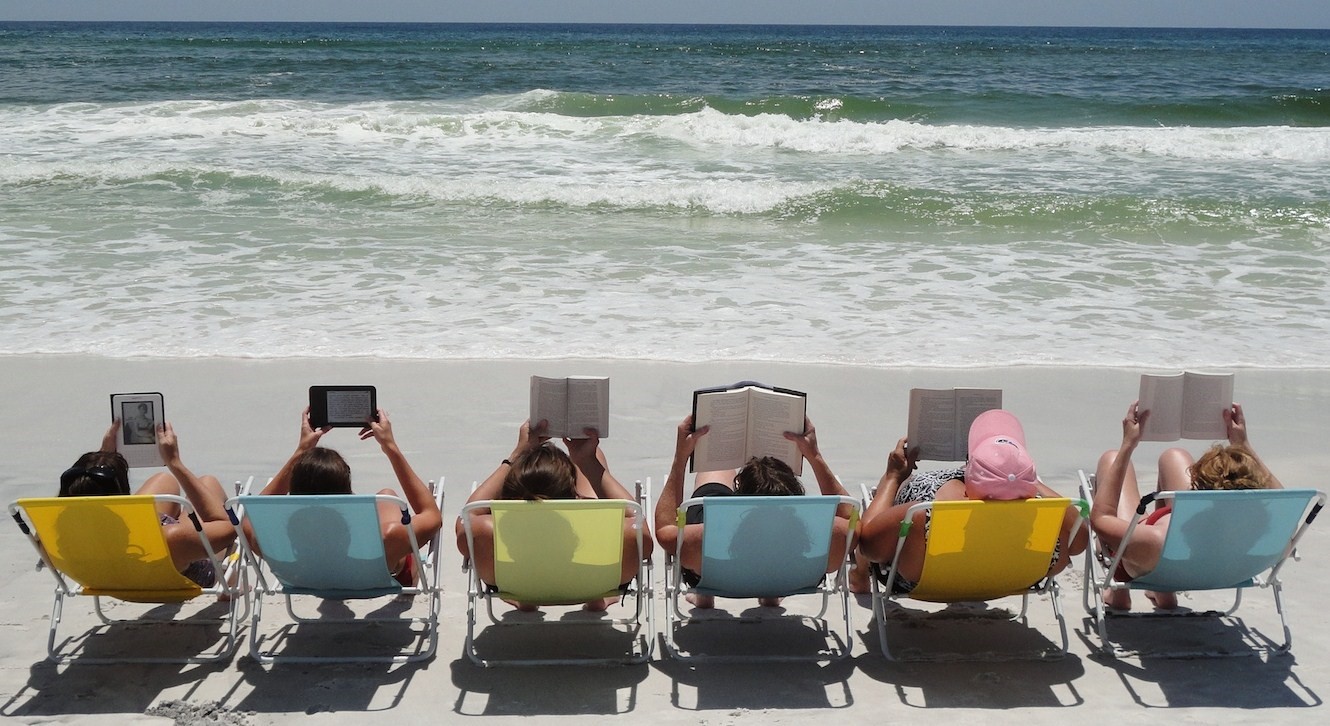 "When Life Gives You Lululemons" by Lauren Weisberger (Available June 5th)
Remember Emily from "The Devil Wears Prada"? You might know her as Emily Blunt's fabulously snarky character in the same-name film. Well, she's back and this time, she's an image consultant who just landed the client of her dreams. But here's the real question…when does Miranda Priestly get her own novel?
"Florida" by Lauren Groff (Available June 5th)
For those of you who can't commit to the full novel, pick "Florida", a short story collection from the author who brought us "Fates and Furies". Told in Lauren Groff's incredible style, "Florida" is inspired by the state itself, and each story is expertly crafted to reveal deep truths about our own lives.
"The Pisces" by Melissa Broder (Available Now)
Poet and essayist Melissa Broder's debut novel is a sexy and smart take on love, lust, and addiction. This is the story of a woman who, in the midst of a rough patch, becomes entranced by a merman. Is anybody feeling a "The Shape of Water" vibe? Or the "Splash" remake with Channing Tatum – that's right, that's happening.
"The Favorite Sister" by Jessica Knoll (Available Now)
From Jessica Knoll—author of "Luckiest Girl Alive", the instant New York Times bestseller and the bestselling debut novel of 2015—comes a blisteringly paced thriller starring two sisters who join the cast of a reality TV series. One won't make it out alive…color me intrigued! Plus, let's be honest – it sounds like the perfect mix of "The Bachelor" meets "Scandal".
"The Kiss Quotient" by Helen Hoang (Available June 5th)
This romance novel is the sweet (and steamy!) story of Stella, an algorithm-obsessed, 30-year-old woman on the autism spectrum who isn't exactly comfortable dating. In an attempt to learn more about love, she hires a professional escort to teach her everything there is to know about sex and relationships.
"When Katie Met Cassidy" by Camille Perri (Available June 9th)
Camille Perri is back with another smart and fun read. Katie is living the NYC dream — until her fiancée dumps her. Devastated, she forms a fast connection with a woman, Cassidy, and their growing friendship leads Katie to question everything she thought about sex and love. Who doesn't love a good love story?
"Who is Vera Kelly?" by Rosalie Knecht (Available June 12th)
Here's something to switch things up! This fiery novel is set in 1965 in the mysterious world of Vera Kelly, an American spy who's in Argentina on the mission to aid a political coup. But there's much more to Vera Kelly than meets the eye… A female-driven spy novel? Yes, please.
"Number One Chinese Restaurant" by Lillian Li (Available June 19th)
Hungry anyone? This fantastic, multigenerational novel centers around The Beijing Duck House in Rockville, Maryland, and the family that runs it. It's a shining story filled with unforgettable characters who push and pull at one another as they try to make a world for themselves.
"Playing with Matches" by Hannah Orenstein (Available June 26th)
As the newest matchmaker at New York City's most elite dating agency, Bliss, Sasha Goldberg will spend her days meeting with new clients, scrolling through dating apps for dates for her clients, and giving dating advice. After all, she's found her ideal match, so how hard can it be? (Answer: very hard.) Written by a real-life matchmaker, "Playing With Matches" is the perfect Summer read — smart, funny, escapist, and bursting with charm.
Hopefully these will get you through June, because there's definitely more to come later this #summer! Enjoy your #reading.
Remember to follow us on Facebook for the most recent photo's, specials and events here:
https://www....alettealameda
Enter your contact info and request details below, and we will contact you with details about your private party!