Friendsgiving and Staycationing at Pinot's Palette
Are you looking for some fun things to do around Chicago's North Shore this Thanksgiving 2016 holiday? Planning a fun #staycation with family and friends? Pinot's Palette has crowd pleasing #friendsgiving line up sure to cure your food coma!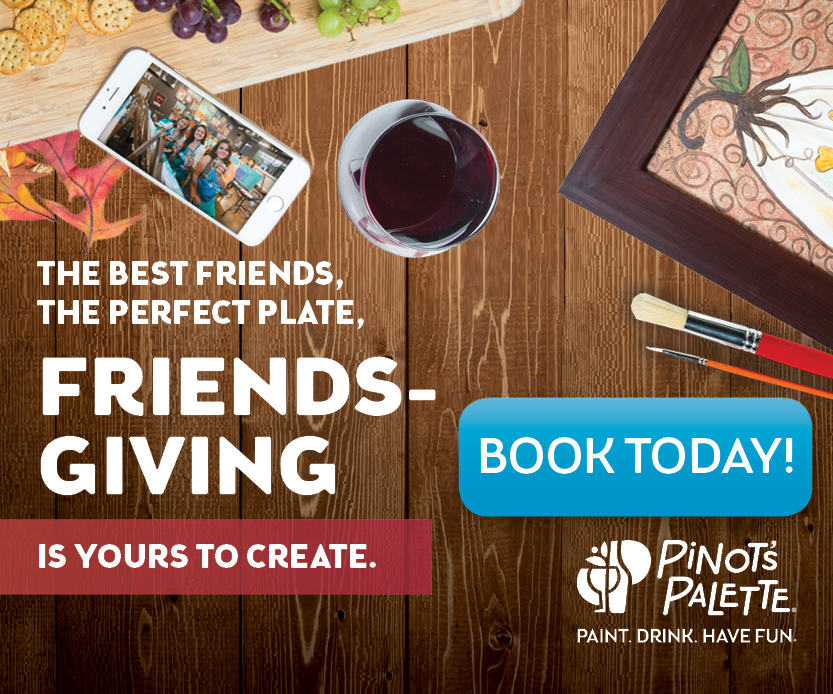 Check out the line up of family fun, friendsgiving worthy events coming up this weekend!
Let's kick this Thanksgiving weekend off by celebrating NO SCHOOL!
Wed., 11/23, from 2 - 4pm, paint "Catching Fairies" - all ages welcome, recommended for 5+. Only $30/painter with code 2016THANKS8 at checkout.
Did you know the night before Thanksgiving is the busiest social night of the year? Connect with friends, new and old, and family in our inviting studio. A true crowd-pleasing event! Enjoy $10 off per ticket to "Alpine Moon" with code 2016Thanksgiving10 at checkout. For only $28/painter, it's a holiday steal! Wed. 11/23 at 7pm.
Black Friday, skip the hectic shopping and sip your way through a relaxing painting (or two!). We have three events lined up for you:
11am - Winter Snowy Owl, family fun for all ages for only $30/person. You can Illuminate this painting - this painting looks great with our LED twinkle lights you can pick up for $5 at our studio. We'll show you how to install them!
3pm - Aurora Through The Trees, an eye catching evening scene that always turns out beautiful. Wow yourself with artistic paint and wine skill, this painting is great for all ages too!
7pm - Warm and Welcome, grab the older kids and adults and plan a festive evening of paint, wine and fun. This is a great event with mom and adult daughter or treat yourself to a date night. Customize with your own twinkle light colors or add in our Illuminated LEDs for a special effect (available for $5/light pack).
Saturday, 11/26, the fun continues with more family friendly fun!
11am - Merry and Bright, another Pinot's Palette holiday classic that's fun for all ages. Bring a group and create a forest of holiday cheer for your mantel or hallway (makes great holiday decor).
3pm - ILLUMINATED Snowman's Bliss - this is such a special class that includes your LED light pack, instruction for how to install them and an amazing and fun painting experience. Back by popular demand! This class will sell out so be sure to book early!
7pm - Our Masterwork study for the weekend, our Thanksgiving celebration would not be complete without some Van Gogh inspired art. We invite you paint like a master (even if you have no experience!), Moonlit Van Gogh. We love the bold colors of this piece! Perfect date night after all the Thanksgiving hustle.
Sunday, 11/27, while the weekend winds down, it's not to late to have some fun!
11am - Happy Snowman - make some happy family members with this fun painting. It's so darn cute! How many happy snowman will you take home? Great for all ages, invite all your friends. Only $30/person for 2-hour painting!
3pm - Let it Snow - Another holiday special, better for older kids and adults. On special for only $33/person!
We hope you will join us this Thanksgiving weekend for some North Shore creative fun. Be sure to take advantage of our special pricing opportunities throughout the weekend!
Age Policy: Daytime events are available for all ages, recommended for 5+. Teens 13+ may attend class without chaperone at daytime classes. Teens 13+ may attend evening classes with adult only, due to more adult nature of our evening classes.
Pinot's Palette main room accommodates up to 50 and private party room accommodates up to 20. Beer, wine, soda, coffee available at our Starry Night bar. Bring your own food and snacks!