Ways to Keep Cool this Summer
I know in Kansas we are all use to hearing the phrase "I'm melting" from our beloved Wizard of Oz. Well, this summer that saying feels true! If you are looking for ways to keep cool this summer we have a few ideas for you.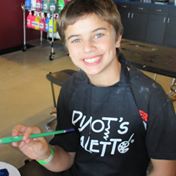 Swimming
A summer classic, whether at the pool or a lake, the water is always a great way to enjoy the summer but make sure to wear lots of sunscreen and stay hydrated.
Home Made Slip and Slide:
Swing by your local hardware store and pick up some plastic sheeting. This option is more flexible because you can decide on the size!
Make a Movie
Instead of spending the day watching Netflix, why not make your own movie! If you have smart phone then you have everything you need. Get creative with costumes, or making props and create a movie for the whole family to enjoy!
Sun Melted Crayons
Looking for a way to reuse all those broken crayons? Well we have an idea for you! Take a cookie sheet and some cookie cutters and place the old crayons inside the cookie cutters on the cookie sheet. Cover with tin foil and place outside. Let the sun work its magic and then bring inside to cool and harden and bam! New Crayons!
Painting!
It's always cool in our studio and we offer some great events for kids! Attend one of events with the featured painting or join us for open paint and create whatever you'd like! We always keep the AC running so it's nice and cool during these hot summer days!
https://www....wrence/events