Omaha Kindness Rocks at Pinot's Palette La Vista
Have you heard about the new craze that is spreading across not only the country, but the world? I am not talking about fidget spinners or the solar eclipse; I am talking about kindness rocks, rocks that have messages. Basically, people create inspirational rocks, then they place the where others can find them.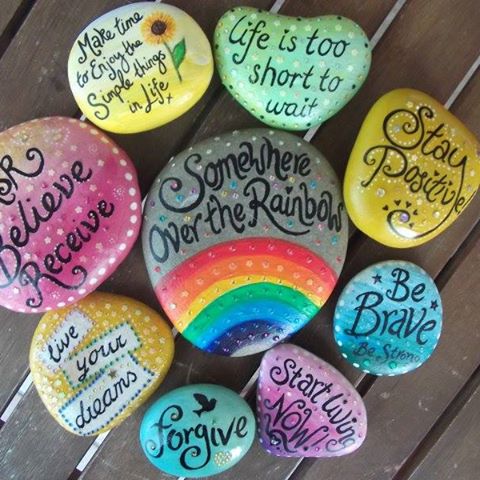 This project, otherwise known as the Kindness Rocks Project, was started by Megan Murphy as a hobby. However, it "has grown in the past two years into a grassroots kindness movement, with individuals from around the Cape, across the United States, and even as far as New Zealand, taking part in creating these random acts of kindness." (Cote, 2017)
The Kindness Rocks Project has two goals:
1. "Inspire others through randomly placed rocks along the way…" (Murphy, n.d.)
2. "Recruit every person who stumbles upon it to join in the pursuit of inspiring others through random acts of kindness." (Murphy, n.d.)
I personally hadn't realized how popular the rocks were when I actually stumbled across one, or technically, Ozi stumbled across it. I didn't even know what it was at first. I was on a walk with my family while on vacation a few weeks ago. We had stopped at a nature trail in Branson, Missouri. As we were walking along, Ozi reached down and picked up a colorful rock that had been painted by someone from Texas. I had thought that it was neat that someone would do that, but didn't make much more of it. I had not yet realized that there was an actual rock movement.
I started to realize that there was something more when a few days ago, a friend of mine who lives in Chicago talked about this "rock hiding and seek thing" and helped me put a name to this phenomenon: Kindness Rocks. She indicated that there are groups all over who are promoting this. After talking to her, I got on the internet and started research. I found articles, videos and Facebook pages…In fact, I even found Kindness Rocks exists here in Omaha. I learned that @Omahakindnessrocks is active here in our community. What is even more amazing is that this group was started by Sierra, a 13 year old, as part of her service learning project to help spread kindness throughout our community.
I have always been a fan of helping others and "passing it forward," so of course this idea fascinated me and has created a new fan. I reached out to @Omahakindnessrocks and asked if they would be willing to partner with us for a rock painting session at our studio. I was honored that they agreed to share in their community effort.
On Saturday, September 26th from 3:00 pm to 5:00 pm, we will be co-hosting a community rock painting event at Pinot's Palette La Vista (7302 Giles Road, Suite 3, La Vista). We will have rocks and paint and more rocks. And the awesome part? The Omaha Kindness Rocks paint party is FREE! FREE! FREE!
To participate, you will need to make a reservation online at
https://www....event/187518.
Seating is limited, so it will be important to sign up while seats are still available.
Join us for a fun, giving, community filled event for all ages.
#thekindnessrocksproject #omahakindnessrocks #paintdrinkhavefun #pinotspalettelavista
References
Cote, H. (2017, April). Cape Cod's Kindness Rocks Project. Retrieved from Cape Cod Life:
https://cape...ocks-project/
Murphy, M. (n.d.). Home. Retrieved from www.thekindnessrocksproject.com:
http://theki...ject.com/home