Cutting Wine Corks
Cutting the Cork.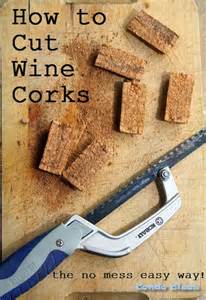 You've FINALLY done it...collected and saved enough corks to make that hot plate holder you saw on Etsy. Or trivet. Or corkboard.
Now what?
How are you going to cut those cute things in half? Or rounds, or quarters?
Using a kitchen knife usually results in the corks crumbling or falling apart. And, unless your knife is pretty darn sharp, you'll hardly make hardly a dent.
Here are a few suggestions to cutting cork corks (cutting plastic corks is not advised!):
1. Steam them. In that vegetable steamer hiding in the back bottom cupboard. Waaay in the back.
If there isn't a fancy steamer in your cupboard, You can make your own steamer with a pot of water and a metal strainer placed on top to hold the corks. Steam the corks for 10-15 minutes over boiling water. When the corks are cool enough to handle, it's time to cut. Use a cutting board on a steady surface. Keep your fingers safe. FYI Cutting down from the short top is more likely to be disastrous than safe. Be safe. Trips to the ER are not fun.
2. Boil them. Same idea, but boil the corks in enough water to just cover them. Same time frame as steaming, give or take.
(The corks will swell with these methods, but will shrink when they dry.)
If you don't want to steam them:
3. Get out the scroll saw. Be safe, and use a hand or spring clamp to hold the cork while the blade moves.
4. Use a box cutter. You can use a large binder clip to hold the cork while you cut.
Or, you can buy full size or pre cut corks from Amazon shopping.
#howtocutcorks #PinotsPaletteGoodyear #paintdrinkhavefun
Enter your contact info and request details below, and we will contact you with details about your private party!