Bob Ross- Artist and American Legend
Chances are, you've seen one of Bob Ross's famous painting shows, from his popular series, "The Joy of Painting". If you've never had the pleasure of watching part of the show, you've, undoubtedly, heard about him and his "happy little trees"!!!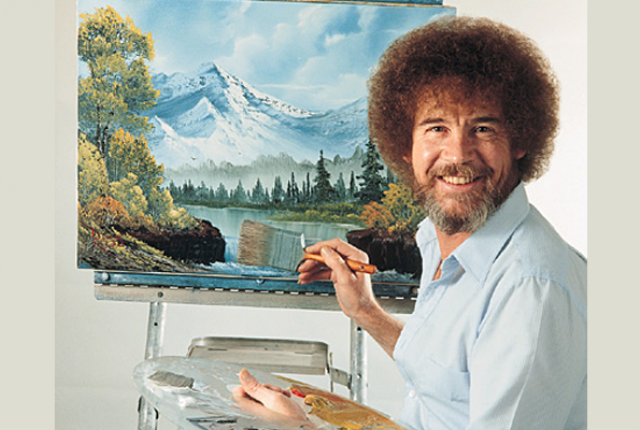 We're here to pay a little homage to him and the incredible man and artist he was. The fact that the man could paint an entire oil painting, start to finish, in 30 minutes is a feat in itself!!!! ((That's REALLY hard to pull off...))
Robert Norman Ross was born in Florida. At 18 years old, he joined the US Air Force, working as a medical records technician. He stayed in the Air Force from 1961-1981, and had worked his way up to Master Sergeant, before retiring after 20 years of service.
While staying in Alaska, Bob was working as a part time bartender when he discovered a show called, "The Magic of Oil Painting", a show hosted by German painter, Bill Alexander. Ross studied with Alexander, realizing he could earn more as an artist than in the Air Force. After retiring, Ross became famous, worldwide, for his television series, "The Joy of Painting".
His 30 minute shows, featured himself, his canvas, easel, and large palette, and not much more. With such a simple and creative idea, his show became widely popular! During each half-hour segment, Ross would instruct viewers in oil painting, using a quick-study technique from the imagination that used a limited palette of paints and broke down the process into simple steps. Ross was sometimes compared to Fred Rogers, host of 'Mister Rogers' Neighborhood', because his soft voice and the slow pace of his speech were similar to Rogers'.
Throughout the 10 years his show aired, he was able to reach out to millions of viewers, helping them to find some peace in their day while watching the show, and even helping to inspire artists in many ways! *Reruns are still aired in PBS and can even be found on Netflix! Check them out!!!!
Ross built a $15 million business, selling his line of art supplies and how-to books, and marketing painting classes taught by instructors trained in the "Bob Ross method". All of his income, he said, was derived from those sources; all of his paintings, including those created during his shows, were donated to PBS stations."
"Ross also filmed wildlife, squirrels in particular, usually in his garden, and he would often take in injured or abandoned squirrels and other animals. Small animals often appeared on his Joy of Painting canvasses."
COME PAINT WITH US!!!!
We have several landscape paintings coming up that Bob Ross would definitely approve of! Sign up for one!! (Landscapes tend to be one of our customers' favorites! They're easy to do and make a great 'first time painter' experience!
7/21 (7-9pm) - date night painting; each person gets a 10"x30" canvas that will make up half of an whole, 2-piece painting!
*be sure to sign up ASAP here:
https://www..../event/174680
7/23 (2-4pm) - "Light In The Forrest'
8/12 (7-10pm) - "Sunset Over The Water"
8/19 (7-9pm) - "Late Summer Lavender"
8/26 (7-10pm) - "Spanish Sunset"
8/27 (2-4:30pm) - wood palette painting (*you will paint on a wooden palette instead of a canvass in this class!)
We hope you see you in a class soon....you too, can paint some happy little trees!
Share Check it this list of Bob Ross Fun Facts! | Channel your inner Bob Ross and sign up for a class with us!