Unique Mother's Day Gifts in Cherry Hill
Do you struggle every year to come up with a Mother's Day gift that is both unique and practical for the moms in your life? We've got you covered!
Here at Pinot's Palette, we work hard to take the guesswork out of fun holidays for you.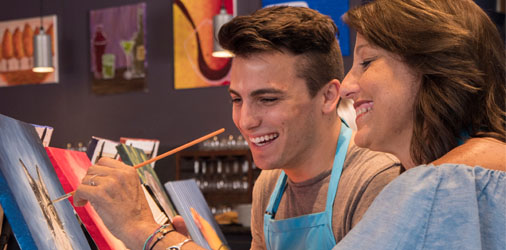 We want mom to be pleasantly surprised. Come on into our paint and sip studio and take a look at our many options to make this Mother's Day stand out from every other year. We want you to ditch the expensive flowers and make something for mom that will last forever and be a constant reminder of how much she means to you. We have some very creative ideas for you.
Is the mom in your life always carrying around a million things? She probably is, it's a mom thing. One of our fun options is decorating and putting your own unique talent into painting a tote bag for mom. There's not much more of a constant reminder for your mom of how much she means to you than carrying a tote bag everywhere she goes that has your love written all over it. Or you can paint a piece of art on a canvas that she can hang in the house and brag about to all of her friends.
Maybe your mom just isn't an art person. No worries, we still have ideas for you. Why not decorate a set of wine glasses? This is such a unique gift idea that you just can not go wrong. Your mom will love thinking of you every time she takes a sip out of that beautiful glass.
These options can also be done with the mom in your life, or she can come in and paint one these paintings as a gift for herself. The possibilities are endless. No matter what you choose to paint, we are confident that she will love it and cherish it for many years to come.
Come on out to the studio and take a look at what we have for you. We feel confident that you nor the mom in your life will be disappointed this year!