How to Do Friendsgiving Right
Friendsgiving is magical. It keeps all the best parts of Thanksgiving, but removes a lot of the awkwardness that go along with spending the day with distant relatives and even more distant friends or neighbors of those relatives.
Reconnecting with your weird but kinda nice cousin, maneuvering around your mom's pointed questions about your future, and finding common ground with your little sister's smirking boyfriend are all important interactions to have. But they are admittedly uncomfortable, and can leave everyone (your cousin, mom and sister's boyfriend included) feeling mentally worn out.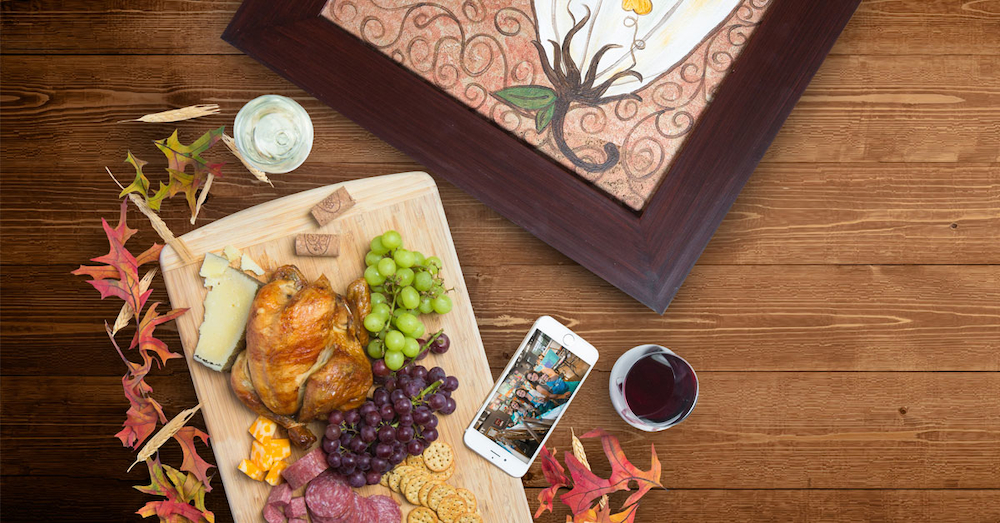 So whoever came up with Friendsgiving is a genius. No political talk, no strangers, just your favorite friends and favorite conversation topics. But like Thanksgiving, Friendsgiving is a lot of work. Make sure you're well-prepared so you can spend the day focused on your BFFs and not on last-minute trips to the grocery store.
CHOOSE YOUR DATE AND YOUR GUESTS NOW
Pick a Friendsgiving date based on people's work and travel schedules. November and December are the busiest time of year for most people, so it's okay if you can't find a date where everyone can make it. This is the nature of the holidays!
It's ideal to keep the group under 10 people – too many guests and the party loses that laid-back, intimate feeling. If your guest list is pushing into the teens or twenties, consider having a less formal meal and hosting the event somewhere else. (Chances are, no one has a dining table that can fit that many guests!)
Incidentally, Pinot's Palette will let you host a Friendsgiving in the studio! Just get in touch with the location of your choice to book a private event. Turkeys and gravy boats welcome!
GO POTLUCK
Your great aunt may insist every year on cooking every last dish on the table, but that's a ton of pressure for most people. Go potluck, and decide in advance who's bringing what in terms of turkey, sides, salads, desserts and drinks.
Also important: Decide in advance if guests are bringing their dishes to the house ready-to-eat or if they'll need to use the oven or stovetop. Knowing these things ahead of time makes it more likely you'll get to eat on time and that everything will still be hot.
DON'T FORGET ABOUT LEFTEOVERS
This is a detail that's often forgotten until the post-dinner dishwashing session. Stock up on disposable Tupperware, or have everyone bring their own. Nobody deserves to go home without delicious leftovers.
PREP TIME, PREP TIME, PREP TIME
You cannot leave all the prep work until the day or night before. Remember, it takes a few days just to thaw a turkey, and marinating can take 24 hours. Do your grocery shopping a few days ahead of time. Read all your recipes in advance so you know how long each dish will take to make, which items need to be cooked at which temperature, and if some items have to chill or marinate in between steps. Chop your veggies the day before. And don't try to clean the whole house the morning of.
IT SHOULDN'T BE PERFECT
If something doesn't work out – you burn the turkey, someone dumps the entire green bean casserole on the floor, Susan is 30 minutes late with the sweet potato pie, whatever – let it go! Friendsgiving is not about the experience, not the execution. It's about making memories and showing your commitment to some of your favorite people in the world. So laugh and smile at the spills, the mistakes and the weird parts.
IT DOESN'T HAVE TO BE TRADITIONAL
Most Friendsgivings follow the familiar pattern of everyone gathering at someone's house and sharing turkey, cranberry sauce and pie. But what makes Friendsgiving so rad is that it's all about what you and your friends like. So if you want to order pizza instead of cook a turkey, do it! Instead of dinner, have a big potluck brunch and then take everyone's dogs to the park. Have a movie marathon all day while the food is cooking. You do you.