10 Brand-New, Super-Fun Girls' Night Out Ideas
GNO is like wine, or pizza, or coffee – pretty good even when it's not out-of-this-world amazing. If you're with your favorite friends and the mood is right, sitting in a parking lot can be fun (although a bottle of wine is guaranteed to help THAT situation).
But novelty never goes out of style, and unique situations make great experiences… and great stories afterward. So before you book reservations at another restaurant, squeeze your feet into another pair of heels for bar-hopping, or clean the house for another night of movie-watching – run these 10 girls' night out ideas by your girlfriends (Or guy friends! Shoutout to our male readers).
We promise at least one of these night out ideas is guaranteed to get your group excited. Something for everyone!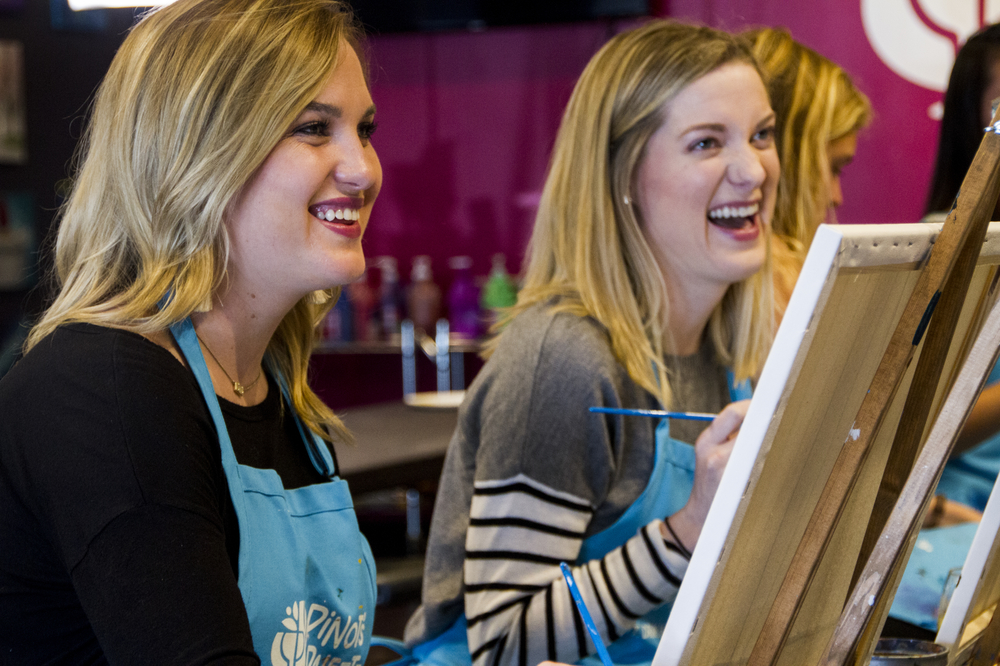 1. WINE AND PAINTING GIRLS' NIGHT OUT
Not artistic? Hear us out. Paint night is one of the best girls' night out options because no matter how good or bad you are at painting, you will have fun. At Pinot's Palette, your instructor will be a professionally-trained, legit artist. They'll help you learn if you want to learn... or, help you paint something decent and have a good time if you're more into wine than painting. Just like you don't have to love golf to enjoy putt-putt, you don't have to be a natural-born artist to enjoy paint and sip.
A lot of our paint and sip studios have bars in them, and others are BYOB. You don't have to drink, but if you're a wine-lover, you're in luck because wine tends to relax people juuust enough to improve their painting skills.
Paint night is a 10 out of 10 on the girl's night out scale, but if you want push that up to an 11 – look for our blacklight painting classes! Some studios are equipped with blacklights and offer select paintings under an exhilarating neon glow.
2. LASER TAG
Speaking of blacklight, laser tag combines all your favorite memories of middle school with a little friendly competition. Laser tag is pretty easy to find in most cities, but is often overlooked as an adult activity. If you have a big enough group of friends, you may be able to reserve the whole space so you don't have to play against 15 year old boys (just saying). If you haven't played laser tag since your teen years, heads up: It's probably more of a workout than you remember!
3. TRAMPOLINE PARKS
And speaking or workouts, have you tried a trampoline park yet? These amazing gyms are popping up all over the country, and we can't believe they didn't gain popularity sooner than this. Imagine being able to bounce across a 100-yard trampoline floor, ricochet off a trampoline wall, then somersault your way back to your friends. The trampolines spread wall-to-wall and floor-to-ceiling! Depending on the gym, you might even be able to play trampoline dodgeball or leap into a big foam pit. It is F.U.N. You're likely to encounter teens and/or kids here too, but there's usually enough space for everybody. Plus, some trampoline gyms might let you reserve a trampoline room just for your group.
Word to the wise: Save dinner and drinks for AFTER this activity.
4. VOLUNTEER TOGETHER
Most friend groups haven't done this at all – or at least, not since college when student organizations required minimum volunteer hours. While not a typical girls' night out, volunteering together is a really nice break from the norm. You'll give back to your community, reset your perspective, maybe have some refreshing conversations about the meaning of life.
Look for opportunities that are meaningful to your friend group – whether it's the arts, social justice, youth empowerment, animal advocacy, or giving to people less fortunate. Volunteering is usually fun if what you're doing is close to your heart.
You can look for organized opportunities through specific nonprofits, such as animal shelters or art festivals. You can also create your own opportunities, like raking leaves around the neighborhood or cleaning up your community park.
5. DIY HOME PROJECTS
Don't want to go out, but also don't want to just binge Netflix together? This is the idea for you. Pick one or two fun DIY projects for everyone to do together. For example: re-do a side table, give a decorative mirror a makeover, make your own birdhouse. Depending on who your friends are and how big your group is, everyone can do the same project so each friend leaves with a completed piece. Or, maybe one of you just moved and needs to paint an accent wall, or has a crazy dream for an antique dresser and needs a few extra hands on deck.
Whatever it is, plan it out in detail ahead of time. Shopping for the supplies can be part of your girls' night out, or you might want to have the supplies ready when everyone arrives. Whatever your idea of fun is – do that!
For inspiration, check out our three favorite DIY home project ideas at
https://www....te.com/decor.
6. DANCE YOUR HEART OUT
We're not talking about going to the club. Most cities have really fun dance options for girls' night out. If you want to practice moves for the club, look into hip hop classes. Some classes teach general dance moves, and some actually teach you to dance a specific routine. Yes, you too can learn to dance just like Cardi B or Queen B, one hip shake at a time.
But if that's not your group of friends' style, give barre classes a try. You can sign up for a recurring barre workout class, but many dance studios offer one-time classes that let you get your metaphorical feet wet and have a ridiculously good time with your girlfriends.
How about pole dancing classes? If you want a GNO that's equal parts laughter and hard work, this is a memorable option! There's no embarrassment among best friends.
7. BOARD GAME CAFÉ
The idea behind board game cafes is that the waitstaff are game sommeliers. That is, they have a deep and broad knowledge of the board game world, and are experts in recommending the perfect game for your particular group of friends. So whether you're just stopping in for an hour and want something easy, or you're down for a long evening of strategy – the perfect game is waiting for you on the walls of a board game café! If you don't like the game you're playing, you can swap it out for a new one any time. It's a fun and low-key girls' night out, and a great way for board game fanatics to discover unusual new games.
8. MYSTERY DINNER THEATER
Mystery dinner theater is kind of classic and kind of quirky! It's a fun shake-up of the dinner-and-drinks or dinner-and-a-movie routine – especially if your pals are into theater or comedy. Some of these events are designed to be spooky, some funny, some intellectual, and some just ridiculous. We recommend checking out the reviews to find out which experience to expect, and what the food is like. In a lifetime of girls' nights out, this is one that's likely to stand out in the long run.
9. CUSTOM COOKING CLASS
This may not be the most unique idea ever, but it is a good one. And since this idea has really picked up momentum in the last few years, there are more and more cooking/baking class options out there. You can take a class to learn how to make everything from French breakfast foods to Brazilian snack foods. There are classes for cheeses, souffles, just desserts, gluten-free desserts, vegetarian dinners, steak dinners, and almost anything your heart and tummy desire. These are all offered at varying price points and complexity levels – check local grocers, cooking schools, cookware shops, restaurants, colleges and makerspaces to find out what kind of cooking classes are near you!
Of course, there are also wine-making classes if you want to skip the food and get straight to the good stuff.
10. GO TO BOOT CAMP
If you're an active group of ladies and you want a nontraditional girls' night, look for boot camp experiences in your area. For example, you can book private events at American Ninja Warrior gyms. A coach will guide you and your friends through a fun but challenging series of obstacles. Crossfit gyms, yoga studios, paddleboard or kayak companies, and other fitness-centered organizations are all likely to offer similar group experiences to strengthen the body and mind.
If your friends are competitive, raise the stakes. Divide into teams, and have the losing team pay for brunch the next morning!
PLAN YOUR NEXT GIRLS' NIGHT OUT
There are enough ideas here to get you through a few months of GNOs. Make it your mission to try out all these ideas at least once! For help planning a painting and wine girls' night, get in touch with your local Pinot's Palette studio. You can even book a private party room to choose the painting and have a space all to yourselves. Happy partying!