Buy 5 Seats, Get 1 Seat Free
The hap-happiest season of all? You better believe it.
December gets a little crazy, sure, but it's when we get to spend extra time with all the people who matter most to us, whether that's family, best friends, new friends, or work friends.
Get your favorite groups together in one place to paint, drink, and be merry this December! We're making it easy: Book 5 seats at a regular event, get the 6th seat free.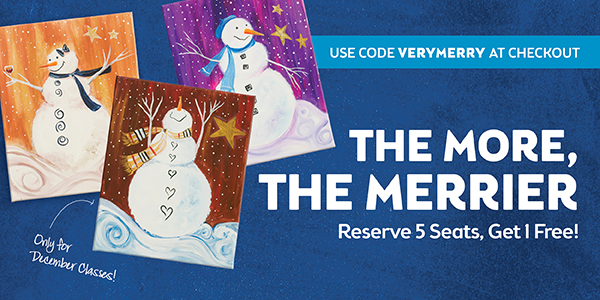 Paint. Drink. Have Fun.® It's the perfect night out to reconnect with the whole crew. Make your reservations today! Just use promo code VERYMERRY at checkout. (Make sure you're purchasing all 6+ seats at the same time.)
HERE'S WHAT WE'LL DO FOR YOUR PAINT PARTY:
• We'll seat your whole group together. Reserved seating means nobody gets left out.
• We'll play the best music in between painting instructions from your artist.
• We'll provide all the wine glasses, corkscrews, ice, ice buckets, paint smocks, art supplies, and pretty much everything you could need. (Important note: Check with your studio to see if it has a bar or if it's BYOB.)
• We'll let you use the VERYMERRY discount each and every time your group of 6+ goes to a December event together! No limit to how many times you can use the discount code.
DISCOUNT CODE DETAILS:
• It's valid for non-specialty, public events in December 2018 only. This does not include private painting parties, special events like Project Pet, or upgrades like wood pallets.
• Please complete a single transaction for 6+ seats (i.e., buy all your seats for the same class at the same time).
• Can't be combined with other promos or discounts... but you CAN use the verymerry discount code multiple times for one event if you've got a group of 12 or more.
• Can't be used to buy gift cards, canvas frames, wine glasses or other merchandise.
Let's do this paint party! Get together with your favorite crew and find a painting you love at a Pinot's Palette studio near you. Don't forget to use discount code VERYMERRY before checkout.