6 Offbeat Activities Everyone Should Try
Routine? No thank you. While we here at Pinot's Palette love spending days at home with Netflix, we are even bigger fans of trying cool new things. When you try out a new hobby or sport, you may discover a previously unknown skill or passion, improve your creativity, and if you bring along your friends or acquaintances, you're almost guaranteed to learn more about them. Depending on where you live, you should be able to do most of these close to home.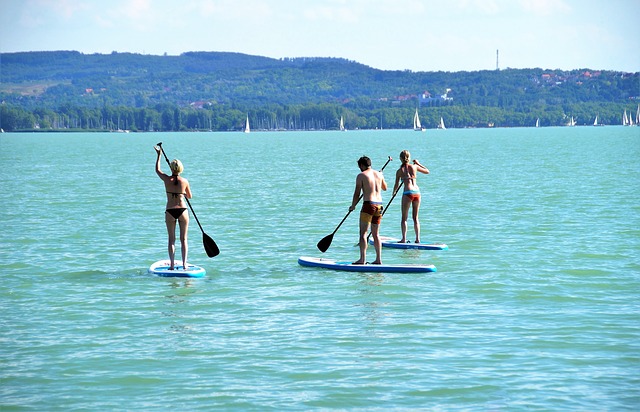 Acro Yoga
More like circus training than yoga, acro yoga is a unique combination of trust, yoga and gymnastics. With a partner (there's the trust part), you'll work on achieving various balancing positions that build up strength and flexibility. It's easier than it looks, and you honestly don't have to be particularly strong or flexible. You'll build those skills in a beginner's class.
Stand-Up Paddle Boarding
This Hawaii-born sport has made its way into lakes and rivers across the U.S. and beyond. The name explains it pretty well: You're given a single paddle and a board that resembles a surfboard, and keep both feet on the board while you maneuver the waters. Skilled paddle boarders do this in wild waves, but doing this in calmer waters means tip-overs aren't too common.
Trampoline Park
We can't believe these weren't a thing until recently. Trampoline gyms are growing in popularity and sprouting up everywhere. Imagine a gymnasium where the floors and walls are all made of trampolines. You can hop, skip and tumble your way across the room, and a lot of these gyms offer trampoline dodgeball courts and foam pits, too. It is the BEST way to get a full-body workout without feeling like you're working at all!
Barre Class
Ballet class for grown-ups. Barre classes and studios are a growing trend that let men and women with no dance experience learn the fine art of ballet. You can take one class just to try it out, or sign up for a series of classes; some studios even put on recitals at the end of each class series. You're never too old to learn something new, and barre classes make it extremely easy to revive your childhood dreams of becoming a ballerina.
Horseback Riding
Most adults haven't been on a horse since summer camp 15+ years ago. Horseback riding is often overlooked for trendier activities, but the sport offers loads of benefits. It's an excellent way to tone up the lower body, it improves balance, it teaches you to relax and communicate effectively with a majestic animal, and in most cases it's good for an afternoon in the great outdoors. You can schedule lessons as often or infrequently as you like, or if you're jumpy around horses, you can use easygoing trail rides to ease your nerves away.
Disc Golf
If nothing else on this list has piqued your interest, then this one might. This quirky little sport is just a walk in the park, plus some throwing action. You've probably walked past a disc gold course without even realizing it. Ever seen those elevated metal baskets with chains hanging off the sides? Those are disc golf "holes" (the sport gets most of its terminology from golf). Many public parks have full 18-hole courses installed, and the object is to sink a flying disc into each basket as you move about the park. For some, it's an extremely technical and competitive sport, but for others it's a leisurely way to spend a sunny day.
What new activity will you challenge yourself with this week?