Easter Week & Enjoying time with your family at Pinot's Palette Apex North Carolina
Easter is one of the most important spring holidays for many of us living in Wake County North Carolina. To many of us, it is an important religious celebration, for some, it is about the Easter bunny bringing candies and chocolates, about Easter egg decorations and egg hunting, and quite a few that celebrate the Easter holiday, it is about being with family. At Pinot's Palette Apex, Easter is all about celebrating the change of season, celebrating what you believe, and enjoying time with your family.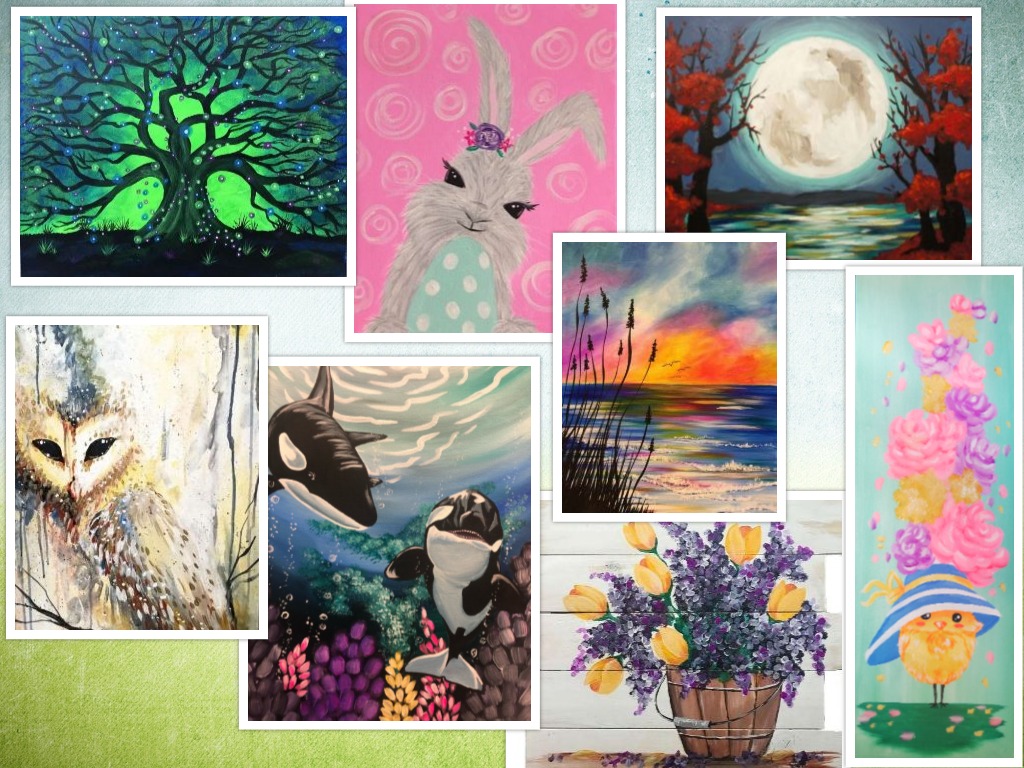 On Tuesday, April 17th, 2019 come and paint a Pinot's Palette Apex favorite "Japanese Moon Garden"and enjoy a moonlit walk through the beautiful garden.
https://www....event/313822.
On Wednesday, April 18th, 2019 we feature a watercolor-like painting of a barn owl called "Golden Gaze".
https://www....event/317507.
Don't miss this fun and expressive painting, and enjoy snacks and drinks from our bar. Check out our bar menu at
https://www....mind/barmenu.
If you like to paint animals, we have not only a barn owl but also orcas. On Friday, April 19th, 2019 we are debuting a new painting "Orca'N it Be Love?"
https://www....event/318002.
Enjoy creating the wonderful under the sea world with two orcas playing in it!
If you like Black Light painting, we also have something for you during Easter weekend. On Friday night April 19th, 2019 we are painting " Tree of Dreams". This is a kid-friendly event where we welcome kids age 8 and above.
https://www..../event/317607
On Saturday, April 20th, 2019 we feature a cute bunny in our 'Little Brushes' morning class. (https://www.pinotspalette.com/apex/event/313860). We welcome kids age 5 and above. In the afternoon we welcome families and friends to a fun wood pallet workshop where parents are allowed to share a pallet with their kids - "Country Tulips" features a bright bouquet of lilacs and tulips.
https://www....event/313828.
Saturday night's painting is also open to kids, "Talking to the Moon" is an all-time favorite of both kids and grown-ups.
https://www....event/310977.
On Easter Sunday, April 21st, 2019 if you have family in town and want to do something fun together in the afternoon, we have a $30 special painting "Serene Sunrise"
https://www..../event/317497
If you haven't painted with us before, we are located in 1553 Beaver Creek Commons Dr., Apex, NC. The studio is very easy to access if you live in Cary, Raleigh, Holly Springs, Fuquay-Varina, Durham, Morrisville, Pittsboro, or Sanford, North Carolina. We have plenty of parking right in front of the building. We have two very large and spacious rooms with comfortable seats and professional lighting that are positioned to perfectly illuminate each canvas. Come to check us out and you will love the experience and the art you create!