Project Pet is Back
The registration date for our April 2018 Project Pet class has passed, but you have 3 more chances to paint your pet this year!
Sundays, 3pm - 5pm:
June 24
September 30
November 11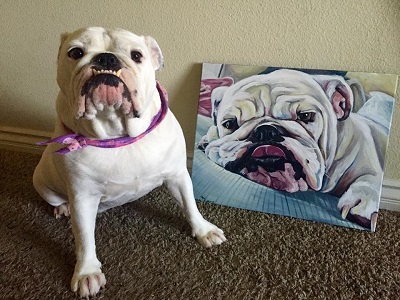 No prior painting experience is required. Our artists will help you choose your colors and provide guidance as you paint. The results of our Project Pet classes are truly amazing! Once you sign up for the painting, email us a high quality digital photo of your pet (one pet per canvas, please) and we will do the rest. YOUR PET PHOTO IS ACTUALLY PRINTED ONTO THE CANVAS! A Project Pet painting is a cherished keepsake and makes an awesome gift for any pet lover.
TIPS FOR PHOTO SUBMISSIONS:
• 1 pet per person / per photo to ensure best results for your painting
• Highest resolution possible/ large file size (camera phones do not always have the best resolution)
• Pet is clear and in the foreground with no furniture, objects, grass, etc. blocking any body parts
• Pet is centered in the photo either FULL BODY or HEAD SHOT, with no cropped off edges
• Our best advice is to take a photo of your pet with the best camera you have, outside during the day, under a shaded area (like your front porch, back patio, or inside near a window).
Check out our YouTube video!
https://www....v=Fad-cZwIFIA