Meet Kelly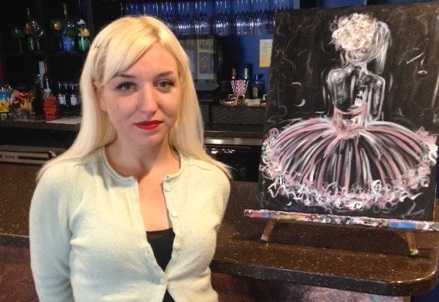 Kelly is new to our studio family, but art has been a part of her life for as long as she can remember. Her favorite book when she was 6 was "I Want to be an Art Teacher," so perhaps it was destiny that she became an instructor at Pinot's Palette. She applied for the job because she thought it would be a fun atmosphere to work. Has it lived up to expectations? Definitely! "At Pinot's Palette, I get to share my passion for painting with the world and all of my coworkers are AMAZING!" In addition to instructing painting parties, Kelly can be found managing the studio a few days every week, and assists at our weekly Open Studio sessions.
Kelly has a Bachelor of Arts, Visual Arts and New Media with a concentration in Drawing and Painting from State University of New York at Fredonia. She worked at Elderwood Health Care Facility for 6 years, running the painting and craft programs. Kelly is a freelance artist and her style of art is Surrealist Macabre.
Her work is inspired by personal experiences. "When people look at art I believe they are looking at you as a person. I always find a little beauty in the dark." Kelly's favorite Pinot's Palette class? " I love classes where everyone lets loose, rocks out to the music and has fun!" Her passion? Helping those in need.