Family Fun Day Saturday March 31st
Come on over for Pinots Palette Aliso Viejo's first ever Family Fun Day Saturday March 31st from 1:00- 3:00pm!
The Renaissance Club, located at 50 Enterprise, Aliso Viejo CA 92656 will host our event. Since the event will be held outside of our studio we are able to open this event to ALL ages! Bring your teenagers and kiddos for a great time of painting and fun!
Please note that Children under 6 must be accompanied by a painting adult. Reservations are required for each person, one seat per person.
Our team will lead you and your kids step by step through the "Eye see you Emu" painting. This colorful emu has a little curiosity, a lot of spunk, and lashes on fleek! The eyes have it on this cheerful painting!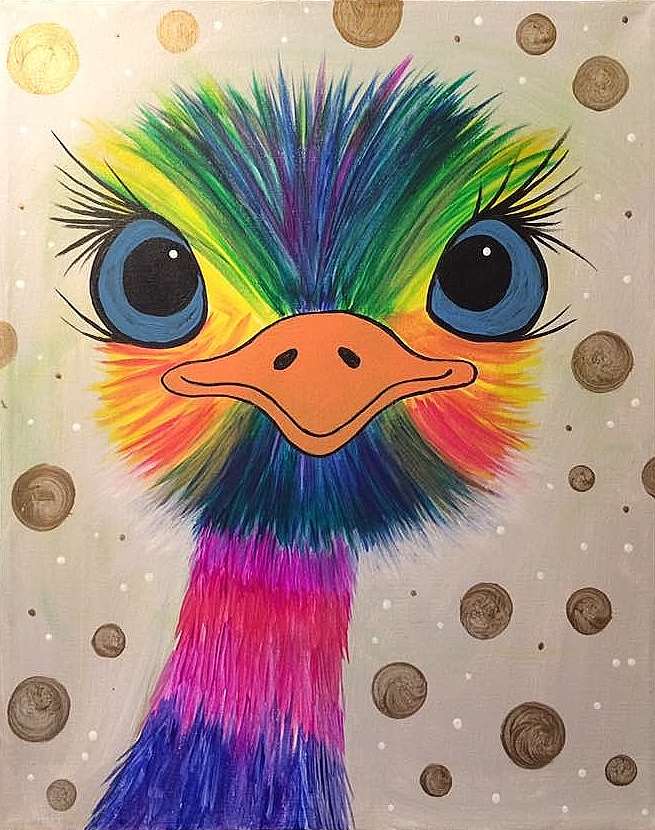 A happy and sweet painting, this emu is sure to capture your kid's hearts and attention for the afternoon. After the event painters take home their masterpiece so that they can enjoy gazing at their new feathered friend for years to come!
As always one of our professional artists will guide you through the entire painting process. Additionally a second assisting artist will be available to help you if you want a few extra tips and tricks ;) You will be amazed by your own creative abilities! Discover the artistic talent in your family at Pinot's Palette Family Fun Day Saturday March 31st from 1:00- 3:00pm (Please feel free to come 30 minutes early to settle into your seats and explore the beautiful Renaissance Gym.)
Be sure to take advantage of this special opportunity to paint with your children! Share with your friends and make this a fun friend's and family day out!
Snacks and drinks will be available for purchase at the event. Please call or email the studio if you have any additional questions! alisoviejo@pinotspalette.com or call: 949.899.3293