Tips and Tricks: Blending Paint 101
Zero artistic experience is required to take part in a wine and paint night at Pinot's Palette Aliso Viejo, but we know that a few of you are a bit nervous about your supposed 'lack of skills' so we decided to share a 101 technique with you before you even get to class! We are generous like that ;) We hope this will help boost your confidence! Of course, there is nothing like getting instruction from a professional artist in person, so come one in and meet one of our professional artists today!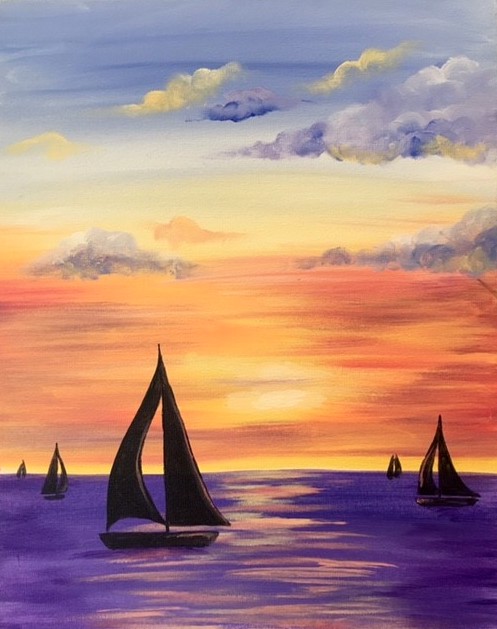 Paint night is all about being relaxed and having fun, so it's totally cool if your painting doesn't end up looking like Renoir himself painted it. However, some people would like to pick up some techniques to help them along on their master pieces.
One of the topics students occasionally struggle with is blending colors, so here are a few ways to make your next blending go more smoothly.
Option one: Paint your first color. Then rinse your brush before getting the second color and then paint the second color right next to it. Rinse your brush again and with a clean and lightly damp brush glide the brush across the line where the two colors meet in long fluid strokes. Ta-da! BLENED!
Option two: paint your first color, wipe your brush but don't rinse it. Pick up the next color and overlap the first paint in long strokes slowing moving away from your first color- don't go back over where you've already painted (you'll wreck you're lovely gradient). Keep moving until you're on fresh canvas, repeat as necessary with more colors. Whoop Whoop! Blended!
Option three: Paint color one and then paint color two so that it touches the first color and no canvas is showing through. You can then pick up a bit of both colors on your brush and then start making criss crossing lines over the meeting point of the colors. Keep blending until you have a nice gradient. Yep! Blended!
Option four: If blending is not your friend then I'm going to suggest that you mix the colors that you need want to blend on a separate plate and then add them to your canvas after you have pre mixed them. Start with color A and then use 3 parts A and 1 part B, then 3A and 2B, then 1A and 1B, then 2A and 3B, then 1A and 3B. Yeah Boy! You're blending! Well kinda- You're close enough! It's going to look cool and that's what matters right?
Come in and have fun! Paint drink and be merry! Blend your heart out and show off your new painting skills to all of your friends! Make something cool and do something different! Answer the creativity that calls to you! Your canvas awaits your arrival.