Some Black Light Classes Are Returning To The Studio This Month! Come In And Get Your Glow On!
BIG NEWS!
We've got few black light paintings on the schedule this March!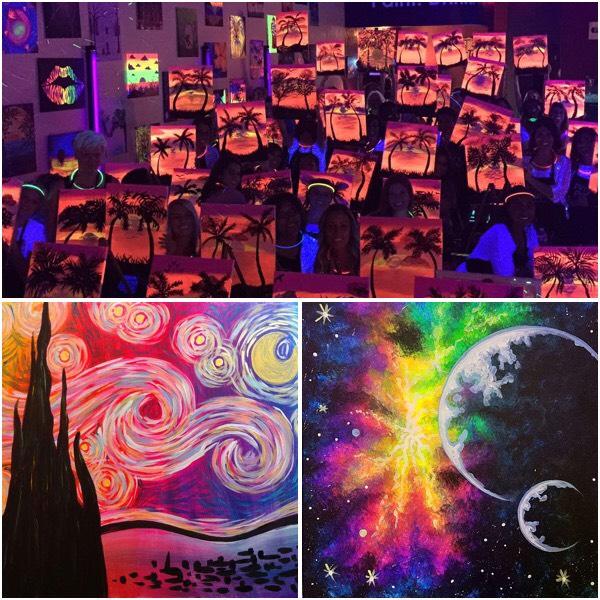 If you've been missing the glow of the black lights, the vibrancy of the fluorescent paints, and the fun of participating in this unique class then come on in and paint one this month! If you've never been to one of our black light classes, here's what they're all about:
They work the same way that our other classes do where come in on the day and time scheduled, we'll provide the supplies and the instructions, and there's wine and beer for you to buy of course… BUT you'll be painting in the dark in these uniquely-creative classes!!!
We're busting out the special glow-in-the-dark paints and the black lights and having some fun, making our masterpieces in a different way. You'll enjoy spending time in a creative environment with friends and family as you make artwork and memories that'll last a lifetime. Add in the super cool circumstances that a black light class offers and you've really got a fun night out activity!
Come in and make this special work of art with us this month and be sure to wear some neon or white clothing so you can glow along with your painting!
**Here's what's coming up:
Friday, March 8
'Psychedelic Starry Night'
(*Shown above, left corner)
This vibrant take on Van Gogh's Starry Night is just as fun to paint in the daylight as it is under blacklight. The glowing color palette is easy to customize, and the simple design is very beginner-friendly. Join us and paint your own technicolor masterpiece!
https://www..../event/307641
Friday, March 22
'Extraterrestrial'
(*Shown above, right corner)
Go beyond your imagination and paint this piece in the dark (it glows in the black light!) or paint it in the light of day for a bright stellar time. A wonderful opportunity to hang several canvases together for a large art display. Easy to customize.
https://www..../event/307802
**MORE fun:
If you LOVE brightly-colored paintings, we have some other beauties on the calendar that you'll really enjoy making.
While these paintings aren't created under the blacklight with all fluorescent colors, they're full of bright colors and you can always request some fluorescent paints to be incorporated into your artwork; We encourage our customers to make their painting the way they want to and alter the style or colors to best fit their preferences.
Check out these additional brightly-saturated works of art and add a lovely pop of color to your walls:
3/10 'Prismatic Elephant'
Elephants are a symbol of power, wisdom, strength, protection of the home, fertility and most important, are good luck.
https://www..../event/307044
3/15 'Twilight Paradise'
As the sun sets, the light must travel through more of the atmosphere before the rays get to you. If the path is long enough, the blue and violet lights go further than our eye can see. This leaves the pink, orange and red colors for us to look at. So that's why sunsets are usually pink, orange and red.
https://www..../event/307721
3/21 'Poppy Prism'
Using all the colors in the spectrum will surely brighten the day!
https://www..../event/307801
3/30 'Playful Posies'
Playful Posies will add charm & vibrancy to any wall, and a smile to any face. Not only is this painting so fun to create, it also offers the opportunity to get creative with your colors.
*Special: Bottomless mimosas for just $12
https://www..../event/307662
We hope to see you soon, whether you're coming in for these amazing black light classes or one of the other classes on the calendar!
Our classes are so much fun and can be enjoyed by anyone at any age and artistic-ability level! There's no need to have ANY prior painting experience when you come to our classes, the majority of our customers haven't painted since grade school and they always leave with a handprinted masterpiece they're proud of. Impress your guests with a stunning painting that YOU made and display in your home; They'll likely want to come in for a class with you next time! Your instructor for the evening will walk you through the painting, step-by-step, encouraging and helping you the whole way though so don't be worried that you won't be able to paint…we proudly stand by our common saying that, "Anyone can paint!"
We'll see you soon for one of our new paintings, Valentine's Day paintings, Galentine's Day events, or another class! Remember to that in addition to our public classes we're always offering private parties where you can rent our studio space for a special painting party!
*New Paintings:
https://www....hcheckthemout
*Galentine's Day:
https://www....pinotspalette
*Valentine's Day classes:
https://www....edibleclasses
**Private Parties:
https://www....ivate-parties
**Corporate Events: building events:
https://www....porate-events
**Kids' Parties:
https://www....ainting-party
**Mobile Events:
https://www....ainting-party