Fabulous NEW Paintings On Our Calendar This Month! Check Them Out!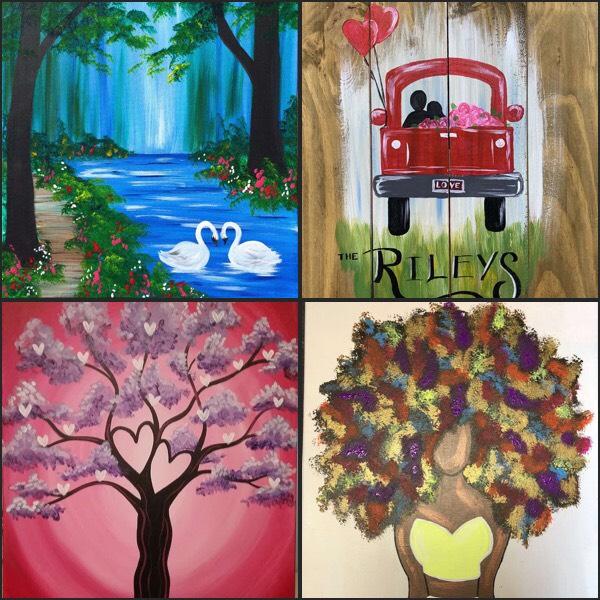 Pinot's Palette has quite the extensive library of paintings, spanning back throughout the past 10 years! Artists from all over the US have been creating and sharing their work for our customers to paint and make their own, so you can imagine that over time, the paintings start to add up. While we always enjoy offering our tried-and-true customer favorites throughout the year, it's nice to introduce some new work into the mix. The majority of our customers are first time painters or have been to our studio just a few times, however we do have a good amount of familiar faces that we see very often! For all customers, and especially for our regulars, we want to always be offering fresh artwork for them to create; Having something for everyone is important to us so we're always working to make new and unique paintings, all with different subjects, styles, and colors, so we have more to offer everyone!
This month, we've got a lot of new paintings on our calendar. While some might have been taught at other studios across the Nation, this will be the first time they'll be offered at out studio! Come in, bring your friends, and join us to make some new paintings and have a whole lot of fun, doing so!
February 10, 'Swan Cove'
FAMILY DAY!
Inspired by a fairytale book, Swan Cove is peaceful and calming. This is a great painting to create and give as a gift to your special Valentine!
https://www..../event/290905
February 10,' Stay Sexy'
SPECIAL EVENT!
This dark sexy painting is inspired by our favorite true crime comedy podcast, 'My Favorite Murder'.
$10 from each seat goes to Interact
InterAct is the only provider of domestic violence and sexual assault services in Wake County, North Carolina - saving lives, rebuilding lives and securing safer futures for individuals and families in our community.
Join us for painting fun , with Murderino trivia while helping others.
https://www..../event/291213
*Learn more about this super fun, themed event:
https://www....privateparty-
February 11, 'Bed Of Roses'
WOODEN PALLET
Specially-priced wooden pallet $35!
Add some rustic charm to your decor with this cute little red truck painting on a wooden pallet. Come in and make this trendy wooden painting to fit perfectly into your home's Valentine's Day decor!
https://www..../event/300243
February 15, 'Infinite Love'
DATE NIGHT painting
The infinity symbol is a timeless representation for limitless love without bounds - customize your date night to represent your limitless devotion to each other. This painting would look great, hanging over a sofa or bed! The size is dramatic and modern for any space and the light and neutral colors will loo stunning with any decor!
https://www..../event/292543
February 16, 'Where Love Grows'
Sitting in front of a lover's sky, this tree marks the spot where love grows. Perfect for Valentines Day or a date night out together. This painting is easy to make, a breeze to customize with colors, and is perfect for this time of year!
https://www..../event/300239
February 21, 'Monet's Water Lillies'
Created on a LONG Canvas!
Claude Monet is one of the most popular of all the impressionist painters and for good reason! His water lily paintings are quite a sight to see in person and are also really fun to paint. Paint your own Monet with this serene scene.
https://www..../event/300339
February 24, 'Bright and Beautiful'
BRAND NEW and full of color!
Spend a night out with your favorite girls and favorite bottle of wine to celebrate the beautiful and bright goddess that you are!
*Special: Enhance your afternoon with bottomless mimosas for just $12
https://www..../event/300253
February 27, 'Starry Night Sunflowers'
PAINTED WINE BOTTLES
Brighten up your space with this sunflower wine bottle bursting with beauty!
https://www..../event/300344
February 28, 'Paris At Night'
Painted on a LONG CANVAS!
The Eiffel Tower stands at night after a nice summer rain where the watery reflection still stands. As the sky cleared, the moon and stars appeared to light up the night.
https://www..../event/300345
We hope you'll join us for one of these fantastic new paintings! Come in with friends or family or even alone to spend some time relaxing after a long day! Whether you select one of these newer pieces or something else on our calendar, we hope to see you soon! As always, remember that we DO offer private events int he form of celebrations for events like birthdays, weddings, retirements, and more, along with corporate events, kids' parties, and even some mobile events! Learn more about these special, private painting parties here:
Celebrations:
https://www....ivate-parties
Corporate/Team-building events:
https://www....porate-events
Kids' Parties:
https://www....ainting-party
Mobile Events:
https://www....ainting-party