Plan Your Next Big Event With Pinot's Palette And Turn Anything Into A Unique And Fun, Private Party!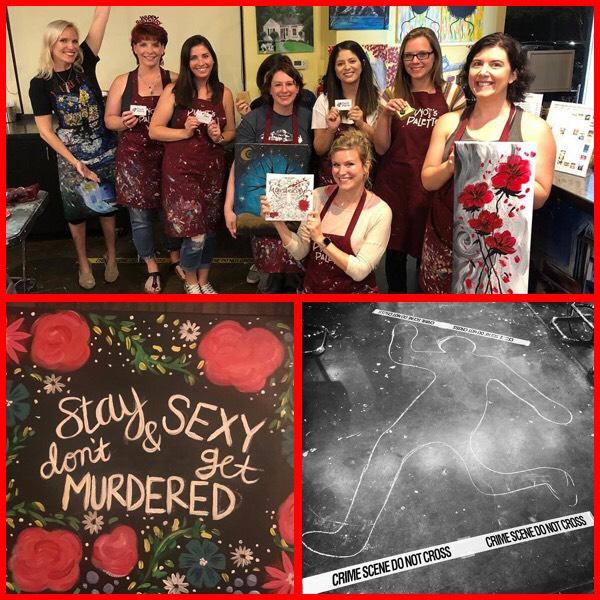 Pinot's Palette is an AMAZING place to come for a painting and wine class! If you've been to one of our classes, you know the basics of what we're about. We enjoy teaching others to paint while they sip wine and have fun! We happily welcome first-time painters with the promise that 'anyone can paint'. We stand by those words because we have a kind and talented staff, ready to assist in helping our guests to learn a thing or two about painting with acrylics. We offer a large variety of wine and beer, some great playlists to aid you in your creative endeavors, and will refill your wine and paint, keeping you happy and relaxed, all night! Whether you've been to our classes and are eager to come back with friends and family or are interested in trying our studio for the first time, we look forward to seeing you, soon!
Our public classes, the ones that anyone can sign up for, are offered all month long, but there are various types of other classes you can take at our studio, as well!
Here are some of the other types of classes we offer:
-Private Parties:
You can book a private party with us and celebrate a birthday, bridal shower, retirement party, or any other event you'd like to commemorate with friends and family!
Book your event:
https://www....ivate-parties
-Corporate Events:
You can use our studio and painting classes for a corporate event, focusing on team-building paintings that encourage coworkers to work together and bond over a common experience. We have several different painting styles for you to utilize in your team-building event, such as puzzle paintings, collaborative paintings, and more!
Book your event:
https://www....porate-events
-Mobile Events:
If you have a location in mind for us to come to you, then we can make it happen! We'll provide everything you need, and bring the supplies to you as you paint in the comfort of your home, outside at a lovely and inspirational location, at a rented facility, or anywhere else you want to paint!
Book your event:
https://www....ainting-party
-Painting It Forward:
If you're looking to raise money for a local, community non-profit group or cause, then reach out to us for information about our 'Painting It Forward' program and we will help in any way we can!
Plan A Party For ANY OCCASION!
When you book a private event with us, YOU get to be in charge of everything from selecting the date and time, the painting, the music, and more! That being said, there's no end to the type of party you can have or reason you're celebrating!
We recently had a group who booked a private party for a common interest they all share: a murderino group!
If you aren't familiar with that term, a 'Murderino' is a person who is interested in (and especially obsessed with), murders.
These include serial murderers, spree killers, and rage/thrill killers. Dubbed, "Murderinos" by a member of the 'My Favorite Murder' Podcast fan page on Facebook, Murderinos gather there to discuss the podcast and interesting murders.
We love to use this party as an example of how you can take something you love and want to celebrate, and pair it with a painting and wine experience, providing you with unique and creative way to celebrate, while having a whole lot of fun! Instead of bringing us a playlist of their favorite songs, this Murderino group listened to their favorite podcast as they painted their customizable, fabulous artwork!
For the paintings they selected, they could add the colors and details they prefer to their works of art, as well as their favorite Murderino quote!
There was a selfie station for the group to take lots of photos to remember the party by, as well as some excellent decorations in the form of chalk body outlines and caution tape!
This fabulous party was planned and executed, perfectly and the concept could be expanded to any specialty groups and common interests you have!
Bring in the decor, games, gifts, food, and other components that you want to go along with your party theme and make it one, amazing event that everyone will be talking about for ages!
*FInd a murderino group, near you! There are tons of the out there and even several Facebook groups where you can talk with others who share your interests!
https://scot...lay/fb-groups
**View all of the photos from this amazing event here:
https://www....9068267935088
Whether you're interested in booking a private event with us or just looking for something new to try, remember to keep Pinot's Palette in mind for your next fun night out! You can view our calendar on the link at the bottom of the page to see all of the amazing classes we've got coming up, as well as what the paintings look like! Remember… have no fear if you're a first-time painter as the majority of our customers are, too! One of our kind and talented instructors will walk you through the painting, step by step, encouraging you the whole time, and helping you to leave, pleased, with your masterpiece! We'll provide everything you need at the studio, so all you have to bring is yourself, some money for wine, and a phone or camera to make memories with, as you take pics, make videos, and add the hashtag #paintdrinkhavefun
We hope to see you soon for a class at our studio if you're looking for something fun to do in or around the Raleigh-Durham area! We make the perfect event for everything from a fun and unique date night, an awesome girls' night out experience, and we even offer private events! When you view our classes on our website, you'll be viewing our schedule for our public classes, but you can also book a painting party with the guest list of your choice! Come in to celebrate a birthday, bridal shower, reunion, retirement, and more with friends and family, sharing their artistic sides, together. Make memories that will last a lifetime with a souvenir to treasure forever with one our classes.
Share View our full calendar here! | Purchase a gift certificate!