Join Us This Valentine's Day For Some Incredible Classes!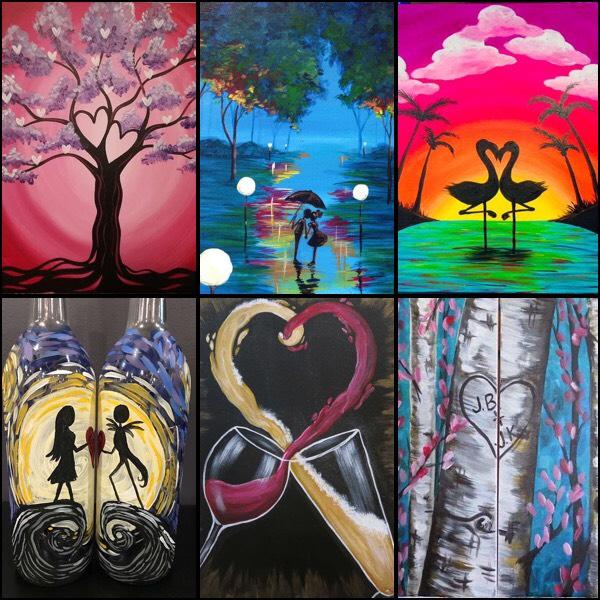 Here at Pinot's Palette, Brier Creek, we like to celebrate BIG when it comes to holidays and special events. Painting and wine is a combination that's always a great idea in our book, but pair that with a theme that goes along with the current season or holiday, and you've really got yourself a fun event! Bring your honey pie in for some romantic creative time, OR come in with your ladies for a Galentine's Day celebration, the family for some fun artwork-making, or any of our other excellent classes on the calendar!
————— SATURDAY, FEBRUARY 9th —————
'Love Is Blind'
FAMILY DAY!
Sometimes when a hedgehog meets a cactus, love is blind!
Painted on 2 minis. Perfect for mommy and me, a couple's painting, or paint by yourself.
Each reservation includes 2 10x10 canvases
https://www..../event/298912
'Opposites Attract'
This painting is not only for the wine lover but the beer lover also.
https://www..../event/298905
'Autumn Afternoon'
Experience the romance of Autumn with crisp blue skies, crystal clear waters, and a pop of bright fall color!
https://www..../event/284768
'King and Queen Of Curls'
We are all regal in our own way. Select one image to paint or make it a Date Night! This has been such a popular painting in our studio lately, so take advantage of this special 2-piece work of art and be sure to sign up, ASAP!
https://www..../event/292535
————— SUNDAY, FEBRUARY 10th —————
'Love Bandit'
Puppy love abounds in this delightful painting, perfect for valentine's day or any time of the year
https://www..../event/290902
'Stay Sexy'
This dark sexy painting is inspired by our favorite true crime comedy podcast, 'My Favorite Murder'. Where the hosts Karen Kilgariff & Georgia Hardstark captivate us with their stories of true crime with a comedic twist.
$10 from each seat goes to Interact
InterAct is the only provider of domestic violence and sexual assault services in Wake County, North Carolina - saving lives, rebuilding lives and securing safer futures for individuals and families in our community.
Join us for painting fun , with Murderino trivia while helping others.
Read all about this style of class and what it's all about:
https://www....privateparty-
*Sign up:
https://www..../event/291213
—————— MONDAY, FEBRUARY 11——————
'Bed Of Roses'
Add some rustic charm to your decor with this cute little red truck painting on a wooden pallet.
https://www..../event/300243
————— WEDNESDAY, FEBRUARY 13th —————
'Firefly Dance'
***GALENTINE'S DAY EVENT!!!
This painting is full of magic and elegance; a beautiful glowing ball gown made of fireflies and bright bold colors make Firefly Dance the perfect way to bring a little whimsy into your home decor.
What is Galentine's? Oh, it's only the BEST day of the year! Gather your favorite lady friends and leave the boyfriends & husbands at home, and enjoy a fun evening of painting, drinking and ladies celebrating ladies!
https://www..../event/290900
'Golden Gaze'
This watercolor-esque rendering of a barn owl is both expressive and easy to customize.
https://www..../event/298900
————— THURSDAY, FEBRUARY 14th ————
HAPPY VALENTINE'S DAY!
'Romance On The Beach' DATE NIGHT
This is such a fun date night painting for any couple. Whether you put the hearts in the sand or customize it
*Special: Your Reservation includes a glass of champagne and a sweet treat
https://www..../event/288159
'Starry Heart Lovers' WIne Bottle Date Night
This wine bottle date night can go together to create one unique statement or separate them for two pieces.
*Special: Your Reservation includes a glass of champagne and a sweet treat
https://www..../event/296530
————— FRIDAY, FEBRUARY 15th —————
'Love In Paradise'
This is a fun and carefree interpretation of love, in all of its' uniqueness. Feel the warm breeze of a tropical seascape against the bright backdrop of a truly paradisiacal sunset.
https://www..../event/290379
'Infinite Love' Date Night
The infinity symbol is a timeless representation for limitless love without bounds - customize your date night to represent your limitless devotion to each other
https://www..../event/292543
————— SUNDAY, FEBRUARY 16th —————
'Where Love Grows'
Sitting in front of a lover's sky, this tree marks the spot where love grows. Perfect for Valentines Day or a date night out together.
https://www..../event/300239
'Love Is In The Trees'
"Some people like to paint trees. I like to paint love. I find it more meaningful than painting trees." -Robert Indiana
Celebrate Valentine's with your Sweetheart or BFF painting this beautiful painting!
*You will each paint a 16"x20" canvases that will fit together to create one large masterpiece! Each attendee must purchase a seat.
https://www..../event/292513
'A Kiss In The Park'
A sweet, romantic painting of a couple sharing a kiss in the park on a rainy night.
https://www..../event/292536
BONUS: Wednesday, February 17th
Open Studio
It's an Open Studio at Pinot's Palette today. Did you miss out on one of the fabulous paintings from our Valentine's Day classes and want to have a chance to make one?!
Unlike our traditional step-by-step instructor-led art class with an art instructor on stage... Open Studio time is designed to give you more flexibility and freedom. This is your chance to decide what you'd like to paint!
https://www..../event/300324