GALentine's Day At Pinot's Palette
What is Galentine's Day?
Oh, it's only the BEST day of the year! Gather your favorite lady friends and leave the boyfriends & husbands at home, and enjoy a fun evening of painting, drinking and ladies celebrating ladies!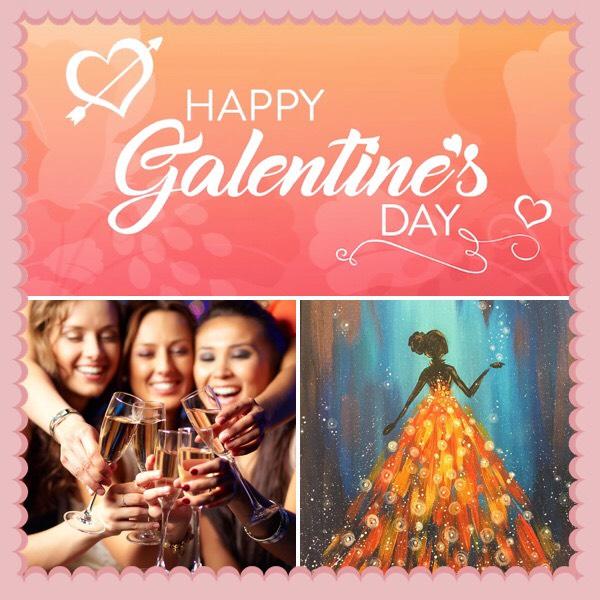 Valentine's Day is right around the corner. The hearts, flowers, candy, and fluffy animals have been in stores for weeks now, reminding us of all the love around us. People who are dating, married, or engaged, eagerly look forwards February 14th every year, along with all of the mushy-gushy lovey-dove things that it brings.
But what about those of us who would like to celebrate with our friends, whether we're single and looking for an alternative to the usual Valentine's activities OR just wanting to hang out with girlfriends for the night??
Enter 'Galentine's Day', a holiday that, by now, you've probably heard of in some form or another.
Galentine's Day is officially held on February 13th and it's a day where girlfriends get together to celebrate one another and their friendship.
If you're a fan of the long-running tv comedy, 'Parks and Rec', you're well aware that this holiday started as a celebration of Leslie Knope's ladyfriends. But the pseudo-holiday has caught on as a way to celebrate that most common and yet most unremarked-upon of things: FEMALE FRIENDSHIP
***********************
This year, we're celebrating the day with a special class on February 13th (3-5:00pm)
Join us as we create a colorful and whimsical masterpiece titled:
'Firefly Dance'
This painting is full of magic and elegance; a beautiful glowing ball gown made of fireflies and bright bold colors make Firefly Dance the perfect way to bring a little whimsy into your home decor.
Make it with your friends and hang it up in your home and remember the fun time your had, making art AND memories during your special Galentine's Day celebration at Pinot's Palette!
(*This painting would also make a fantastic gift!)
**SPECIAL PRICE: It's only $30 for this class, so be sure to tell all of your friends and sign up ASAP!!!
Sign up:
https://www..../event/290900
************************
**In addition to the class we're offering on the official 'Galentine's Day', we have several excellent Valentine's-themed classes for you ((and whomever)) to try out! Come in with the girls on the 13th and then again with your significant other on the 14th; Bring the family in on the 10th for the 16th or one of our special classes, and more! Check out our full calendar on the link at the bottom of the page.
You can view ALL of our Valentine's (and Galentine's) classes HERE:
https://www....edibleclasses
Another great Galentine's celebration to keep in mind would be on the special event on February 10, with a
painting titled, "Stay Sexy".
This event is for all of the 'Murderinos' out there! These classes have been done for a private party in our studio and were a major success. Now we're offering them to the public! If you're interested in learning more about what this event is all about, read on:
https://www....privateparty-
We look forward to seeing you and your girlfriends on Feb 13 (or another day this month)! Whether you're looking to come in and celebrate Valentine's Day or Galentine's Day, or just to come in and experience a fun and unique event where you'll leave with a handmade souvenir, Pinot's Palette, Brier Creek is the place for you! One of our talented artists will walk you through the painting step by step (first-time painters, have no fear), and our helpful staff with assist you with all your needs! Remember that we also offer private parties for special celebrations (or for any reason!), corporate events that focus on team building, kids' parties, mobile events, and more!
Private Parties:
https://www....ivate-parties
Corporate Events:
https://www....porate-events
Kids' Parties:
https://www....ainting-party
Mobile Events:
https://www....ainting-party