Week 4 - Art Enrichment Camps for Kids Summer 2016!! Little Brushes by Pinot's Palette Offers Kids' Art Enrichment Classes!
Each week of class is based on artistic themes (Click on Each Title for Detailed Description):
Week Four: Fairytales, Robots & Dinosaurs! August 22nd – 26th
Mermaids! Robots! Pirates! Unicorns! More! We're Going to Explore the World of Fairy Tales, Monsters of the Past and Metal Men. It's Going to be Fun!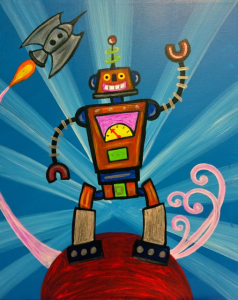 Monday Twinkle Twinkle Little Mermaid
Tuesday Jurassic Junior
Wednesday Space Robot
Thursday Sail Ho
Friday Uni Uni Unicorn